"Some of the best
bizarre film commentary
going... with sharp, no-nonsense verdicts."
- Manohla Dargis,
The Village Voice

"One of the few
review zines you
can actually read
and learn from...
You need this."
- Joe Bob Briggs

"Plenty of well-informed film reviews... Wildly opinionated."
- Film Threat

"The magazine
every movie fan
needs to read."
- E! Online

"Shock Cinema is like riding the A train in the summer from the George Washington Bridge to the Deuce to see "Bucktown."
This is the only
magazine I can
totally relate to."
- William Lustig, director of MANIAC,
UNCLE SAM
Need additional
information?
E-mail us at:
ShockCin@aol.com


© 2017 by
Steven Puchalski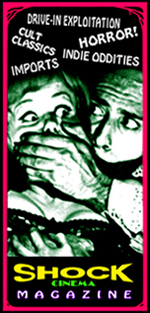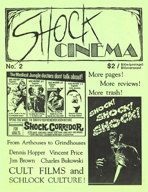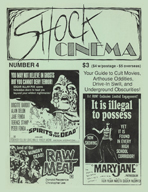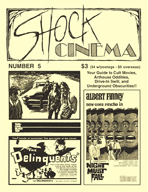 SHOCK CINEMA #53 is currently at the printer.
The issue will be available in early December. Pre-order your copy now!



Pre-order:
SHOCK CINEMA #53.




Four-issue Subscription:
Begin with #53.

Shock Cinema Magazine is an essential periodical for fans of cutting-edge, retro cinema. Each issue features in-depth interviews with the most intriguing character actors, cult celebrities and maverick moviemakers of all time and critiques a wide array of film obscurities, including grindhouse action, sexploitation, horror, sci-fi, drive-in favorites, kitsch gems, overseas oddities, and arthouse dementia.

The newest issue of SHOCK CINEMA Magazine (#52) is available at bookstores across the U.S. and Canada. Or you can order your copy directly from the publisher:

SHOCK CINEMA
c/o Steven Puchalski
P.O. Box 798
Edgewater, N.J. 07020
Mail-order copies are $6.00 apiece (which includes First Class USPS shipping), and a four-issue subscription in the US is $20.00. In Canada, it's $24.00. Please make all checks/money orders payable to Steven Puchalski. (Note: all orders outside of North America are $12.00 apiece. Cash or online orders only.) Feel free to contact us about our wholesale prices.

You can also order single copies, subscriptions and back issues online with your credit card or PayPal account.



Purchase:
SHOCK CINEMA #52.




Four-issue Subscription:
Begin with #52.
---
Join us on Facebook for info on upcoming issues.


---
The latest issue features exclusive interviews with:
Actor Jon Gries (Napoleon Dynamite, Real Genius, Get Shorty, Joysticks, Taken).
Actor Warren Berlinger (Blue Denim, The Long Goodbye, Spinout, The Cannonball Run).
Actor Larry B. Scott (Revenge of the Nerds, Space Camp, Extreme Prejudice, Iron Eagle).
Actor Art LaFleur (Field of Dreams, Air America, Trancers, The Sandlot).
Actor William Morgan Sheppard (Wild at Heart, Max Headroom, Gettysburg, Marat/Sade).


| | |
| --- | --- |
| There are also dozens of informative and entertaining film, DVD, Blu-ray, and book reviews, including Bruce Davison and Nicol Williamson in John Flynn's The Jerusalem File; Bernie Travis in Dirtymouth; Julie London in Hugo Haas' Night Of the Quarter Moon; James Brolin and Cliff Gorman in John Korty's Class of '63; Chris Robinson and Mickey Rooney in Ace Of Hearts [Juego Sucio en Panamá]; Hannelore Elsner in Will Tremper's The Endless Night [Die Endlose Nacht] ; Stacy Keach and Roger Moore in Street People; Joseph Bologna and Barbara Harris in Mixed Company; Jean Seberg and James Mason in Kill; Miklós Jancsó's Private Vices, Public Virtues; Nadine Perles in Gérard Kikoïne's Mannequin; Dagmar Patrasová in Jindrich Polak's The Visitors [Navstevnici]; Michel Piccoli in The Prize of Peril [Le Prix du Danger]; Estelle Parsons in Joanne Woodward's Come Along With Me; Joe Don Baker in Phil Karlson's Framed; Bill Pullman in Going Under; Hell on Earth II: The Arena of Death; Riccardo Freda and Mario Bava's Caltiki, the Immortal Monster... | Nicol Williamson and Anna Karina in Tony Richardson's Laughter un the Dark; Harry Guardino and Joseph Cotten in The Lonely Profession; Marie-France Pisier and Bulle Ogier in Sérail [Surreal Estate]; Andrew Leavold's The Search For Weng Weng; Eckhart Schmidt's Loft; Joe Spinell in The Undertaker; Khigh Dhiegh and James Hong in Judge Dee and the Monastery Murders; James Bickert's Frankenstein Created Bikers; Lucinda Dooling in Lovely But Deadly; Marcello Mastroianni and Marthe Keller in Down the Ancient Stairs; Michael Callan, James Stacy and Joanna Pettet in Double Exposure; Pierre Richard in Francis Veber's Le Jouet; Arne Mattson's Lady in White [Vita Frun]; Go Yeong-nam's Suddenly in the Dark [Gipeun bam Gabjagi]; Cheryl Ladd and Jason Miller in Deadly Care; Greg Lamberson's Slime City and Slime City Massacre; Alain Patrick's Blue Money; David E. Durston's I Drink Your Blood and Blue Sextet; Abdallah Al-Mubahi's Where Do You Hide the Sun? [Ayna Tukh-abi'un Al-Shams?]; Audrey & Judy Landers in Ghost Writer, and much more... |
---
REVIEWS FROM OUR PREVIOUS ISSUE, SHOCK CINEMA #51
Chuck McCann and Buster Crabbe in director
Harry's Hurwitz's The Comeback Trail.

Don Murray and Linda Evans in the offbeat
inspirational drama Tale of the Cock.

Director Joseph Adler's melancholy, drive-in
era ensemble drama Convention Girls.

George Segal and Stockard Channing star in the Reagan-era anti-drug telefilm Not My Kid.

Director Larry Peerce's caustic adaptation of Thomas McGuane's darkly satirical novel The Sporting Club.
---
Missing a copy of SHOCK CINEMA?
Check out our available BACK ISSUES,
or SUBSCRIBE to the magazine online.

---
NEW COMICS by A. D. Puchalski!
MEADOW #1.
48-pages, Full Color, 8" x 10"
graphic novel... Civilization is
on the brink, dragons roam the
outlands and teenagers still
have f@%king cell phones!


RESTLESS #1.
20-pages. Color cover
with b/w interior,
standard comic size...
No one understands you when
you're eleven. Except monsters.


TOUGH.
16-pages. Color cover
with b/w interior,
standard comic size...
One man faces a wilderness
both strange and beautiful.

Or buy all three and save! MEADOW #1, RESTLESS #1
and TOUGH (plus SWORD OF FRAY ashcan comic!):

ALL PRICES INCLUDE USPS FIRST CLASS POSTAGE.
---
You can also pay a visit to
SHOCK CINEMA MAGAZINE's YouTube Channel!
---