"Some of the best
bizarre film commentary
going... with sharp, no-nonsense verdicts."
- Manohla Dargis,
The Village Voice

"One of the few
review zines you
can actually read
and learn from...
You need this."
- Joe Bob Briggs

"Plenty of well-informed film reviews... Wildly opinionated."
- Film Threat

"The magazine
every movie fan
needs to read."
- E! Online

"Shock Cinema is like riding the A train in the summer from the George Washington Bridge to the Deuce to see "Bucktown."
This is the only
magazine I can
totally relate to."
- William Lustig, director of MANIAC,
UNCLE SAM
Need additional
information?
E-mail us at:
ShockCin@aol.com


© 2015 by
Steven Puchalski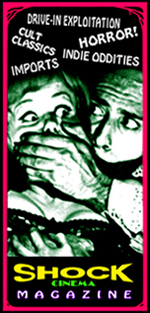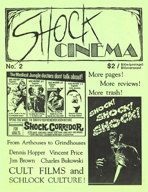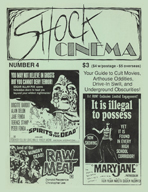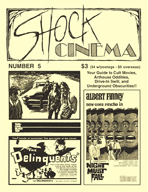 SHOCK CINEMA #48 is at the printer!
Copies will be available at the end of May. Pre-order your copy now!



Pre-order:
SHOCK CINEMA #48.




Four-issue Subscription:
Begin with #48.

Shock Cinema Magazine is an essential periodical for fans of cutting-edge, retro cinema. Each issue features in-depth interviews with the most intriguing character actors, cult celebrities and maverick moviemakers of all time and critiques a wide array of film obscurities, including grindhouse action, sexploitation, horror, sci-fi, drive-in favorites, kitsch gems, overseas oddities, and arthouse dementia.

The newest issue of SHOCK CINEMA Magazine (#47) is available at bookstores across the U.S. and Canada. Or you can order your copy directly from the publisher:

Our NEW mailing address:

SHOCK CINEMA
c/o Steven Puchalski
P.O. Box 798
Edgewater, N.J. 07020

Mail-order copies are $6.00 apiece (which includes First Class USPS shipping), and a four-issue subscription in the US is $20.00. In Canada, it's $24.00. Please make all checks/money orders payable to Steven Puchalski. (Note: all orders outside of North America are $12.00 apiece. Cash or online orders only.) Feel free to contact us about our wholesale prices.

You can also order single copies, subscriptions and back issues online with your credit card or PayPal account.



Purchase:
SHOCK CINEMA #47.




Four-issue Subscription:
Begin with #47.
---
Join us on Facebook for info on upcoming issues.


---
The latest issue features interviews with:
Actor/Musician John Doe (Road House, Great Balls of Fire!, Salvador, Boogie Nights).
Actor Harris Yulin (Scarface, End of the Game, Ghostbusters II, Training Day).
Actor Richard Anderson (Paths of Glory, Forbidden Planet, Seconds, Compulsion).
Actress Angel Tompkins (Prime Cut, Little Cigars, The Don is Dead, The Teacher).
Actor Ken Swofford (Ellery Queen, S.O.B., Common Law Cabin, Annie, Hunter's Blood).

| | |
| --- | --- |
| There are also dozens of informative film, DVD and book reviews, including Stephen Lack in Allan Moyle's The Rubber Gun; Donald Pleasence in Arthur? Arthur!; Alexis Kanner in Ernie's Game and Mahoney's Last Stand; Rich Little and Herb Voland in Bob Einstein's Another Nice Mess; Hans Jürgen Syberberg and Christian Blackwood's San Domingo; Judy Brown and Henry Brandon The Manhandlers; Barney Platts-Mills' Bronco Bullfrog; Lisa Gastoni in Thank You Auntie [Grazie Zia]; Alberto Sordi in Tinto Brass' The Flying Saucer [Il Disco Volante]; Claire Bloom and David McCallum in Wuthering Heights; Mathieu Carrière in The Man With the Transplanted Brain; Haydée Politoff in Pasquale Festa Campanile's The Slave; Börje Ahlstedt and Lena Nyman in Tage Danielsson's Ronia, the Robber's Daughter; Solange Pradel in From Ear to Ear [Les Cousines]; Sahila Chaddha in the Bollywood rip-off Sheela [Africadalli Sheela]; Shane Ryan's My Name is "A" by Anonymous; John Vernon and Samantha Eggar in Curtains; The Broken Horseshoe and Operation Diplomat; David Petrucci's Eurocrime throwback Crazy Dog [Canepazzo] ... | Alberto Sordi in Mario Monicelli's An Average Little Man [Un Borghese Piccolo Piccolo]; Denis Hargrave's nudist camp documentary The Naked Peacock; Alan Clarke's Psy-Warriors; William Smith and Tony Burton in Blackjack; Lloyd Bridges in Daring Game; Gérard Alcan's Robert Kennedy assassination documentary The Second Gun; Lou Pearlman's Longshot; Claude Chabrol's Le Systeme du Docteur Goudron et du Professor Plume; Ángel Fernández Franco in Perros Callejeros and Perros Callejeros II; Edward D. Wood, Jr.'s The Young Marrieds; Patrick McGoohan in Rene Daalder's Hysteria; Viva and Tina Aumont in Franco Brocani's Necropolis; Julius Harris in Carter Lord's The Enchanted; Bill Paxton in Taking Tiger Mountain; Nightmare World: The Films of Ted Knighton; Paul E. Respass in Joaquin Montalvan's Legend of the Hillbilly Butcher; Miguel Robelo and Claudio Brook in Only Once in a Lifetime; Gabriel Garko in Black Angel; John Mikulak's The Deviants; Roy Clark and Mel Tillis in Uphill All the Way; Philippe Ducrest's La Duchesse D'avila; Angela Mao in Hapkido and Lady Whirlwind; and more... |
NEW COMICS by A. D. Puchalski!
MEADOW #1.
48-pages, Full Color, 8" x 10" graphic novel.
In the future... civilization is on the brink,
dragons roam the outlands, rabbits wear hats
and teenagers still have f@%king cell phones!


TOUGH.
16-pages. Color cover with b/w interior,
standard comic size. Robinson Crusoe, alternate
dimensions and 80's Japanese Pop music. One
man faces a wilderness both strange and beautiful.

Or buy both and save! MEADOW #1 and TOUGH duo pack:

ALL PRICES INCLUDE USPS FIRST CLASS POSTAGE.
---
REVIEWS FROM OUR PREVIOUS ISSUE, SHOCK CINEMA #46
Daniel Greene and Peter Lupus get pumped up in the low-budget, '80s health-club schlock-fest Pulsebeat.

French sci-fi mini-series dystopia that embraces politics, the media, organized crime, plus one bad-ass cop: Les Hordes.

Steve Hawkes and Kitty Swan star in the hilariously cut-rate Tarzan knock-off Zan, King of the Jungle.

Matt Mitler directs and stars as an abrasive, self-destructive, NYC comedian in the underground feature Cracking Up.
---
Missing a copy of SHOCK CINEMA?
Check out our available BACK ISSUES,
or SUBSCRIBE to the magazine online.

---
You can also pay a visit to
SHOCK CINEMA MAGAZINE's YouTube Channel!
---