"Some of the best
bizarre film commentary
going... with sharp, no-nonsense verdicts."
- Manohla Dargis,
The Village Voice

"One of the few
review zines you
can actually read
and learn from...
You need this."
- Joe Bob Briggs

"Plenty of well-informed film reviews... Wildly opinionated."
- Film Threat

"The magazine
every movie fan
needs to read."
- E! Online

"Shock Cinema is like riding the A train in the summer from the George Washington Bridge to the Deuce to see "Bucktown."
This is the only
magazine I can
totally relate to."
- William Lustig, director of MANIAC,
UNCLE SAM
Need additional
information?
E-mail us at:
ShockCin@aol.com


© 2015 by
Steven Puchalski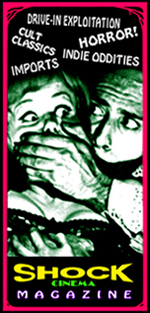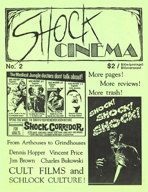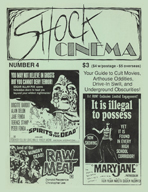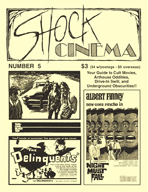 SHOCK CINEMA #49 is at the printer!
The issue will be available in early December. Pre-order your copy now!



Pre-order:
SHOCK CINEMA #49.




Four-issue Subscription:
Begin with #49.

Shock Cinema Magazine is an essential periodical for fans of cutting-edge, retro cinema. Each issue features in-depth interviews with the most intriguing character actors, cult celebrities and maverick moviemakers of all time and critiques a wide array of film obscurities, including grindhouse action, sexploitation, horror, sci-fi, drive-in favorites, kitsch gems, overseas oddities, and arthouse dementia.

The newest issue of SHOCK CINEMA Magazine (#48) is available at bookstores across the U.S. and Canada. Or you can order your copy directly from the publisher:

Our NEW mailing address:

SHOCK CINEMA
c/o Steven Puchalski
P.O. Box 798
Edgewater, N.J. 07020

Mail-order copies are $6.00 apiece (which includes First Class USPS shipping), and a four-issue subscription in the US is $20.00. In Canada, it's $24.00. Please make all checks/money orders payable to Steven Puchalski. (Note: all orders outside of North America are $12.00 apiece. Cash or online orders only.) Feel free to contact us about our wholesale prices.

You can also order single copies, subscriptions and back issues online with your credit card or PayPal account.



Purchase:
SHOCK CINEMA #48.




Four-issue Subscription:
Begin with #48.
---
Join us on Facebook for info on upcoming issues.


---
The latest issue features interviews with:
Actor M.C. Gainey (Django Unchained, Con Air, Breakdown, The Country Bears).
Actor Richard Masur (The Thing, Heaven's Gate, Who'll Stop the Rain, Walker).
Actress Colleen Camp (Apocalypse Now, They All Laughed, Game of Death, Clue).
Actress Jane Merrow (The Lion in Winter, The System [a.k.a. The Girl-Getters]).
Author/Screenwriter William Hjortsberg (Legend, Angel Heart, Thunder and Lightning).
| | |
| --- | --- |
| There are also dozens of informative film, DVD and book reviews, including Victor Garber in Morley Markson's Monkeys in the Attic; Lando Buzzanca in Fermate Il Mondo... Voglio Scendere!; Linda Purl in A Last Cry For Help; Dusan Vukotic's Visitors From The Arkana Galaxy [Gosti iz Galaksije]; Gary Sandy and Lou Steele Some of My Best Friends Are...; M.C. Gainey in The Big Bust; Randall Carver and Ed Nelson in James F. Collier's Christian Time to Run; Trevor Wrenn's Adam and Nicole [a.k.a. Erotic Inferno]; Dick Van Dyke in Some Kind of a Nut; Helga Anders and Klaus Löwitsch in The Brutes [Mädchen mit Gewalt]; Larry Buchanan's High Yellow; Play of the Month: "The Devil's Eggshell"; Lauren D'Avella in Erik P. Sharkey's Sexina; Gregg Golding's Cosplay Fetish Battle Drones; Toshiro Mifune in The Lost World of Sinbad; Duke Mitchell's Massacre Mafia Style and Gone with the Pope; John Hargreaves in Long Weekend; Eckhart Schmidt's E.T.A. Hoffmann's Der Sandmann... | Nick Adams in Russell S. Doughton, Jr.'s Fever Heat; Carole Bouquet in Werner Schroeter's Day of the Idiots [Tag der Idioten]; Richard Crenna in Thief; James Franciscus in The Dream Makers; Orville Wanzer's The Devil's Mistress; Mike Malloy's Eurocrime!: The Italian Cop and Gangster Films That Ruled the '70s; Richard Egan and Telly Salavas in Fanfare For a Death Scene; Marino Marzano's Witchdoctor in Tails [Stregoni in Tight]; Mike Brune and Anna Chlumsky in Blood Car; Play For Today: "Vampires"; Mitchell Linden's The American Scream; Juraj Herz's The Ninth Heart [Devate Srdce]; Désirée Nosbusch in The Fan; Esther Rolle in Larry Cohen's See China and Die; Stephen Boyd and Cheryl Ladd in The Treasure of Jamaica Reef [a.k.a. Evil in the Deep]; Lee Van Cleef and Warren Oates in Barquero; Arthur Marks' The Roommates and A Woman For All Men; Kiumars Derambakhsh's The Blind Owl; Kelly Fitzgerald's Mutantis; Dustin Mills' Skinless; and more... |
---
NEW COMICS by A. D. Puchalski!
MEADOW #1.
48-pages, Full Color, 8" x 10" graphic novel.
In the future... civilization is on the brink,
dragons roam the outlands, rabbits wear hats
and teenagers still have f@%king cell phones!


TOUGH.
16-pages. Color cover with b/w interior,
standard comic size. Robinson Crusoe, alternate
dimensions and 80's Japanese Pop music. One
man faces a wilderness both strange and beautiful.

Or buy both and save! MEADOW #1 and TOUGH duo pack:

ALL PRICES INCLUDE USPS FIRST CLASS POSTAGE.
---
REVIEWS FROM OUR PREVIOUS ISSUE, SHOCK CINEMA #47
Donald Pleasence stars in a British black comedy about milquetoasts, marriage and murder: Arthur? Arthur!

Stephen Lack heads up a "family" of drug-dealing Canadian junkies in Allan Moyle's experimental The Rubber Gun.

Rich Little and Herb Voland star in director Bob Einstein's excruciating White House comedy Another Nice Mess.

Alexis Kanner plays a pair of eccentric, anti-social misfits in The Ernie Game and Mahoney's Last Stand.
---
Missing a copy of SHOCK CINEMA?
Check out our available BACK ISSUES,
or SUBSCRIBE to the magazine online.

---
You can also pay a visit to
SHOCK CINEMA MAGAZINE's YouTube Channel!
---