"Some of the best
bizarre film commentary
going... with sharp, no-nonsense verdicts."
- Manohla Dargis,
The Village Voice

"One of the few
review zines you
can actually read
and learn from...
You need this."
- Joe Bob Briggs

"Plenty of well-informed film reviews... Wildly opinionated."
- Film Threat

"The magazine
every movie fan
needs to read."
- E! Online

"Shock Cinema is like riding the A train in the summer from the George Washington Bridge to the Deuce to see "Bucktown."
This is the only
magazine I can
totally relate to."
- William Lustig, director of MANIAC,
UNCLE SAM
Need additional
information?
E-mail us at:
ShockCin@aol.com


© 2018 by
Steven Puchalski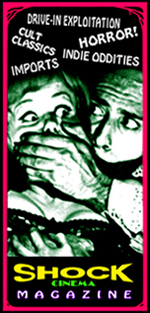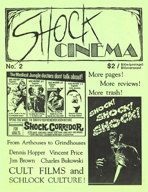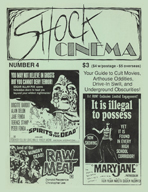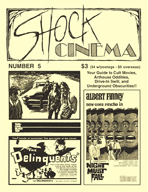 SHOCK CINEMA #55 is currently at the printer.
The issue will be available in early December. Pre-order your copy now!



Pre-order:
SHOCK CINEMA #55.




Four-issue Subscription:
Begin with #55.

Shock Cinema Magazine is an essential periodical for fans of cutting-edge, retro cinema. Each issue features in-depth interviews with the most intriguing character actors, cult celebrities and maverick moviemakers of all time and critiques a wide array of film obscurities, including grindhouse action, sexploitation, horror, sci-fi, drive-in favorites, kitsch gems, overseas oddities,
and arthouse dementia.

The newest issue of SHOCK CINEMA Magazine (#54) is available at bookstores across the U.S. and Canada. Or you can order your copy directly from the publisher:

SHOCK CINEMA
c/o Steven Puchalski
P.O. Box 798
Edgewater, N.J. 07020
Mail-order copies are $6.00 apiece (which includes First Class USPS shipping), and a four-issue subscription in the US is $20.00. Please make all checks/money orders payable to Steven Puchalski.

Canadian copies are $7.00 apiece and four-issue subscriptions are $28.00. All orders outside of North America are $12.50 each. Unfortunately, we only offer subscriptions to the US and Canada at this time. Please feel free to contact us about our wholesale prices.

You can also order single copies, subscriptions and back issues online with your credit card or PayPal account.




Purchase:
SHOCK CINEMA #54.




Four-issue Subscription:
Begin with #54.
---
Join us on Facebook for info on upcoming issues.


---
The latest issue features exclusive interviews with:
Actor James Darren (The Guns of Navarone, The Time Tunnel, Gidget, The Lively Set, Lucky).
Actress Kathleen Wilhoite (Road House, Murphy's Law, Private School, Witchboard).
Actor Ron Masak (Ice Station Zebra, Evel Knievel, Murder, She Wrote, Tora! Tora! Tora!).
Actor Fred Melamed (A Serious Man, Hannah and Her Sisters, Ishtar, Bone Tomahawk).
Writer/Director Robert Klane (Where's Poppa, Weekend at Bernie's, Thank God It's Friday).


| | |
| --- | --- |
| There are also dozens of informative and entertaining film, DVD and Blu-ray reviews, including Jason Ledger in The Ballad of Billie Blue; Peter Bonerz in John Korty's Funnyman; Laurence Fishburne and Albert Hall in If You Give a Dance You Gotta Pay the Band; Richard Harris in Your Ticket is No Longer Valid; Jean Gabin and Simone Signoret in Le Chat; Victor Spinetti and Vanessa Howard in Derek Ford's This - That and the Other!; Tom Ligon and Logan Ramsey in Jump [a.k.a. Fury on Wheels]; Barry Brown and Britt Ekland in The Ultimate Thrill; Cüneyt Arkin in The Sword and the Claw; Bob Hope in the TV-special Joys!; Chris Robinson and Ted Cassidy in Catch the Black Sunshine; Michael St, Gerard in Star Time; Female Chauvinists and Hot Connections; Doug McClure and Hayley Mills in The Bananas Boat [a.k.a. What Changed Charlie Farthing?]; Laszlo Kistamas in Meteo; Michael Craig and Peter Cushing in Cone of Silence; Jack Darcus' Overnight [a.k.a. Cinema Canada]; Michael Caine and Mickey Rooney in Mike Hodge's Pulp... | Jillian Fargey in the Canadian teen runaway drama Close To Home; Juraj Kukura in Peter Zadek's The Roaring Fifties [Die Wilden Fünfziger]; Robert Hogan and Melinda Plank in Greenwich Village Story; Don Gordon in The Lollipop Cover; David Janssen and Mickey Rourke in City in Fear; Michael Parks in Can Ellen Be Saved?; Tim Noah in In Search of the Wow Wow Wibble Woggle Wazzie Woodle Woo; William Calloway and Jeannie Linero in Flush; Derek Ford's Secret Rites; Susan Player in Sergio Martino's Loving Cousins [Cugini Carnali]; Jean Yonnel in Fyodor Otsep's Amok; Lino Ventura in Pierre Granier-Deferre's The Cage; Larry Hankin in Lucifer's Women; John Hayes' All the Lovin' Kinfolk; William J. Murray's Primal Scream; L'Etrange Chateau du Docteur Lerne; Antony Weber's Cries of Ecstasy, Blows of Death; Steve Barkett's The Aftermath; Shehnaz Begum's Goorkund [Undertaker]; Jamaa Fanaka's Welcome Home Brother Charles and Emma Mae; Anthony Franciosa and Klaus Kinski in Web of the Spider; and much more... |
---
REVIEWS FROM OUR PREVIOUS ISSUE, SHOCK CINEMA #53
Tom Troupe stars in the no-budget,
one-man Nikolai Gogol adaptation, Sofi.

Persis Khambetta and Vic Morrow in the
failed TV-pilot The Man With the Power.

Michael Montgomery and Lynn Baker star
in the vanity-project, regional melodrama Just Be There

Jean Martin in a seven-part, French mini-series afilled with Fantomas-style mystery and menace, The Companions of Baal.

Dan Haggerty co-stars in the insipid, '70s children's-matinee staple The Tender Warrior.
---
Missing a copy of SHOCK CINEMA?
Check out our available BACK ISSUES,
or SUBSCRIBE to the magazine online.

---
COMICS by A. D. Puchalski!
PET:
THE GARDEN PARTY
NEW demi-size comic. 24 pages
in glorious black-and-white,
color cover. Catgirls! Dogmen!
Black magic! Monsters!
A gothic dark comedy/fantasy
with lots of weirdness.


EVERYTHING ELSE!:
MEADOW #1: 48-pages, Full Color, 8" x 10" graphic novel.
Civilization is on the brink, dragons roam the outlands and teenagers
still have f@%king cell phones. RESTLESS #1: 20-pages. Color cover,
b/w interior, standard comic size. No one understands you when you're
eleven. Except monsters. TOUGH: 16-pages. Color cover, b/w interior,
standard comic size. One man faces a wilderness both strange and
beautiful. Plus SWORD OF FRAY, an action-packed ashcan comic.

ALL PRICES INCLUDE USPS FIRST CLASS POSTAGE!
---
You can also pay a visit to
SHOCK CINEMA MAGAZINE's YouTube Channel!
---