"Some of the best
bizarre film commentary
going... with sharp, no-nonsense verdicts."
- Manohla Dargis,
The Village Voice

"One of the few
review zines you
can actually read
and learn from...
You need this."
- Joe Bob Briggs

"Plenty of well-informed film reviews... Wildly opinionated."
- Film Threat

"The magazine
every movie fan
needs to read."
- E! Online

"Shock Cinema is like riding the A train in the summer from the George Washington Bridge to the Deuce to see "Bucktown."
This is the only
magazine I can
totally relate to."
- William Lustig, director of MANIAC,
UNCLE SAM
Need additional
information?
E-mail us at:
ShockCin@aol.com


© 2016 by
Steven Puchalski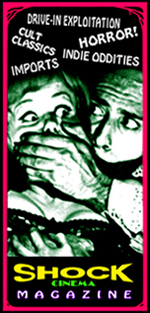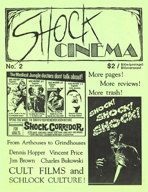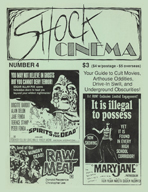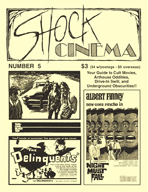 Shock Cinema Magazine is an essential periodical for fans of cutting-edge, retro cinema. Each issue features in-depth interviews with the most intriguing character actors, cult celebrities and maverick moviemakers of all time and critiques a wide array of film obscurities, including grindhouse action, sexploitation, horror, sci-fi, drive-in favorites, kitsch gems, overseas oddities, and arthouse dementia.

The newest issue of SHOCK CINEMA Magazine (#50) is available at bookstores across the U.S. and Canada. Or you can order your copy directly from the publisher:

Our NEW mailing address:

SHOCK CINEMA
c/o Steven Puchalski
P.O. Box 798
Edgewater, N.J. 07020

Mail-order copies are $6.00 apiece (which includes First Class USPS shipping), and a four-issue subscription in the US is $20.00. In Canada, it's $24.00. Please make all checks/money orders payable to Steven Puchalski. (Note: all orders outside of North America are $12.00 apiece. Cash or online orders only.) Feel free to contact us about our wholesale prices.

You can also order single copies, subscriptions and back issues online with your credit card or PayPal account.



Purchase:
SHOCK CINEMA #50.




Four-issue Subscription:
Begin with #50.
---
Join us on Facebook for info on upcoming issues.


---
The latest issue features interviews with:
Actor Saul Rubinek (Unforgiven, True Romance, Wall Street, Against All Odds).
Actor Pepe Serna (Scarface, The Adventures of Buckaroo Banzai, Car Wash, American Me).
Actor Stuart Margolin (Kelly's Heroes, The Rockford Files, Death Wish, Days of Heaven).
Actor Paul Calderon (Pulp Fiction, King of New York, Out of Sight, Q&A, Sea of Love).
Actor Richard Riehle (Office Space, Glory, Casino, Of Mice and Men, Mysterious Skin).

| | |
| --- | --- |
| There are also dozens of entertaining film, DVD, Blu-ray, and book reviews, including Kay Lenz in Lisa, Bright and Dark; Terence Stamp in Hu-Man; Dee Wallace and Grant Goodeve in the Christian drama All the King's Horses; Jerry Orbach in A Fan's Notes; Donald O'Connor and Jimmy Durante in The Milkman; Warren Mitchell in Where Has Poor Mickey Gone...?; Catherine Deneuve and Anne Parillaud in Ecoute Voir...; Dennis Christopher and Gary Busey in Didn't You Hear?; Jessica Harper in Super Plastic Elastic Goggles; director Clyde Houston's Fox Style; Richie Havens in Patrick McGoohan's Catch My Soul; Jean Seberg in Birds in Peru; Scott Glenn and Toshiro Mifune in The Challenge; Sammy Davis, Jr. in Sammy Stops the World; La Poupée Sanglante; Michel Constantin in Pillaged [a.k.a. Mise a Sac]; Matt Mitler in The Mutilator; Michael Manasseri's Mosquito-Man; Neko Zamurai: Season 1; Spalding Gray in Zebedy Colt's The Farmer's Daughter; Greg Lamberson's Killer Rack; Louise Lasser in Blood Rage, Franco Citti and Anita Sanders in A Violent Life [Ostia]... | John Heard and Levon Helm in Best Revenge [a.k.a. Misdeal]; Eugene Troobnick in Ernest Pintoff's Harvey Middleman, Fireman; Marcello Mastroianni in Elio Petri's Todo Modo; Paul Sorvino and JoAnna Cameron in It Couldn't Happen To a Nicer Guy; Christina Hornisher's Hollywood 90028; John Beck in The Great American Traffic Jam; Anthony Newley in Ken Hughes' The Small World of Sammy Lee; John Saxon, Robert Reed and Leslie Nielsen in Snatched; Jean-Paul Belmondo in Henri Verneuil's The Night Caller [a.k.a. Fear Over the City]; Kurtwood Smith in Hard Scrambled; Charles Rocket in Steel Collar Man; Tatum O'Neal in Chris Frieri's Sweet Lorraine; William Friedkin's The Pickle Brothers; Play for Today: "A Photograph"; Anna Karina and Bruno Cremer in The Time To Die [Le Temps de Mourir]; Arnold Pinnock and Dabney Coleman in Must Be Santa; Gregory Hatanaka's Samurai Cop 2: Deadly Vengeance; Graham Chapman in The Odd Job; Glory Annen in Felicity; Jane Birkin in Kung Fu Master and Jane B. Par Agnes V., and much more... |
---
REVIEWS FROM OUR PREVIOUS ISSUE, SHOCK CINEMA #49
Ryan O'Neal, Jimmy Durante, Barbara Eden, and Cream in the abrasively-groovy 1968 TV-special Romp!!

Monica Gayle in the offbeat Arab-Israeli softcore sex-comedy The Harem Bunch; or War and Piece.

Oliver Reed, Peter Cushing and Keenan Wynn in the excruciatingly-inept espionage comedy No Secrets.

Michael Verhoeven's raw and controversial vision of a rape/murder committed by US soldiers in Vietnam, O.K.
---
Missing a copy of SHOCK CINEMA?
Check out our available BACK ISSUES,
or SUBSCRIBE to the magazine online.

---
NEW COMICS by A. D. Puchalski!
MEADOW #1.
48-pages, Full Color, 8" x 10"
graphic novel... Civilization is
on the brink, dragons roam the
outlands and teenagers still
have f@%king cell phones!


RESTLESS #1.
20-pages. Color cover
with b/w interior,
standard comic size...
No one understands you when
you're eleven. Except monsters.


TOUGH.
16-pages. Color cover
with b/w interior,
standard comic size...
One man faces a wilderness
both strange and beautiful.

Or buy all three and save! MEADOW #1, RESTLESS #1
and TOUGH (plus SWORD OF FRAY ashcan comic!):

ALL PRICES INCLUDE USPS FIRST CLASS POSTAGE.
---
You can also pay a visit to
SHOCK CINEMA MAGAZINE's YouTube Channel!
---