"Some of the best
bizarre film commentary
going... with sharp, no-nonsense verdicts."
- Manohla Dargis,
The Village Voice

"One of the few
review zines you
can actually read
and learn from...
You need this."
- Joe Bob Briggs

"Plenty of well-informed film reviews... Wildly opinionated."
- Film Threat

"The magazine
every movie fan
needs to read."
- E! Online

"Shock Cinema is like riding the A train in the summer from the George Washington Bridge to the Deuce to see "Bucktown."
This is the only
magazine I can
totally relate to."
- William Lustig, director of MANIAC,
UNCLE SAM
Need additional
information?
E-mail us at:
ShockCin@aol.com


© 2013 by
Steven Puchalski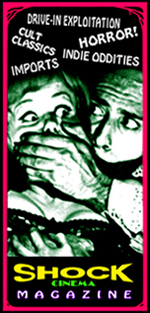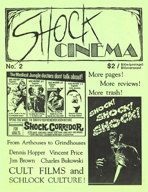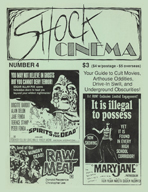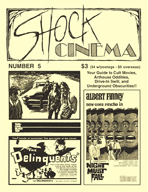 SHOCK CINEMA #47 is at the printer!
Copies will be available at the end of November. Pre-order your copy now!



Pre-order:
SHOCK CINEMA #47.




Four-issue Subscription:
Begin with #47.

Shock Cinema Magazine is an essential periodical for fans of cutting-edge, retro cinema. Each issue features in-depth interviews with the most intriguing character actors, cult celebrities and maverick moviemakers of all time and critiques a wide array of film obscurities, including grindhouse action, sexploitation, horror, sci-fi, drive-in favorites, kitsch gems, overseas oddities, and arthouse dementia.

The newest issue of SHOCK CINEMA Magazine (#46) is available at bookstores across the U.S. and Canada. Or you can order your copy directly from the publisher:

We also have a NEW
mailing address:

SHOCK CINEMA
c/o Steven Puchalski
P.O. Box 798
Edgewater, N.J. 07020

Mail-order copies are $6.00 apiece (which includes First Class USPS shipping), and a four-issue subscription in the US is $20.00. In Canada, it's $24.00. Please make all checks/money orders payable to Steven Puchalski. (Note: all orders outside of North America are $12.00 apiece. Cash or online orders only.) Feel free to contact us about our wholesale prices.

You can also order single copies, subscriptions and back issues online with your credit card or PayPal account.



Purchase:
SHOCK CINEMA #46.




Four-issue Subscription:
Begin with #46.
---
Join us on Facebook for info on upcoming issues.


---
The latest issue features interviews with:
Actor Tim Matheson (Animal House, Fletch, 1941, To Be or Not to Be).
Actor Scott Wilson (In Cold Blood, The Ninth Configuration, In the Heat of the Night).
Actor David Huddleston (Blazing Saddles, The Big Lebowski, Bad Company).
Actress Mike Starr (Goodfellas, Cabin Boy, Cruising, Mad Dog and Glory, Clockers).
Actor Peter Jason (48 Hrs, Brewster's Millions, Rio Lobo, The Other Side of the Wind).
| | |
| --- | --- |
| There are also dozens of informative film, DVD and book reviews, including Ian McShane, Isaac Hayes and Antonio Fargas, Jr. in Soul Survivors; Daniel Greene pumps up in Pulsebeat; Matt Mitler's scathing stand-up drama Cracking Up; Steve Hawkes and Kitty Swan in Manuel Caño's Tarzan-knock-off Zan, King of the Jungle; Ossie Davis tackles the telefilm title role of The Sheriff; Aussie director Albie Thoms' "surfie" drama Palm Beach; Alan Alda and Blythe Danner in To Kill a Clown; Victor Buono and Burt Young in the TV-detective spoof Murder Can Hurt You!; Sydne Rome in Marcello Aliprandi's The Tin Girl; Max von Sydow in Jan Troell's The Flight of the Eagle; Donald Pleasence and Patrick McGoohan in Armchair Theatre: "The Greatest Man in the World"; a UK mini-series based on Peter Dickinson's books, The Changes; Dieter Laser in a German TV-adaptation of Yevgeni Zamyatin's Wir [We]; Lee Van Cleef and Tomas Milian in Sergio Sollima's The Big Gundown; Lucio Fulci's Dracula in the Provinces; Clu Gulager in Vic; Dave Shaw's Attack of the Gorilla; Viktor Kubal's Czech-animated The Bloody Lady [Krvavá Pani]; Mark S. Sanders in Jason Koch's 7th Day, Joshua Kennedy's The Menace With 5 Arms; Bryan Marshall in Fons Rademakers' Brutalization [a.k.a. Because of the Cats] ... | Larry Pennell, Leslie Parrish and Kim Kahana in the cut-rate jungle adventure Brother, Cry For Me; Richard Conte dives into a decades-old murder in William Castle's Hollywood Story; François Dunoyer and Corinne Touzet in the French mini-series Les Hordes; Chris Makepeace, Scott Hylands and Suzanne Snyder in A Savage Hunger [a.k.a. The Oasis]; Robert Walker, Jr. in The Spectre of Edgar Allan Poe; a pair of early-'60s, British bank-heist films, Strongroom and Bomb in the High Street; Glenn Ford and Anthony Quayle in Jarrett; Frank Langella in Sherlock Holmes; The Canadian sci-fi TV-pilot featuring the cast of You Can't Do That on Television, UFO Kidnapped; Jean-Paul Belmondo in Le Marginal; David Yow and Erin Russ in William Hellfire's Upsidedown Cross; Burt Lancaster in The Swimmer; Oriel Pla and Martin Freeman in Marçel Forés' Animals; Rina Riffel's Showgirls 2; Spike Milligan in The Great McGonagall; the IMAX educational/sci-fi short The Journey Inside; William Lucas in Calculated Risk; Richard Griffin's Murder University; Lauren Ashley Carter, Larry Fessenden and Sean Young in Jug Face; Richard Attenborough in Joe Orton's Loot; Franco Brocani's Segnale Da Un Pianeta Invia Di Estinzione; Nadia Cassini in Piero Vivarelli's The Snake God [Il Dio Serpente]; and more... |
---
REVIEWS FROM OUR PREVIOUS ISSUE, SHOCK CINEMA #45
Mickey Rooney and Howard Cosell in Sid & Marty Krofft's prime-time musical-comedy-fantasy misfire Fol-de-Rol.

Jonathan Winters, George Kennedy, Tisha Sterling, and Mark Harmon guest star in the disaster-movie-satire short Sonic Boom.

Three kids embark on a mystery-adventure across London in director Mike Hodges' trippy The Tyrant King.

Tom Nardini defends his home from murderous, right-wing miscreants in the Canadian grindhouse outing Self Defense.
---
Missing a copy of SHOCK CINEMA?
Check out our available BACK ISSUES,
or SUBSCRIBE to the magazine online.

---
You can also pay a visit to
SHOCK CINEMA MAGAZINE's YouTube Channel!
---