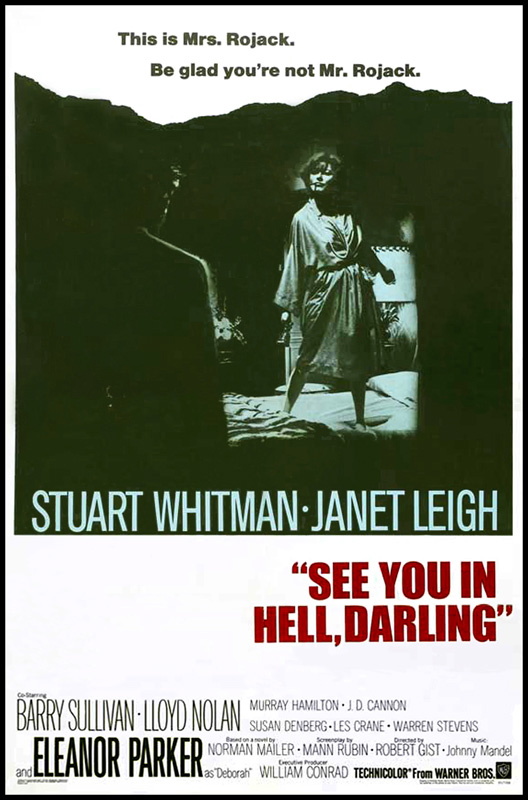 This Hollywood castration... er, adaptation of Norman Mailer's controversial 1965 novel is laced with wonderfully overripe sequences and performances, but is essentially just a well-mounted, fitfully-energetic studio soap opera. I haven't read the original novel, but I'd guess that a lot was lost in translation, since the testosterone is kept to a minimum. It also offered Stuart Whitman one of his infrequent top-billed roles, playing rabid television journalist Stephen Rojack -- imagine a cross between Mike Wallace and Morton Downey, Jr. -- whose life is about to go straight to hell... When Rojack decides to divorce his drunken bitch of a millionairess wife (a lovably overwrought Eleanor Parker), she freaks out in their palatial penthouse and he 'allows' her to plummet off the high-rise patio, just in time to become a bumper ornament for a passing car. Of course, when he lies to the police that it was a suicide, they don't believe it for an instant. Adding to the drama, the car that used Parker as a road bump contains a mob boss who Rojack has been ranting about on his TV-show. Things get more complicated (and unbelievable) when a badly-cast Janet Leigh turns up as ex-lover-turned-mob-whore Cherry McMahon, who re-ignites Rojack's passion when he catches her working at a swanky lounge. With his shrewish wife kaput, the plot slows to a crawl whenever their maudlin romance takes over. But just wait until Cherry's gangster pals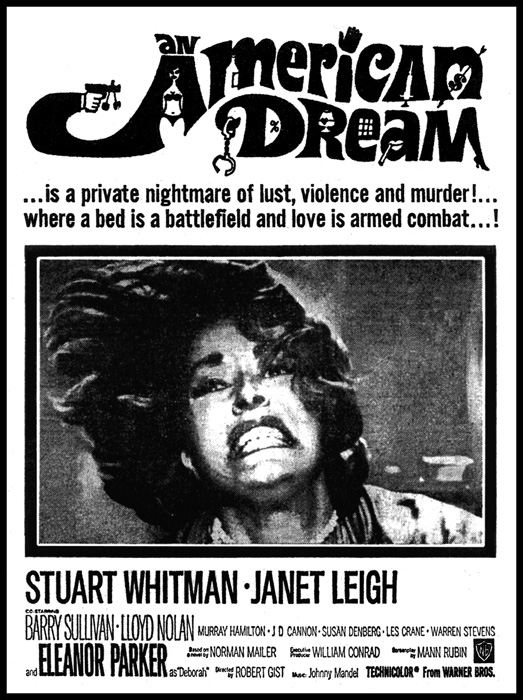 learn she's ditching them for this media pain-in-the-ass. Also look for brief turns by Barry Sullivan as a police lieutenant, McCLOUD's J.D. Cannon as a tough cop, George Takei as a Mafia lawyer, and Lloyd Nolan breathing life into the final scenes as Rojack's rich-as-shit father-in-law (who has a distinctly Mailer-esque view of life and death). As for the eye candy, there's August 1966's Playboy Playmate Susan Denberg (who was also one of "Mudd's Women") as sexy maid Ruta. Director Robert Gist is best known for helming '60s TV-series such as NAKED CITY, PETER GUNN and DR. KILDARE, and it certainly shows in its big-screen blandness. Meanwhile, Mann Rubin's contrived script often loses its caustic footing in favor of cheap sentiment (but pulls itself together beautifully for a tough, no-winners climax which puts a final nail into the "American Dream"). Despite tearing into his role with all of the messy unsubtlety of a starving man given a Big Mac, Whitman simply isn't up for the jarring shifts in his character's emotions, which take this one-dimensional cretin from unintentionally-laughable guilt to career self-destruction. Leigh, on the other hand, is just a bland bimbo. No surprise, both Jan and Stu soon wound up in slop like the killerbunny horror-fiasco NIGHT OF THE LEPUS.

© 2000 by Steven Puchalski.