THE ASTROLOGER (1976).
Let's not beat around the bush. THE ASTROLOGER is a terrible film. And director-star Craig Denney -- who ran a dubious Long Beach, CA computerized horoscope service before his solitary attempt at moviemaking -- is a talentless hack. But this amateurish pseudo-autobiography is also wonderfully enjoyable because of its misguided ambitions, technical incompetence and unintentional laughs. A globe-hopping ego-trip that's consistently idiotic yet rarely boring, it chronicles one man's personal journey from unknown, impoverished jerk-off to world-famous, pompous douchebag, while also touting himself -- without any actual proof, except for his own word -- as the most incredible astrologer of all time... Denney plays Craig Marcus Alexander, who began his career working the carny circuit as a hapless fortune teller named Alexander the Great, until girlfriend Darrien (Darrien Earle) gets sick of living in his tiny camper and sensibly ditches the clown. But a chance encounter with a pair of smugglers soon radically changes Alexander's life, as his outlandish story leaps from being locked up in a Kenyan prison, traipsing about the jungle like some doughy Indiana Jones in search of hot rubies, using his uncanny astrological abilities to impress gullible African warlords, heading to Tahiti for a pearl diving scheme, and amassing enough cash to finance his dream job as "the world's greatest mystic." Swiftly achieving TV-show fame thanks to his gifts,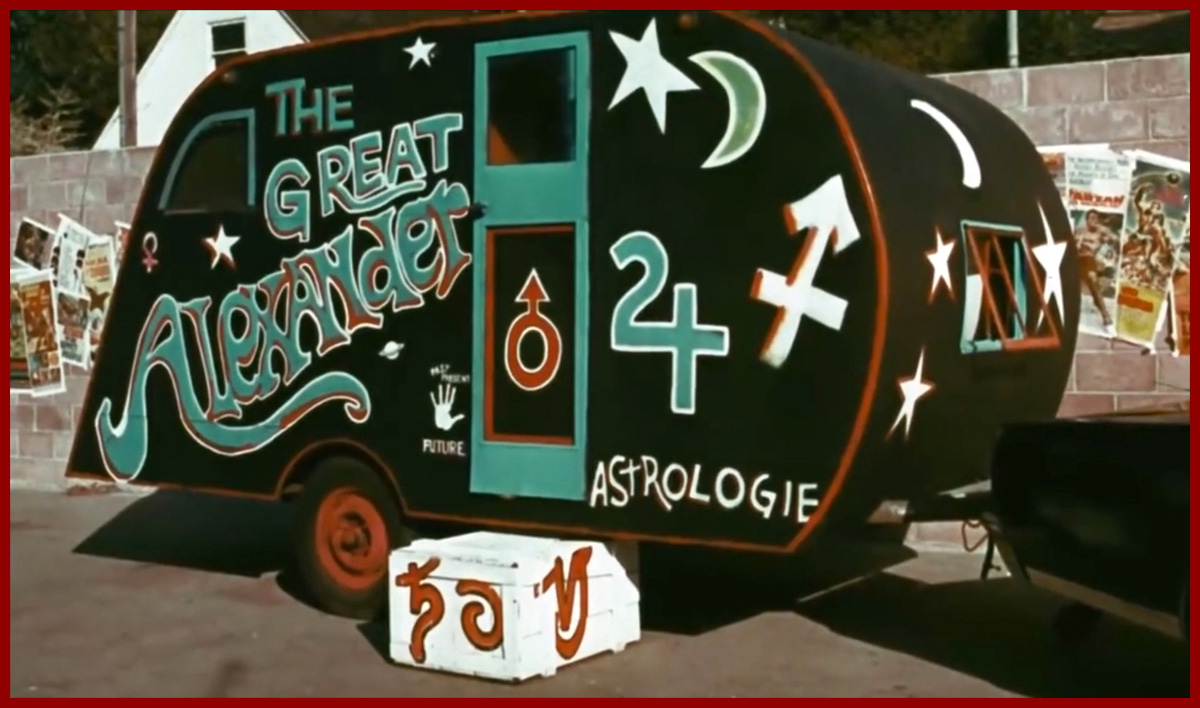 Alexander is so universally admired that he's approached by the US Navy to locate a ship lost in the Devil's Triangle. But the most hilarious moment of unfettered hubris is when Alexander makes a feature-length motion picture about his life -- starring himself and entitled "The Astrologer"! Proving that Denney was actually quite lousy at predicting the future, this film-within-a-film becomes an enormous critical and financial smash, grossing over $100 million. In real life, THE ASTROLOGER opened in Los Angeles in January 1976 and was gone a week later; reappeared in September '76 at a solitary LA theatre, now advertised as "The Campiest Film of All!"; and popped up as a CBS Late Movie in 1980... It's easy to understand how an egomaniac would portray themselves as a wildly successful, universally admired do-gooder -- Alexander even rescues his ex-girlfriend-turned-junkie-whore Darrien! -- but Denney didn't seem to notice that his character is also a highly-punchable piece of shit. Anyone who associates with him ends up miserable,
ripped off, abused, or dead, and like all con men posing as millionaires, the guy never pays his bills and is financially underwater. Behind the camera, Denney makes inexplicable directorial choices (including unnecessary montages featuring Procol Harum's "Grand Hotel," The Moody Blues' "Tuesday Afternoon," and Conway Twitty's "It's Only Make Believe") and is often downright inept (when facing deadly snakes, you can see the hook used by the off-screen wrangler to push around the sedated reptiles); on-screen, Denney has the smug demeanor of a rich, condescending boyfriend from some 3rd-rate Brat Pack-wannabe movie. The only recognizable name in the cast is Florence Marly (QUEEN OF BLOOD), in a one-minute cameo as a famous actress fired by movie mogul Alexander so that he can cast his wife in her role. At the time of its release, Denney boasted that this film took three years to make at a cost of $10 million. For fans of mind-roastingly self-indulgent cinema, it was well worth the time and money.

© 2021 by Steven Puchalski.