BAD GIRLS DORMITORY (1985).
It takes an incredibly untalented filmmaker to louse up a simple women-in-prison flick. So let's all give writer-director Tim Kincaid (who earlier foisted BREEDERS and MUTANT HUNT on us, as well as XXX porn under the name Joe Gage) a boot in the ass for this no-budget, teenage-slammer rat crap. Set at the New York City correctional institute for anti-social teens, we follow a bunch of baby-fat bimbettes through their virgin prison terms. Of course, they were all "Nice-Girls-Who-Were-Set-Up." One guilt-free lass gets stuck with her punk boyfriend's stash, while another literally gets off the bus from Rural-ville and gets arrested for oral sex. But once they're behind locked doors, this jailbait has to deal with the usual nonsense you'll find in any babes-in-bondage movie, while each character shovels their own corny little drama on the viewer. One of the inmates is pregnant, a guard is a heroin addict, the dorm doctor is a snivelling sadist, and another gal has flashbacks of being raped by her Dad. Of course, this crock of cliches also features a dyke warden with a German accent (though she comes off sounding more like Elmer Fudd, if you ask me). Sometimes a good filmmaker can overcome any number of worn-out concepts. Not here. Kincaid is competant enough to make it any good, and not sleazy enough to kick this limp pathos into any twisted areas. The result is a grainy, slow-moving snooze. Half the supporting cast looks like they were pulled straight off The deuce's red light district -- and though that fact makes the proceedings more realistic (what with their floppy breasts,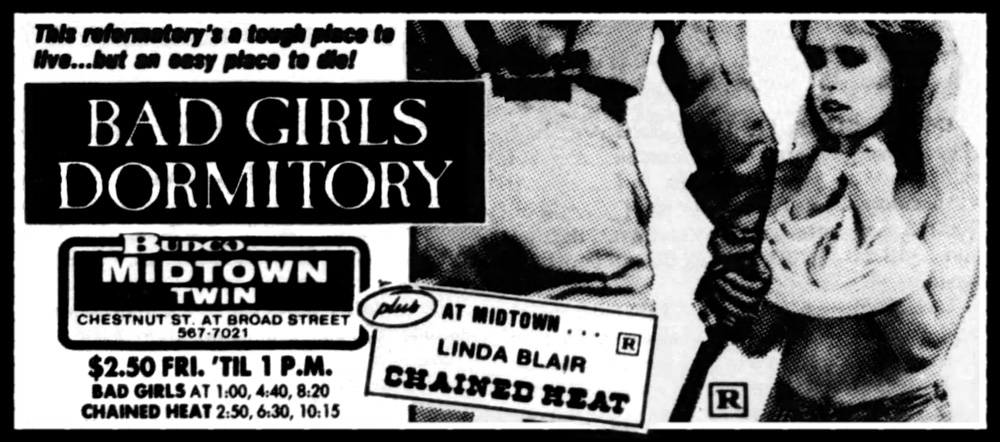 stretch marks and pimples), it certainly doesn't make the film any more visually compelling. Their costumes mostly consist of tight jeans and t-shirts (probably so each actresses could then supply their own wardrobe). In addition, there are truly minimalist sets, and dig that theme song, with lyrics like "Innocent pearls can change to bad girls?" Who wrote this sewage? Michael Bolton? Even the Big Break-Out at the end couldn't save this slop (though the shotgun blast to the groin woke me up for a moment). Before sitting through BAD GIRLS DORM, I would have told you I could endure any women-in-prison pic. Now, I'm not so sure. Even Linda Blair's past scenery-chewing looks like Oscar-caliber material next to this pathetic time-waster. It's the dregs!

© 1994 by Steven Puchalski.