THE BEAT GENERATION [a.k.a. This Rebel Age] (1959).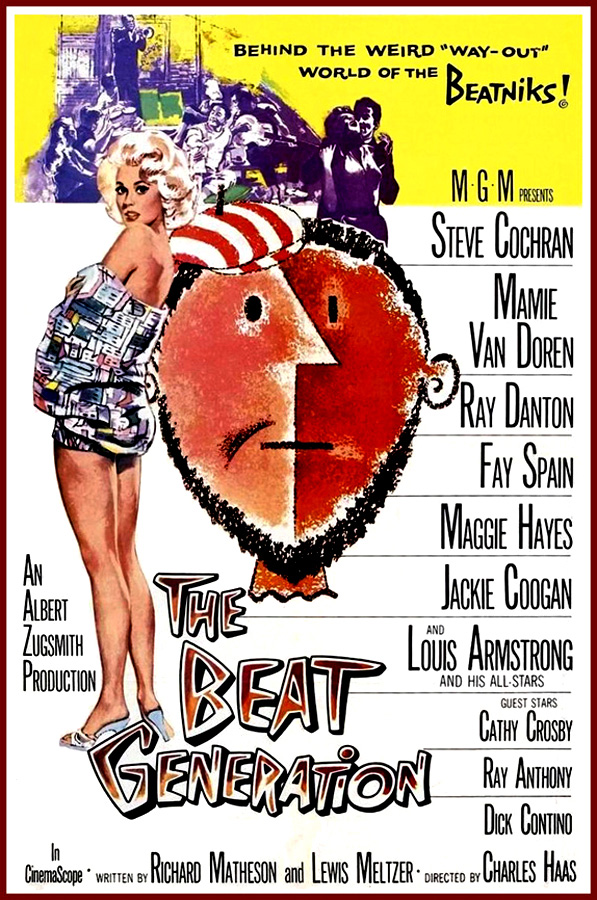 In the tradition of the classic HIGH SCHOOL CONFIDENTIAL, producer Albert Zugsmith brings us another utterly-unrealistic 'expose' into '50s youth culture. This time taking his dimwit viewers into the then-scandalous world of the beat poets and their coffee house ilk. And what a far-out cast he pulls together for the trip! We get sultry platinum blonde hussy Mamie Van Doren; Louie Armstrong blowin' his horn and growlin' the theme song; Jackie Coogan (Uncle Fester) as a cop who has to dress up in drag for a Lovers' Lane stakeout; plus Irish McCalla (TV's SHEENA, QUEEN OF THE JUNGLE), Charlie Chaplin Jr.; and Vampira as a horrible free verse poetess who lugs around a pet white rat. It's just too bad that the film isn't REALLY about the beats and their lifestyle -- instead it turns out to be your ordinary grade-B detective flick, hopped up with some cool cat trappings. At least Zugsmith and director Charles Haas (THE BIG OPERATOR, GIRLS TOWN) had the good sense to pack the police plotline with lurid details. Steve Cochran stars as a misogynistic flatfoot who's after a psychopathic rapist (thoroughly hep Ray Danton) known by the terrifying moniker of "The Aspirin Kid", and he tracks him down to a sordid beatnik hangout called The Golden Scallion. Of course, all these weird and wooly bohemians are anathemas to the square authority figures, but the viewer will undoubtedly be chuckling at the wall-to-wall slang ("You dig?" "Crazy..."), the terrible abstract artwork, the "gone" poetry,
and the forehead-slapping pretentiousness which Zugsmith tries to pass off as the 'Beat Generation'. The cheesy police business slows the pic down to a crawl, and much of the time it's perched at soap opera level (especially when Cochran's wife is raped and gets pregnant -- a plot twist that leads to vomitable anti-abortion rhetoric). At least the finale is wild, complete with Danton banging on his bongos as the police circle in. All in all though, this is a terrible movie full of wasted opportunities, especially in comparison to the all-time beat/horror/comedy classic, A BUCKET OF BLOOD. Excruciatingly funny at times, but only when it keeps its cameras trained on all the goateed Ginsberg and Ferlinghetti wannabees.

© 1993 by Steven Puchalski.