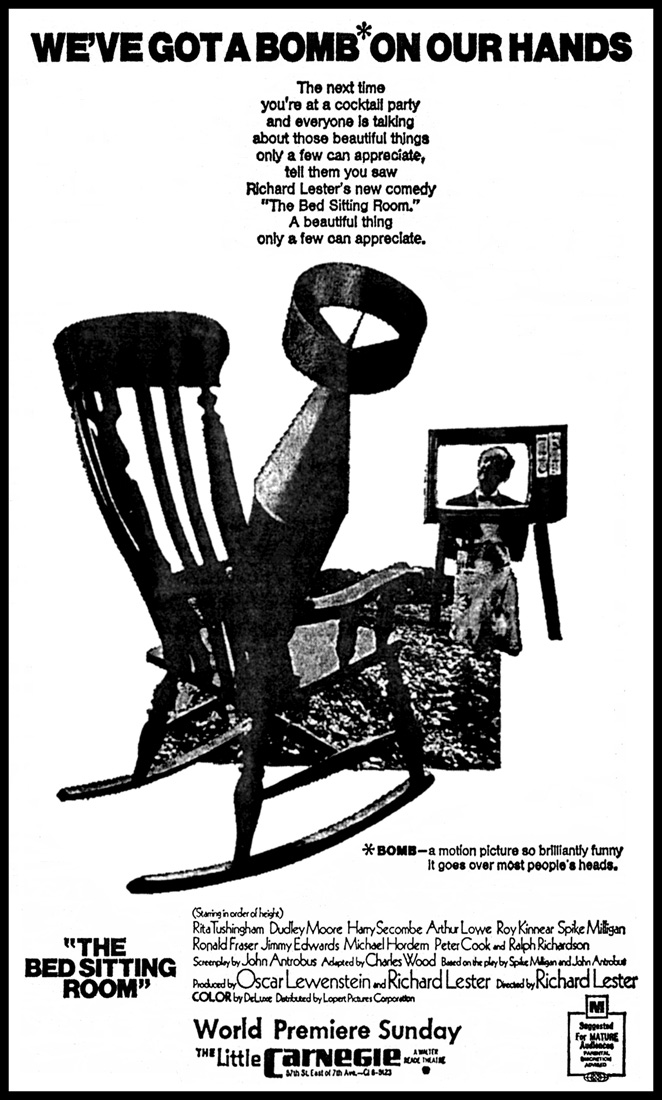 In the late-'60s, director Richard Lester parlayed his cinematic success with The Beatles' A HARD DAY'S NIGHT and HELP! into a string of eccentric, wonderfully uncommercial gems -- PETULIA, THE KNACK, HOW I WON THE WAR -- with THE BED SITTING ROOM eventually taking the prize as his most difficult and dazzling work. Although the film starred many of the UK's greatest comic talents, its studio had no idea of how to properly market this blast of post-apocalyptic absurdity, based on a 1963 play by Spike Milligan and John Antrobus. Bizarre, brilliant and utterly off-putting, it's a gorgeously warped vision of England after a "nuclear misunderstanding" turned the country into a wasteland and killed 40 million people in only 2-minutes and 28-seconds. But in typically steadfast British fashion, a handful of survivors stumble about the wreckage and muddy wasteland, blindly upholding their old traditions -- government, religion, marriage -- no matter how misguided it now seems. One family (father Arthur Lowe, mother Mona Washbourne and "chubby little thing" daughter Rita Tushingham, who's actually 18-months pregnant) lives on the still-operating Circle Line subway, jumping out during stops to pilfer candy machines; authority figures Peter Cook and Dudley Moore sternly patrol the region in a makeshift weather balloon, barking orders to "keep moving" so that the enemy can't get a fix on them; a doddering old Lord (Ralph Richardson) is slowly mutating into a Bed Sitting Room, while physician Michael Hordern takes advantage of his patient's unique condition to find new housing;
with other characters played by Milligan, Roy Kinnear, ex-Goon Harry Secombe, plus Marty Feldman as a predatory nurse. Meanwhile, Death Certificates are issued to living persons, the country's electricity is provided entirely by one man peddling a bicycle; the last remaining BBC newsman goes door-to-door, personally reading the news from behind the framework of your decimated TV; and people routinely transform into furniture or animals. Much more than just a string of surreal episodes, this is also a deeply cynical look at humankind's inherent stupidity. And how, even when facing the end of the world, nothing essentially changes. Laced with non sequiturs and sly euphemisms (such as politely referring to the atomic bomb that ravaged civilization as a "rude thing"), the tone becomes progressively grimmer and more hopeless. amidst deliriously surreal, junk-strewn imagery courtesy of cinematographer David Watkin (THE DEVILS) and production designer Assheton Gorton (BLOW-UP, THE MAGIC CHRISTIAN), as these filthy, ragged characters wander about mountains of old shoes or broken china. This is a truly remarkable achievement that manages to be savagely funny, unexpectedly touching and depressing as hell. Plus you won't find many other films that will provide advice on what to do when your father mutates into a parrot (eat him, of course!).

© 2016 by Steven Puchalski.