BLAST OF SILENCE (1961).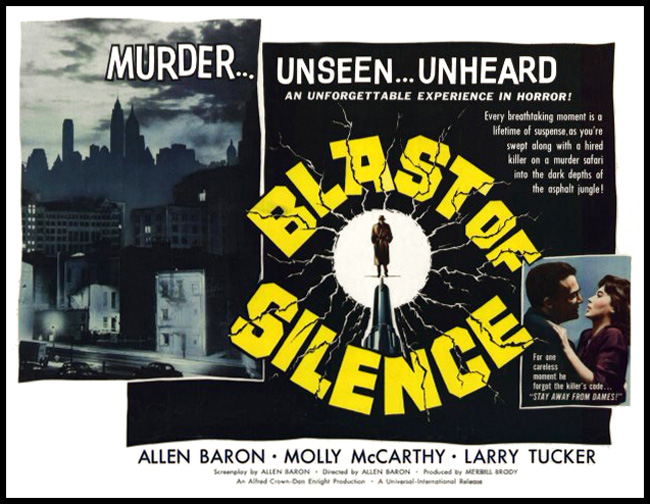 Ever since its mention in ReSearch's INCREDIBLY STRANGE FILMS, I've been trying to locate this illusive pic -- a whacked-out, noir low-budgeter that's right up there with SHACK OUT ON 101 and Joseph E. Lewis' GUN CRAZY. In a perfect world, this blast of cinematic nuttiness should've put 26-year-old director/writer/actor Allen Baron on the map. Instead, he made a few forgettable flicks (FOXFIRE LIGHT, OUTSIDE IN), but is still around nowadays, doing the occasional live appearance in conjunction with this gem... Baron stars as Frankie Bono, a hitman loner who visits Manhattan at Xmas for a job. Meanwhile, gravelly-voiced Lionel Stander provides the hilariously high-pulp voice-over (penned by Mel Davenport), which makes Mike Hammer sound like Quentin Crisp. "When people look at you, baby boy, Frankie Bono, they see death," Stander explains, adding that he's in town to kill "a second string syndicate boss with too much ambition...and a mustache to hide the fact he has lips like a woman." After buying a hot .38 from a crazy fat slob named Ralphie (Larry Tucker, who later co-developed The Monkees),
the tight-lipped Bono has 24 hours to chill out and (as Stander puts it) "lose yourself in the Christmas spirit with the rest of the suckers." By coincidence, he runs into an old associate from the orphanage, meets the guy's sister (Molly McCarthy), and lowers his guard enough to go to a party with them. Still, Bono only knows how to treat this Nice Girl like a piece of meat, while the movie sidesteps romance like it was dogshit on the sidewalk, with the ever-sociable Stander advising, "If you want a woman, buy one. In the dark, so she won't remember your face." Bono also trails his prey, and visits the Village Gate for some authentically wretched bongos and Beat vocals. The framing and editing have an experimental edge, while Baron spews out some incredibly brutal set pieces; like when Ralphie shakes down Bono, and in return, Frankie take a fire ax to him, beats him with a lamp, and strangles him. Wow! Baron doesn't skimp on location shooting either, from the Staten Island Ferry and Harlem, to various rooftops and an amazing, rain-swept finale. Plus, one look at the realistic rathole apartments tells you that these filmmakers are all-too-familiar with their territory. Oddly enough, since Bono is such a expressionless, humorless cipher, it's difficult to tell if Baron can act or not. It's difficult to think of another film from that era that's so stark, sleek and anti-social -- since that type of attitude didn't become fashionable until the late '60s. It's 76 minutes of over-the-top B-movie dementia.

© 1996 by Steven Puchalski.