BLUE BLOOD (1973; Just For the Hell Of It).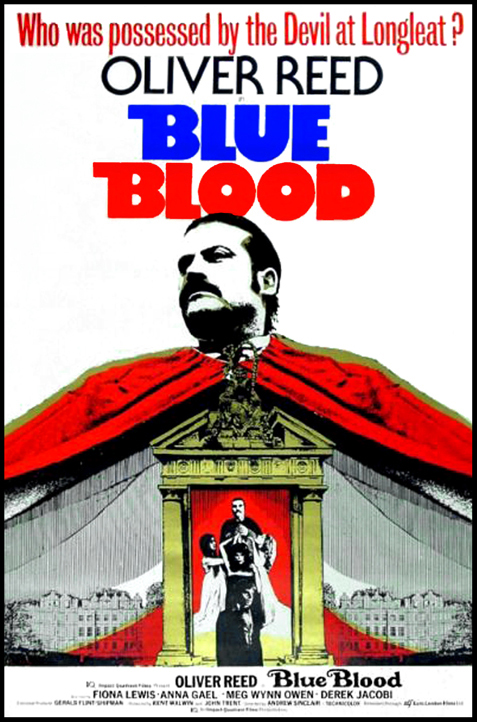 The late Oliver Reed was always an unforgettable presence, no matter what type of film he appeared in (or what blood alcohol level he came to work with), and this British psycho-sexual drama is no different. In fact, he's the one big reason to see it. Although it begins like some stiff Merchant-Ivory tedium, writer-director Andrew Sinclair (UNDER MILK WOOD) quickly shifts into a Pinter-esque power struggle sprinkled with loopy characters, drugs, violence, and sexual hallucinations... Residing in his palatial mansion, Lord Gregory (Derek Jacobi) is a suave playboy who's obsessed with baring male heirs from a variety of conquests. Fiona Lewis co-stars as his wife Lily, who's away much of the time due to her singing career, Anna Gael (Radley Metzger's THERESE AND ISABELLE) is Gregory's live-in lover Carlotta, while Reed is brooding head servant Tom. There's also a strict new nanny, Beate (Meg Wynn Owen), who's not sure what to make of the place, with its incorrigible children, rich twits and sinister, manipulative Tom. As the posh elite of U.K. society party upstairs, Tom and the rest of the staff hold their own free-for-alls in the basement -- passing around joints, breaking into the wine cellar and mocking their employer and his guests. Totally dependent on Tom, Gregory is too drunk, drugged and narcissistic to notice that this servant really holds the reins over this household. Tom even gets away with putting Gregory in a chokehold and attempting to seduce the master's mistress. In more pressing matters, ultra-repressed Beate's debauched nightmares (featuring Tom, naturally) might be driving her insane, to the point of "baby-bashing." Reed maintains a deliciously ominous edge,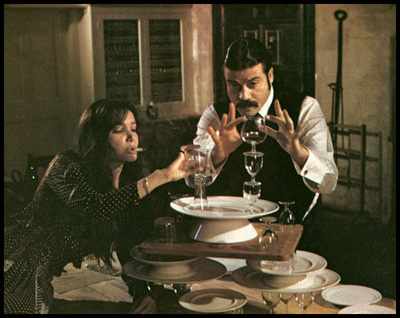 as Tom changes his demeanor to suit any situation, Jacobi looks vaguely perplexed throughout, Lewis gets to flash her breasts and sing, and Owen (UPSTAIRS, DOWNSTAIRS) makes a believable prude. Based on the novel "The Carry-Cot" by Lord Alexander Thynne, the 7th Marquess of Bath (who's also married to co-star Gael), it was filmed at the famed Longleat House in Wiltshire, England, a sprawling tourist attraction that's the still-current home of Thynne and Gael. In fact, Thynne seems to have modeled Gregory's eccentric behavior on himself, from his own randy belief in "wifelets" to the wacky murals Gregory works on (but were actually painted by Thynne). Sumptuously photographed by Harry Waxman (THE WICKER MAN), the budget was kept in check by rarely straying from this immense Elizabethan estate, which includes a drive-through safari park! Individual moments don't always make sense, portions of the story drag, but it's such a self-indulgent hodgepodge (particularly the LSD-fueled freak-out finale) that I was kept amused throughout.

© 2008 by Steven Puchalski.