BROTHER THEODORE SPEAKS (1997).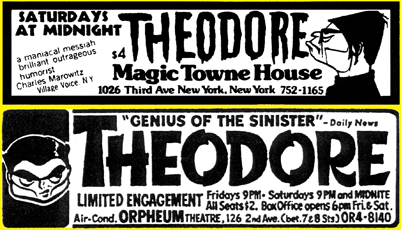 Brother Theodore has been a NYC institution for decades, thanks to his legendary one-man shows, as well as numerous appearances on David Letterman in the '80s. Known to mainstream filmgoers for his eccentric role in THE BURBS, and cinema-deviants for his appearance in the X-rated JAWS-parody, GUMS, he began his theatrical rants in the '50s and was dubbed "Brother" by Merv Griffin (who had him on his talk show 36 times). Well, I first saw this crazed philosopher's live act when I was in college, nearly 20 years ago, and have loved him ever since. Even back then, Theodore was ancient, so it's a near-miracle that now, in his early-nineties(!), this raving curmudgeon is still waging his disorienting on-stage diatribes. It's also wonderful to see his long-running performance captured on film in this 57-minute work, before the old geezer croaks and leaves behind nothing but stoned memories of his deranged, midnight sermons. Directed by E.J. Vaughn and Tom McDonough, this is a simple set-up -- a table, a chair, a black backdrop, and Theodore. White-haired, wild-eyed and ever-grumpy, he performs his comedic routine to an unseen audience; often telling the exact same quips and observations that he did 20 years ago (which, in addition to a pleasant memory-jogger, proves that Theodore doesn't believe in keeping his material fresh). Tackling topics such as doom, decay, death, heaven, food, rats, and God ("We're puppets in the hands of an insane puppeteer."), this is an apocalyptic rant, full of solemn insights and dark absurdity, with Theodore often speaking directly to his "small, but utterly repulsive audience" (such as when he hilariously hits on -- and instantly spurns -- a female spectator). Admittedly, this film won't win over many newcomers, since Theodore often comes off like that crazy, drunk Uncle who corners you at family gatherings. But hardcore fans of Theodore's will cherish this professionally-lensed monologue, which captures his act for posterity, even if it lacks his live energy (as well as the seediness of some of those theatres). Personally, I would've preferred a feature-length endeavor, mixing some off-stage insight along with his act -- which would've made it more enlightening to fans and accessible to outsiders. Still, this is what we've got, and it's a weird, wonderful treasure. A dose of coordinated madness which has been filling seats for longer than I've been alive, it proves that Brother Theodore is truly the Java Man of today's Performance Art.

© 2000 by Steven Puchalski.