CATCH MY SOUL (1974; Etiquette Pictures).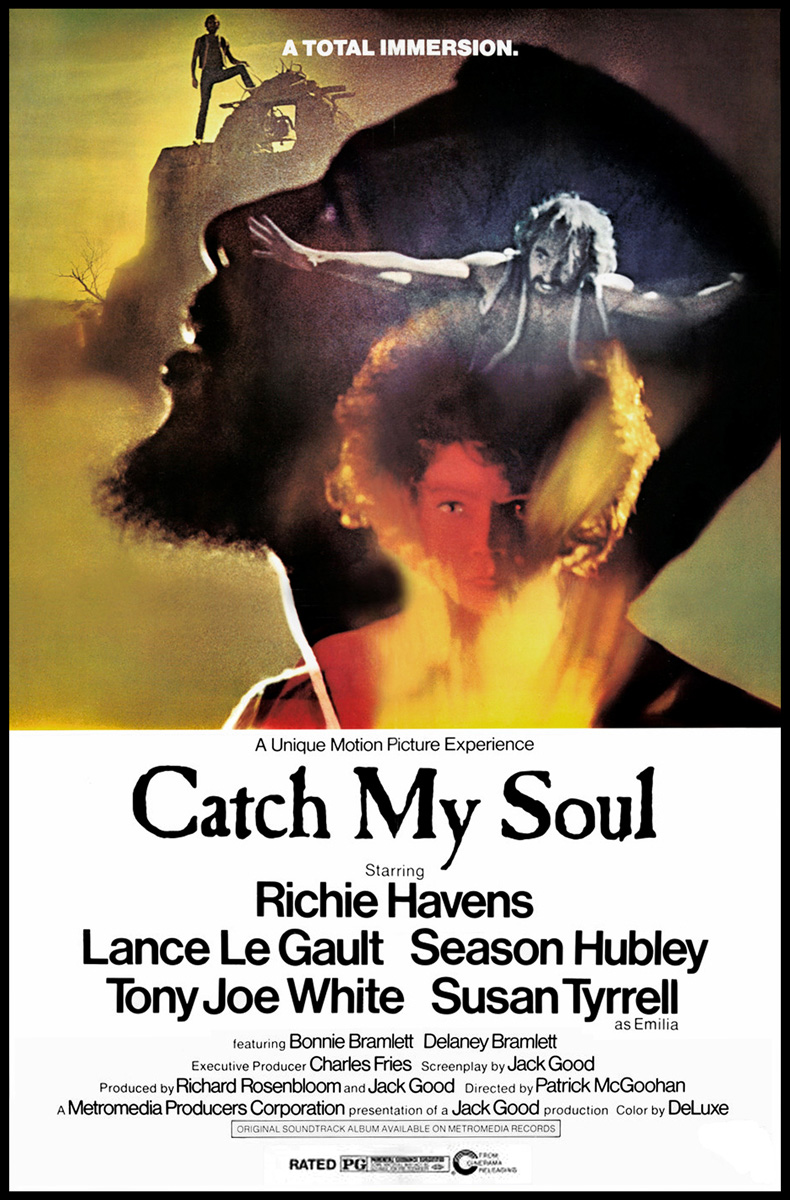 Long considered a lost film, CATCH MY SOUL offered up a rock-musical version of Shakespeare's OTHELLO that relocated "the Moor of Venice" to a 1967 New Mexico commune. First released theatrically in 1974, then a year later under the more lurid title of SANTA FE SATAN, this amazingly half-baked effort was the sole feature film directed by Patrick McGoohan, who'd honed his skills behind the camera on episodes of THE PRISONER and SECRET AGENT, and was produced and scripted by Jack Good (writer of such misguided TV-specials as MARY'S INCREDIBLE DREAM and 33-1/3 REVOLUTIONS PER MONKEE, and creator of the '60s rock-'n'-roll series SHINDIG!), in a misguided attempt to meld a post-HAIR counterculture idea with his own converted Catholic beliefs... Othello (folk icon Richie Havens, in his screen acting debut) is the religious leader of a small desert group of "Jesus people," with pixie-haired lover Desdemona (21-year-old, pre-VICE SQUAD Season Hubley) at his side, while Iago (Lance LeGault) confesses in voiceover of being Satan, jealously plots against Othello and breaks into raspy song about how he's going to "catch his soul." Continually scheming Iago gossips about Desdemona flirting with Othello's trusted friend Cassio (singer-songwriter Tony Joe White, who composed "Rainy Night in Georgia" and "Polk Salad Annie"), gets the entire flock drunk, then sets fire to the chapel during this rowdy bacchanal and blames Cassio. With Cassio on the outs, Iago takes his place as Othello's right hand man,
ultimately making jealous Othello doubt Desdemona's love. Although this seems like an odd project for notoriously mercurial McGoohan, he obviously had an affinity for the source material, since Patrick played a British jazz drummer Iago in 1962's ALL NIGHT LONG, while the loose storyline allows him to indulge in vivid imagery (courtesy of three-time Oscar-winning cinematographer Conrad L. Hall), oversized performances and radical shifts in tone -- which helps us to digest its gratingly-earnest missteps. Despite all of its goofy modern trappings, this sticks to The Bard's storyline (ultimately using a stolen handkerchief to prove Desdemona's infidelity, with tragic consequences) and even works in snippets of Shakespeare's prose throughout. Unfortunately, this religious Othello is a boring wet blanket, so his simple manipulation carries little emotional weight. Not surprisingly, Havens fares better during his musical moments than the dramatic ones; Hubley is cute, low-key and has a pleasant voice, but lacks much emotional punch, while Louisiana-born White is a continual delight as Cassio, as he belts out tunes like "Backwoods Preacher Man" and reeks with easygoing charisma. Susan Tyrrell (hot off of her Oscar nomination for FAT CITY) plays Iago's "old lady" Emilia, the husband/wife vocal duo of Delaney & Bonnie rock out during their wild party, and the one weak element here is definitely LeGault, who played this role in its successful, 1969 UK stage version (with Jack Good playing the lead in blackface...ouch!), then obsessively pursued THE A-TEAM in the '80s as Colonel Roderick Decker. His laughably unsubtle Iago might as well be twirling his mustache as he addresses the camera about his evil plans. Not the all-out disaster that some critics labeled it,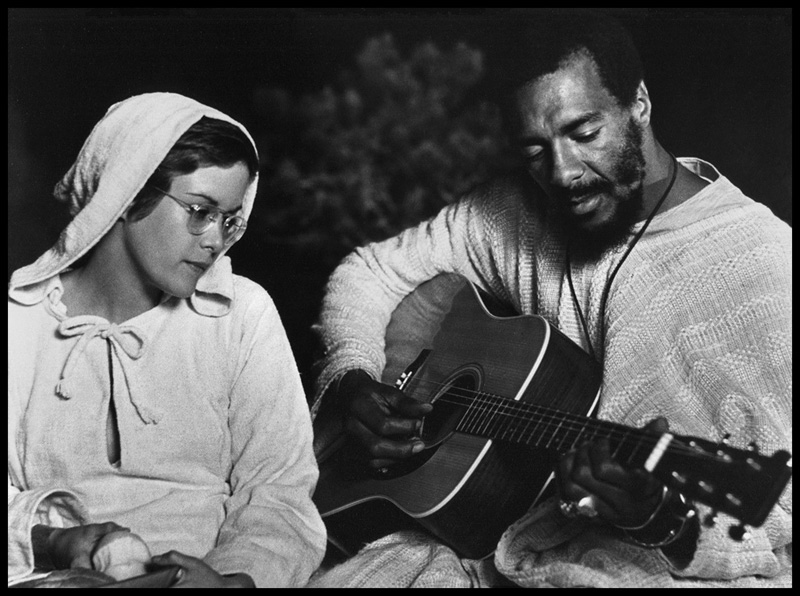 but (sadly) also far from a lost masterpiece, it's a fascinating, indulgent, fabulously-flawed endeavor. [Note: The show's early-1968, Los Angeles stage debut starred BLACULA's William Marshall as Othello and Jerry Lee Lewis as Iago. Now that's cool casting!]

The Etiquette Pictures Blu-ray includes a new, 21-minute making-of featurette with executive producer Charles Fries and associate producer Huw Davies recalling McGoohan's fondness for liquor, Delaney & Bonnie hijinx, on-set tensions between McGoohan and Good, and the film's dismal theatrical release. There's also a recent interview with the ever-cool Tony Joe White, a short featurette on cinematographer Hall, a gallery of stills and artwork, plus a highly-informative booklet about the film's chaotic history by Tom Mayer.

© 2016 by Steven Puchalski.