CHANGE OF MIND (1969).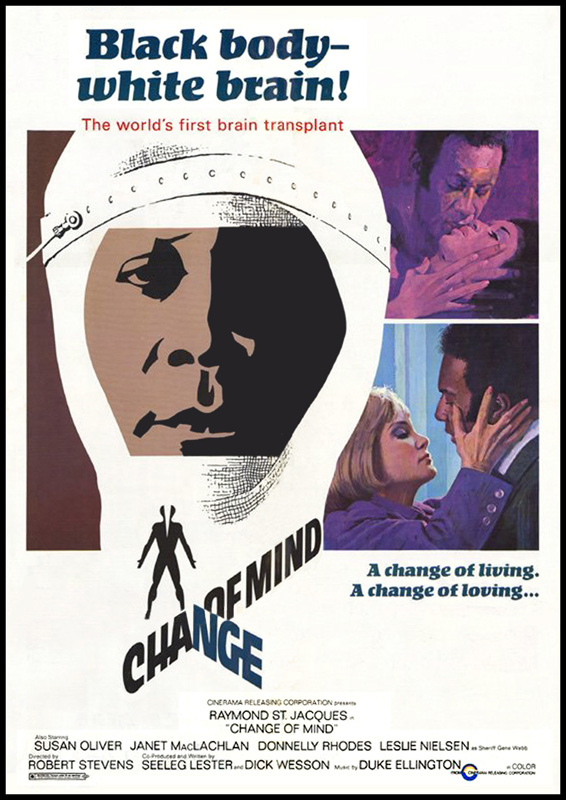 This odd concoction mixes science fiction and heavyhanded race relations into the oddest black/white scenario of all time (that is, until Ray Milland and Rosey Grier were stitched together in THE THING WITH TWO HEADS), with the world's first brain transplant complicated by the fact that the doctors stuffed the gray matter from a wealthy, terminally-ill white dude into a black guy's body. What exactly makes the man? Brain or skin color? Nowadays, this idea would've been played for laughs -- in fact, a year later, Melvin Van Peebles took that route with the skin-swap satire WATERMELON MAN -- but director Robert Stevens maintains introspective drama throughout (which will disappoint folks hoping for cheap exploitation), aided immeasurably by Raymond St. Jacques' forceful lead performance. We witness the operation, the recovery process, concerned doctors, and the successful end result: once-Caucasian district attorney David Rowe (hmm, a distant relative of Karl's?) has a whole new outlook on life. Rowe seems to adjust to the change quite easily, and though his wife Meg (THE LOVE-INS' Susan Oliver) sticks by his side, she's hesitant when the issue of sex arises ("Why can't I let him touch me?" she whines). Meanwhile, all of his white political cronies are less focused on this groundbreaking medical miracle than the fact that Rowe is now a Shvartz,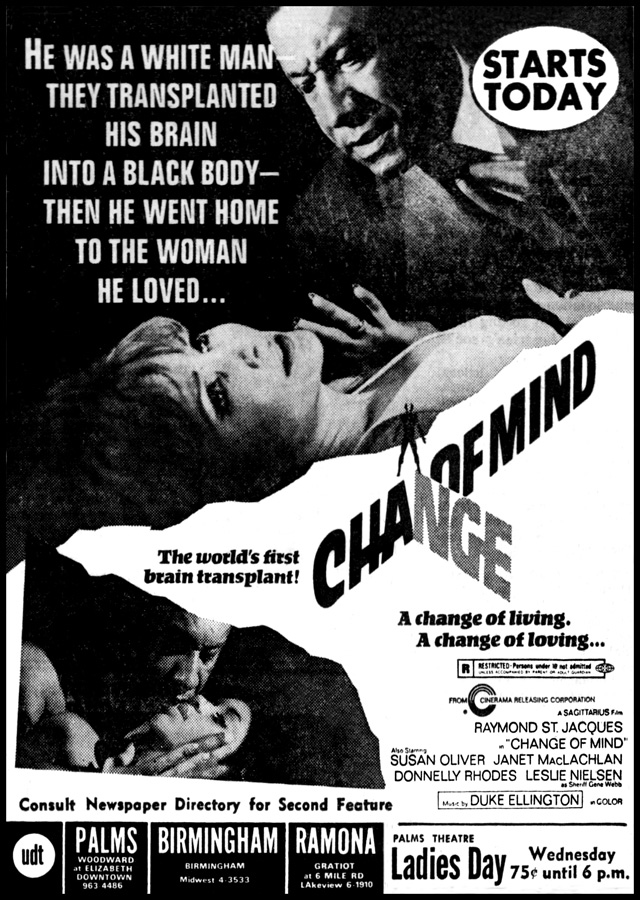 and soon racism is running rampant, with old colleagues calling him "boy," and best 'friend' Roger (Donnelly Rhodes) trying to seduce Meg. Painfully unsubtle Leslie Nielsen co-stars as a sadistic sheriff accused of murdering a black woman, and when this Nouveau Brother tackles the controversial case, his right-wing bosses worry that Rowe's black skin is affecting his job performance. Rowe eventually suffers from cheesy hallucinations and headaches, and also has the brilliant idea of visiting his donor's widow (St. Jacques' UPTIGHT co-star, Janet Maclachlan), who allows him to hop back into the sack -- only to realize that there's a big difference between her dead husband and Rowe once they're in bed. He also checks out an inner city nightclub, with a Sister coming onto this "instant Negro." Baritone-voiced St. Jacques (COTTON COMES TO HARLEM) minimizes the potential camp value, even when Rowe stands up to the redneck governor, by reminding this cracker that he knows all about the 17-year-old whore he keeps on the side. The film also boasts Arthur Ornitz (SERPICO, DEATH WISH) cinematography and a rare score by Duke Ellington, while the earnest yet half-baked script (by Richard Wesson and '60s OUTER LIMITS-contributor Seeleg Lester) is filled with intriguing ideas, when it isn't getting bogged down in sappy marital melodrama.

© 2004 by Steven Puchalski.