COMING APART (1969).
This is one of those movies which I'd read about for years, but never had the opportunity to see for myself. Luckily, I caught a rare screening (one of its first in 30 years) at MOMA, and came face-first with an altogether unique drama, that meshes the acting style of Cassavetes within a Warhol framework, and locates the best of both worlds. A psychological demolition derby, with enough sexuality to earn it an X-rating during its 1969 release, this is the type of movie which simply could not be made nowadays. Rip Torn stars as Dr. Joe Glazer, a psychiatrist who's coming apart during an emotional breakdown. Leaving his wife and setting up a bachelor pad apartment, he installs a hidden camera (which he tells others is a "kinetic" piece of artwork), and this lens becomes the POV of his on-screen self-destruction. Throughout, various female visitors indulge Glazer's sexual fantasies. A young blonde neighbor (Lynn Swann) shows up with her baby, strips, gyrates to his stereo, then asks for fifty-bucks when he begins to get serious. Lois Markle plays a lover who shows off the cigarette burns on her chest, then dresses up in lingerie and stilettos; a teen McCarthy campaign worker comes to his door; and Viveca Lindfors tries to pull him from this abyss-driven lifestyle. It culminates in a party that, once everyone's stoned, devolves into an impromptu orgy. Torn again proves that he's not only one of our finest actors, but daring enough to attempt this type of career-crippling material. Above all, co-star Sally Kirkland is a revelation. Playing a girlfriend/patient who cracks under the pressure, she strips down, performs felatio on Torn (the back of her bobbing head is glimpsed,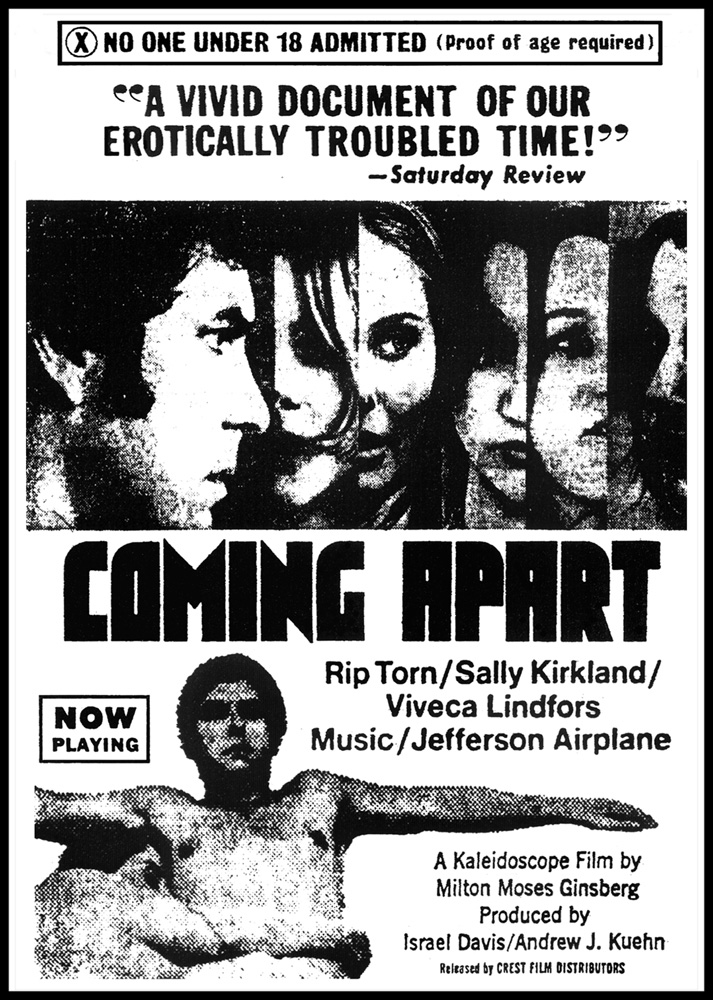 but nothing extreme is seen) and masturbates while riding his bare leg. It's a complex, tormented portrait, which is in turn sexy, violent and heartbreaking. Despite the film's voyeuristic pretensions, this is so intensely acted that it commands our attention, even during the longest, artiest digressions. By its crushing finale, the filmmaking itself becomes as fragmented as Glazer's disintegrated world. Sounds serious? It is, but that doesn't detract from its moments of humor, often provoked by Torn's reaction-shot into his secret lens, plus a particularly bizarre story about a live duck in a dresser drawer and a guy's penis. All the while, everything we observe is filtered through this hidden camera, and though occasionally turned (so we can glimpse the Manhattan skyline out his window), most of the movie is one static, b&w glimpse of his much-used couch -- while scenes break off in mid-sentence when the camera runs out of film, and time becomes irrelevant, since it could be hours or even weeks between one scene to another. All of the music is ambient, and mostly Jefferson Airplane (including the extremely appropriate "Someone to Love"). A financial and critical disaster, director Milton Moses Ginsberg's only other feature was 1973's THE WEREWOLF OF WASHINGTON, starring Dean Stockwell.

© 1998 by Steven Puchalski.