COVER ME BABE (1970).
Robert Forster is riding high nowadays, with his kick-ass, Oscar-nominated 'comeback' in JACKIE BROWN. Of course, SC fans have never forgotten the guy, who started his career with the acclaimed MEDIUM COOL, then continued to pay his rent with drive-in gems like ALLIGATOR, STUNTS and VIGILANTE. But if you want a look at the type of over-baked tripe which helped kill off his promising career back in the early '70s, COVER ME BABE is a prime example (along with equally obscure fare like 1970's PIECES OF DREAMS, in which Priest Forster falls for Lauren Hutton). It starts like some tripped-out US-version of EL TOPO -- complete with a vast desert, topless babes, and an overdose of hippie-dippy, avant-garde imagery that left me in awe. Too bad, this four-minute intro is only a tripped-out college film project by director Tony Hall (Forster); and for this pre-BANYON/NAKIA gig, he plays a cynical, pushy, ultra-indulgent wannabe-filmmaker who's always bucking The System and flushing away every Establishment opportunity handed him. Of course, he's also a heartless bastard (glimpsed when he opportunistically films a beach tragedy involving a drowned child), manipulating everyone around him and doing anything to finish his latest work. This offers up Forster at his most callous and rebellious. I don't remember him cracking a smile once, and in his eyes, truly great cinema is Jack Ruby shooting Lee Harvey Oswald. The rest of the cast are merely pawns. Sondra Locke -- in only her second film, following her Oscar-nominated debit in THE HEART IS A LONELY HUNTER -- plays Forster's girlfriend Melisse,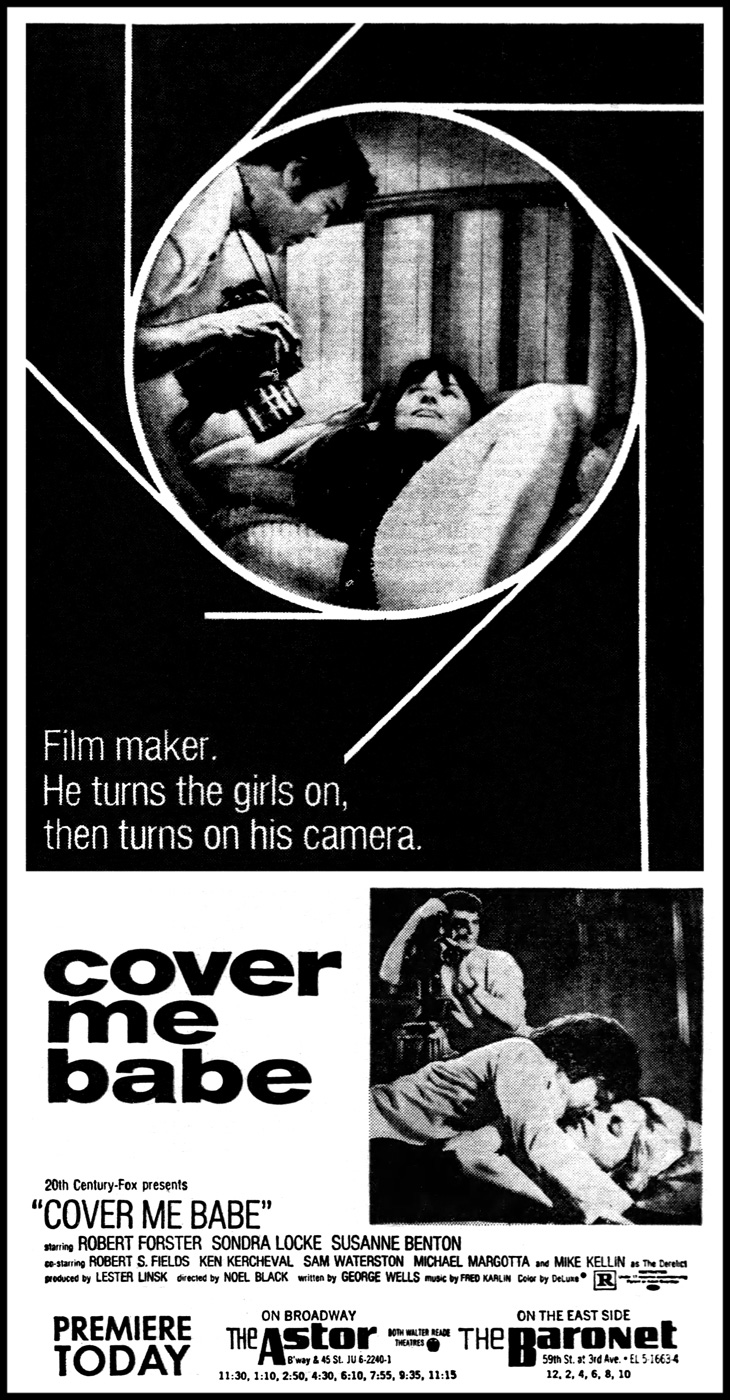 who allows herself to be nearly raped in one of his sleazy, on-camera scenarios. In addition, Susanne Benton (A BOY AND HIS DOG) is a sultry young actress who falls for Tony's charms, Sam Waterston plays his longtime cameraman, Michael Margotta (DRIVE, HE SAID) is Hall's more-commercial student competition, Jeff Corey courts Tony as a hotshot Beverly Hills agent, Mike Kellin is a drunken derelict interviewed by Tony, while future-director Floyd Mutrux (AMERICAN HOT WAX) appears as Forster's gay friend. Originally lensed under the equally senseless title RUN SHADOW RUN, Noel Black (hot on the heels of his black comic gem, PRETTY POISON) directs this character-driven dirge by Oscar-winning scriptwriter George Wells (best known for old-school romantic comedies like DESIGNING WOMAN and WHERE THE BOYS ARE). This time, he delivers a delirious free-for-all which might indeed capture that self-indulgent era, but doesn't give us any reason to give a shit about any of the characters. Sure, always-solid Forster makes a totally believable blowhard, but it's impossible to warm up to such a clueless, self-serving asshole -- rambling uncontrollably about how unnecessary actors are, eventually abusing (and losing) even his closest friends, but never learning a fucking thing. Beautifully shot by Michel Hugo (HEAD, THE PHYNX). the best moments involve Forster's spontaneous "filmmaking-within-a-film" moments, which have a blissfully impromptu edge and provide a relief from the heavy-handed melodrama. Sprinkled with intriguing ideas, but ultimately uneventful, it's no wonder this flick fell through the cracks (and stayed there).

© 1996 by Steven Puchalski.