DEEP END (1970).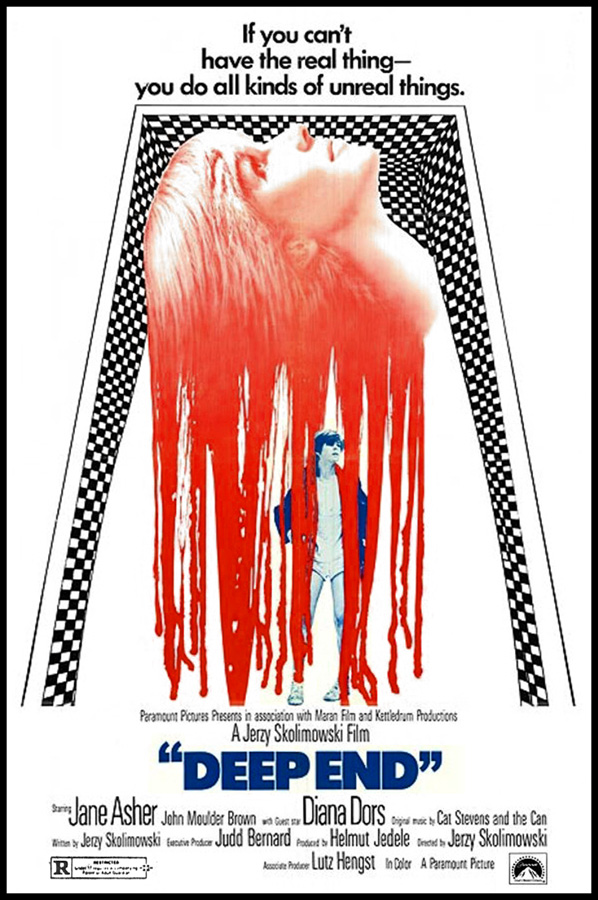 Jerzy Skolimowski's directorial career has had its ups and downs (with highs such as THE SHOUT and MOONLIGHTING), but his career began with this offbeat tale of obsessive, destructive love. Sounds right up my alley, eh? John Mouler Brown stars as Mike, a teen who gets a job as a bathhouse attendant in London, and has his first taste of distasteful lust when the older ladies begin coming onto him. Tongue-tied when it comes to sex, or just about anything else, this immature youth makes friends with another employee, Susan -- a pretty, older woman (barely in her twenties) -- and begins to fall for her leggy charms and flirtatious ways. Red-headed Jane Asher makes a lovely object of desire, and she embodies the pros and cons of that carefree era of swinging London. She's spontaneous, seductive, cruel and vapid. And after one long kiss from Susan, Mike finds himself stalking her to edgy comic effect. Eavesdropping on her plans to marry a weaselly sort, fondling her in an X-rated cinema, and wallowing in his downward emotional spiral. For the first half, this film is yet another humorous look at the sad twists of love, but halfway through it, you realize it has taken on a darker tone. Suddenly, the nerdy Mike has acquired a malicious edge as his "love" turns in on itself, like a dead animal. In other words, the movie's remarkably true to life, as anyone who's felt unrequited love knows. Before long, he's stumbling through the subways, lugging a nude, life-size cardboard woman, snapping at everyone around him, and manipulating Susan into a touchingly perverse denouement. Slight, but ultimately haunting, Skolimowski gives the film a nervous, voyeuristic coating (which also adds to its deceptively erotic appeal), and it's certainly not a light-hearted romp.
The leads are tragic figures, the supporting cast of bathhouse matrons are a sad and lonely lot, and mod London has never looked so uninviting (with Jerzy focusing on garish strip clubs and whorehouses). Let's not forget the period-evoking (not to mention, bile-rising) score by Cat Stevens and The Can. An increasingly tense, dreamlike drama from an (at that time) uncompromising filmmaker.

© 1994 by Steven Puchalski.