DIRTYMOUTH (1971).
Found on the bathroom floor of his Hollywood Hills home, Lenny Bruce died in 1966 at the age of 40, but the legend of this controversial, persecuted stand-up continued to grow over the next several years, thanks to a Tony-winning 1971 Broadway show, Bob Fosse's Oscar-nominated 1974 bio-pic and Albert Goldman's best-selling biography. There was also the low-budget, barely-remembered DIRTYMOUTH -- lensed in 1969, released two years later in hopes of piggybacking onto the play's success, then reissued in 1975 while LENNY was in theatres. In this instance, at least writer-director Herbert S. Altman actually knew his subject, since he'd once hired Bruce to star in an aborted 1965 sci-fi comedy entitled GIRLS FROM EROTICA, with New York City nightclub comedian Bernie Travis (also credited as a script consultant) gamely stepping into the lead role. Pathetically cheap looking, badly acted, crudely slapped together, but often exceptionally weird -- from opening credits written on cards as they're being flushed down a toilet, to a ridiculously poppy title song ("Hey, Mr. Dirtymouth") warbled by The Free Design and repeated throughout the film -- this might be an amateurish, incompetent mess, but there's no shortage of good intentions on display. Far from make-a-quick-buck exploitation, it's actually much tamer than Fosse's version... Opening in the 1950s, with frustrated Lenny Bruce complaining to his agent that he's tired of playing shithole clubs in the sticks and instead yearns to be a "hip Will Rogers,"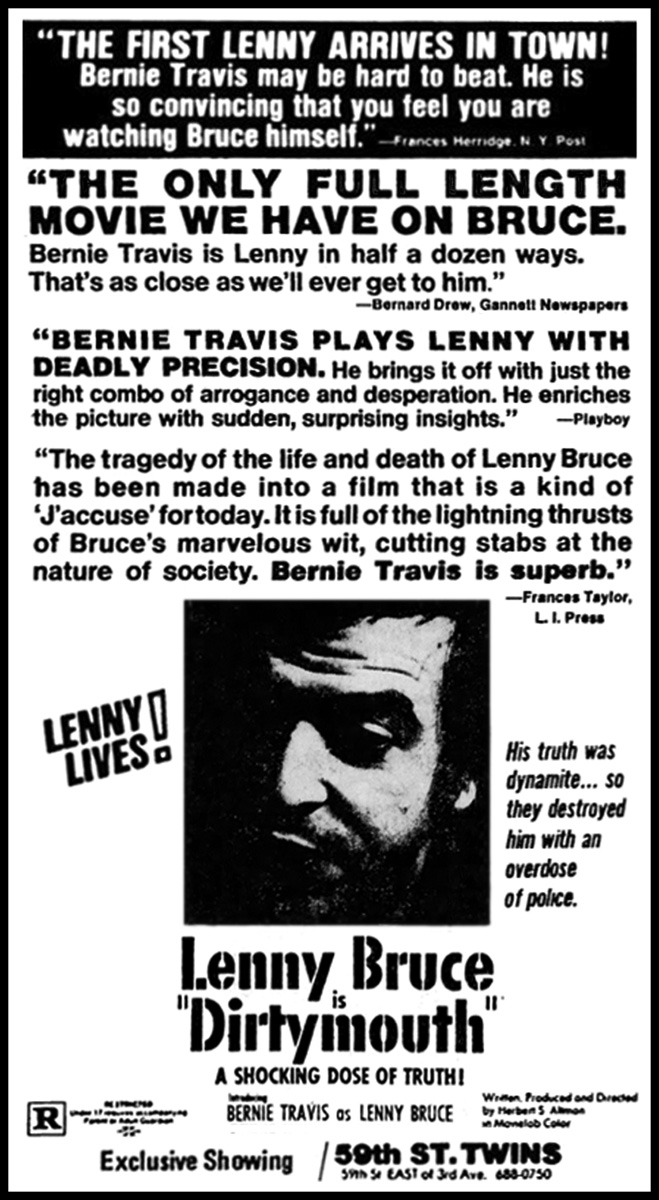 he wanders pensively about the city and soon finds himself torn between two very different women in his life. On one hand, there's statuesque burlesque dancer Marlene Sinclair (Miss Sam Teardrop), a surrogate for Honey Harlow, Lenny's future wife; on the other, off-key folk singer Iris McCabe (Courtney Sherman [m: Simon], future soap opera writer for SANTA BARBARA and ONE LIFE TO LIVE) is a loose version of jazz singer Annie Ross. And while shy Iris has "hang-ups" about dating such a bitter guy, she finally goes to bed with him after Lenny shocks her uptight mom with his act. But just as mainstream showbiz success is within his grasp, Bruce refuses to kowtow to network censors and pisses off powerful, flag-waving, conservative assholes with his "vulgar" rants about organized religion and government. The film loses much of its steam in the second half though, as Lenny antagonizes "the wrong people" and remains stubbornly self-destructive 'til the very end, with the clunky script weighed down by long-winded, disjointed discussions and cartoonish courtroom proceedings. By the midpoint, he's being hauled out of his hotel room by the cops, district attorneys conspire to bust him for daring to make fun of the Pope and America, with the entire thing falling apart in its final minutes... Almost completely ignoring Lenny's drug use, marriage and family, while haphazardly cramming together actual events (e.g., Lenny is found guilty of obscenity in a NYC courtroom, goes straight home and promptly dies on his bathroom floor -- even though the two events occurred 20 months apart!), the film never comes close to capturing Lenny's scathing brilliance or distinctive voice. Of course,
that's difficult to pull off when you don't own the rights to any of Bruce's actual performance material (with a couple of the film's monologues forcibly cut due to injunctions following an early trade screening). In his only screen role, Travis manages to bring out Lenny's softer side early on, as he charmingly schmoozes clientele, covers up for junkie colleagues and vents his career frustrations, but is incapable of replicating Bruce's on-stage mannerisms or edgy charisma. Say what you will about Dustin Hoffman's take on the role, but Travis comes off more like a 3rd-rate Grossinger's lounge act or, even worse, the obnoxious ranting of some disheveled homeless guy. Nevertheless, he was later cast in a 1971 Off-Broadway play about Bruce, only to have it slapped with a restraining order by the Broadway show's producers just before opening night.

© 2017 by Steven Puchalski.