DIRTY WEEKEND (1993).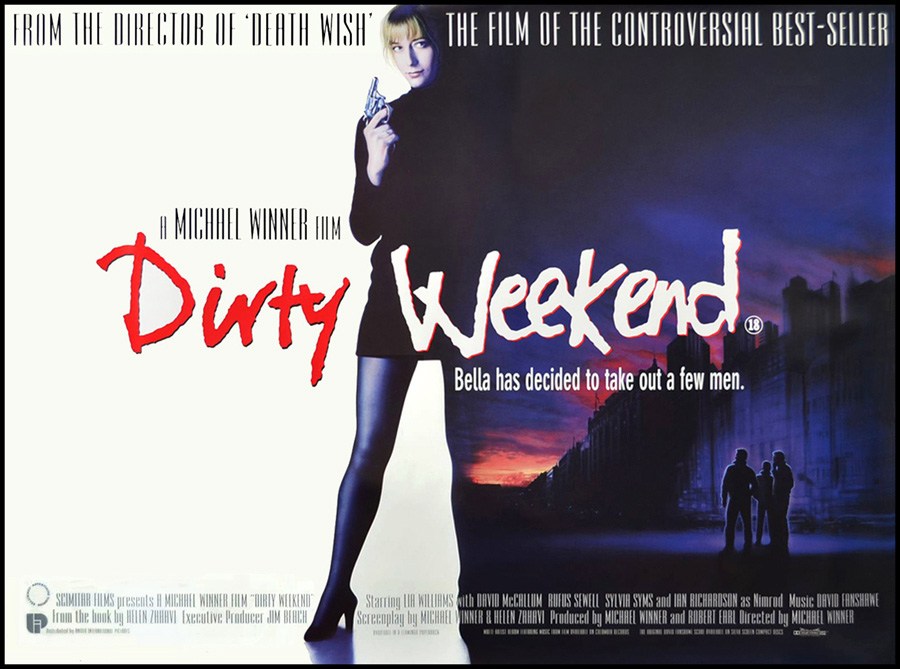 Now that we've seen just how bright and innovative Michael Winner could be in an early UK effort, let's leap ahead three-decades, to discover what he's up to in the '90s, back in his homeland and with a similar seaside backdrop. The answer? A female DEATH WISH retread, that's even stranger and more abrasive than his NYC-lened hit. Based on a controversial feminist novel by Helen Zahivi, this screen adaptation (like DEATH WISH's) embraces two extremely different agendas, by mixing a feminist battle-cry with a gleefully-sleazy vengeance-fest... Lia Williams stars as Bella, a young woman who's emotionally-abused by her philandering boyfriend and takes off for an impromptu seaside holiday in Brighton. Even there, she's unable to escape her problems with men, due to a voyeuristic neighbor who phones her with sick calls. Future-DARK CITY resident Rufus Sewell plays this sadistic shitwad, and does it shockingly well, without one redeeming human quality. Everything changes for Bella when an Iranian clairvoyant (played by the definitely non-Iranian Ian Richardson) convinces her to fight back. Never one to go halfway, she breaks into Sewell's home and beats his skull open with a hammer! After 45 minutes of non-stop abuse, this comes as a cathartic blast (even if Bella seems a bit too enamored with her violent new lease on life). Empowered by this long overdue act, she finds a blackmarket gun-dealer (remember, this is the UK), slips into her tightest red dress, and indulges in some highly righteous bloodshed, aimed at punks who're abusing a homeless old woman plus a local serial killer... Straying from the standard female vigilante route, a few truly bizarre situations turn up, such as when Bella is picked-up by a repulsive, Troma-sized lard-ass who strips naked (ugggh), before choking on his just desserts. Ex-MAN FROM U.N.C.L.E. David McCallum even shows up briefly as Dr. Reggie, a dentist who pays an emergency visit to Bella and quickly turns into a marvelously-psycho, clean-freak, sexual predator. The placid Brighton locale is a fine counterpoint to the escalating body count, Ms. Williams (who, that same year, co-starred in Danny Boyle's MR. WROE'S VIRGINS mini-series) is exceptional in this touchy role, while Winner walks a tightrope by keeping a serious veneer, even as Bella's voiceover is ripe with black-comic wit. For a final giggle, the end credits include "Bella's victims in order of disappearance," as well as "the men that got away."

© 1998 by Steven Puchalski.