This Horror 'n' Halloween compilation contains nearly two-hours worth of cool treats that were originally created for children, but nowadays will probably be best appreciated by nostalgic, chemically-altered adults. It kicks off with a live-action, half-hour TV-special that's no classic, but earns laughs for its array of comic-actors stuck in cut-rate monster costumes. TAXI-era Judd Hirsch stars as TV's first blatantly-Jewish Dracula, who's pissed when the media blames the Count for the possible cancellation of Halloween. Various monsters then converge to discuss this threat, including LAUGH-IN vet Henry Gibson as hunchbacked Igor, THE BOB NEWHART SHOW's Jack Riley as a werewolf, Mariette Hartley (then best known for her mega-successful string of Polaroid commercials with James Garner) as a warty witch, and with Frankenstein's Monster played by McMILLAN & WIFE sidekick John Schuck (who'd later star as Herman in the short-lived '80s fiasco THE NEW MUNSTERS). Drac is angry that his colleagues' silly career pursuits (such as the werewolf's razor-blade commercial) have softened Halloween's image, while the power-hungry witch refuses to kickstart the holiday unless she's made co-leader of the Monster Realm. Will Dracula capitulate to her demands? Who cares... Will dopey slapstick shenanigans ensue? Unfortunately... And will it all end in a tacky disco-party finale? You betcha! Alas, that highlight only lasts one minute, with Hirsch sausaged into a Tony Manero-style white-suit. With his greased-back hair and crummy Lugosi accent, Hirsch is hilariously awful but also fully committed to this contractual-obligation nonsense, while the barely-competent tech credits include TV-director Bruce Bilson (who helmed everything from GET SMART to the DALLAS COWBOYS CHEERLEADERS telefilm),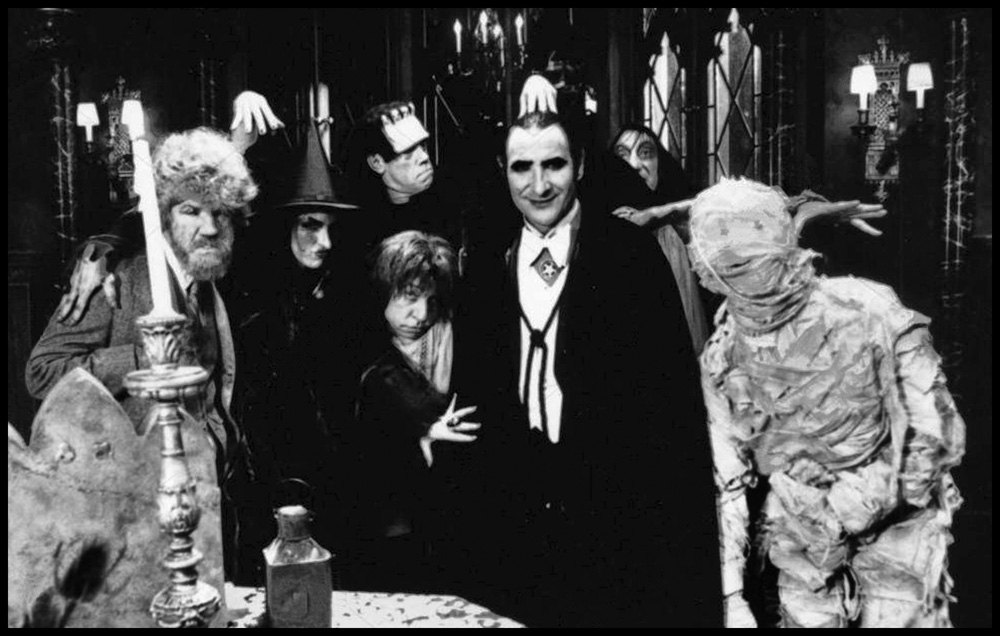 photography by Peter Sova (who graduated to big-screen fare such as DONNIE BRASCO), and a teleplay by Coleman Jacoby (a triple Emmy-winner in the '50s, who must've blown his savings on the ponies to get stuck with this throwaway gig).

Other shorts in this package include the animated WITCH'S NIGHT OUT (1978), from Canadian director John Leach, that pits selfish adults (who hate giving "hand-outs" on Halloween) against three disappointed kids who, with the aid of a witch, transform into a real werewolf, ghost and Frankenstein's monster. The overall lesson is heavyhanded, but the hand-drawn animation is kinda trippy, plus Gilda Ratner and Catherine O'Hara help out with the voicework. There's also the 1982 "ABC Weekend Special" cartoon BUNNICULA: THE VAMPIRE RABBIT, with a dog and cat (voiced by Jack Carter and Howard Morris) investigating mysterious events at a food processing plant, caused by a cute little bunny that sleeps all day and sucks the life out of veggies at night... Haven't had your fill yet? We also get an episode of Hanna-Barbera's pathetic, 5th-rate Scooby-Doo clone GOOBER AND THE GHOST CHASERS (1973), with three teen poltergeist-investigators and their scrawny, sniffling canine coming to the aid of The Partridge Family Kids(!) at an unorthodox wax museum; an episode of Hanna-Barbera's WINSOME WITCH (1965), that focuses on magical spells and repeated corporal punishment; plus the 1936 Dave Fleischer masterpiece THE COBWEB HOTEL, which demonstrates just how piss-poor today's mainstream animation has become.

© 2007 by Steven Puchalski.