DRIVE (1991).
With so many crappy 'indie' films readily available on video, you can't help but wonder what ever happened to this hilarious little gem, which had a brief theatrical run in Los Angeles and essentially vanished. Shot in black-and-white and directed by first-timer Jefery Levy, this is a blissfully eccentric road movie that's blessed with a transcendent performance by David Warner -- who creates the most deliriously motor-mouthed character to slide behind the wheel of a car since Warren Oates in TWO LANE BLACKTOP... The plot is deceptively simple and uninviting, as we spend 86 minutes watching Warner (simply known as "the Driver") on a lengthy commute to work in his Chrysler convertible, spewing his boundless knowledge and opinions to his usual Passenger (Steve Antin, of THE LAST AMERICAN VIRGIN infamy) as they deal with California traffic. Being trapped inside a car for nearly the entire film might sound dull, but cinematographer Steven Wacks' inventive visuals and Warner's non-stop, twisted monologues make it an exhausting experience -- spouting his skewed opinions on everything from the homo-eroticism of football, pornography, AIDS, society in all of its forms, and Antin's "loser" life (in between swigs from his gigantic coffee cup). Meanwhile, his Passenger is suffering from a broken relationship (with Dedee Pfeiffer, Michelle's younger sis, who's glimpsed in fragmented memories), plus increasing annoyance at Warner's endless speeches. Hell, this guy can even talk about the act of talking! Eventually spinning into even loonier directions, the two discuss making a movie based on their drives, along with reverse photography, flubbed lines,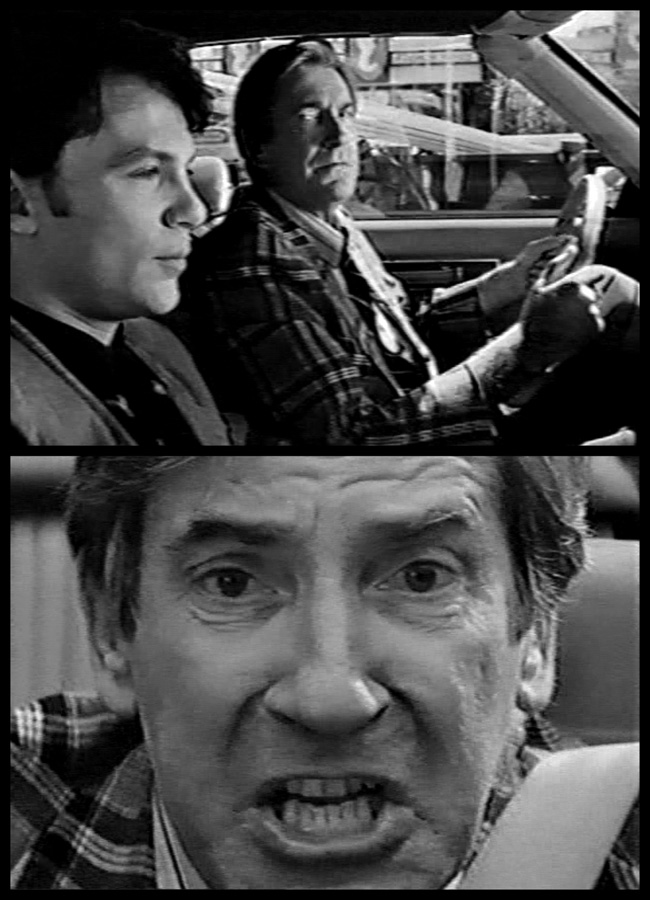 and making faces into the camera. So, is there a point to it all? Not really, but it's a electrifying trip down the road to nowhere... Warner has often stolen the show in supporting roles, and here he's given topbilling and full reign to go nuts (thanks in large part to screenwriter Colin MacLeod's riotous rants). Thank goodness, because Antin's character is a bland, spineless twenty-nothing, who continually bitches but does little to change his situation. Despite the script's constricting conceit, Levy keeps it as playful as possible, with quick cuts, glides across the car's chassis, flashbacks, strange segues, and local scenery. It's also obvious that Levy shot his creative wad on this heavily-styled tale, because his later flicks (INSIDE MONKEY ZETTERLAND, S.F.W.) were annoying flops that could've been made by an entirely different person.

© 2000 by Steven Puchalski.