EVERYTHING'S DUCKY (1961).
Without question, Mickey Rooney has had one of the strangest, coolest careers in showbiz. After becoming the biggest box-office draw of the late-'30s, this 5'-2" comic bedded some of the hottest women in Hollywood (such as Ava Gardner) and later turned up in a slew of cinematic oddities -- SKIDOO, EVIL ROY SLADE, THE MANIPULATOR, THE MILKY LIFE, as well as this half-baked b&w comedy-fantasy, which paired him with another legendary buffoon, Buddy Hackett. Obviously some nitwit executive at Columbia Pictures figured that if FRANCIS THE TALKING MULE could be turned into a successful seven-film franchise, why wouldn't it work with a cute little duck? Mickey and Buddy play bumbling Navy seamen, Kermit "Beetle" McKay and Admiral John Paul Jones (his first name is actually "Admiral", which is indicative of the script's humor), who're stationed on a submarine that's located in the middle of the desert. Their new assignment is to transport a pet duck named Scuttlebutt, which belonged to a deceased scientist who'd been working on top-secret missile guidance projects. It seems like a no-brainer, until Scuttlebutt begins to talk! This bird is far more erudite than his human handlers, plus his super-modified brain contains all of the dead Doc's formulas. Our two seamen are soon bar-hopping (since alcoholic Scuttlebutt is overly-fond of dry martinis) and avoiding Navy bigwigs (since these heartless officers want to cut out their feathered friend's brain),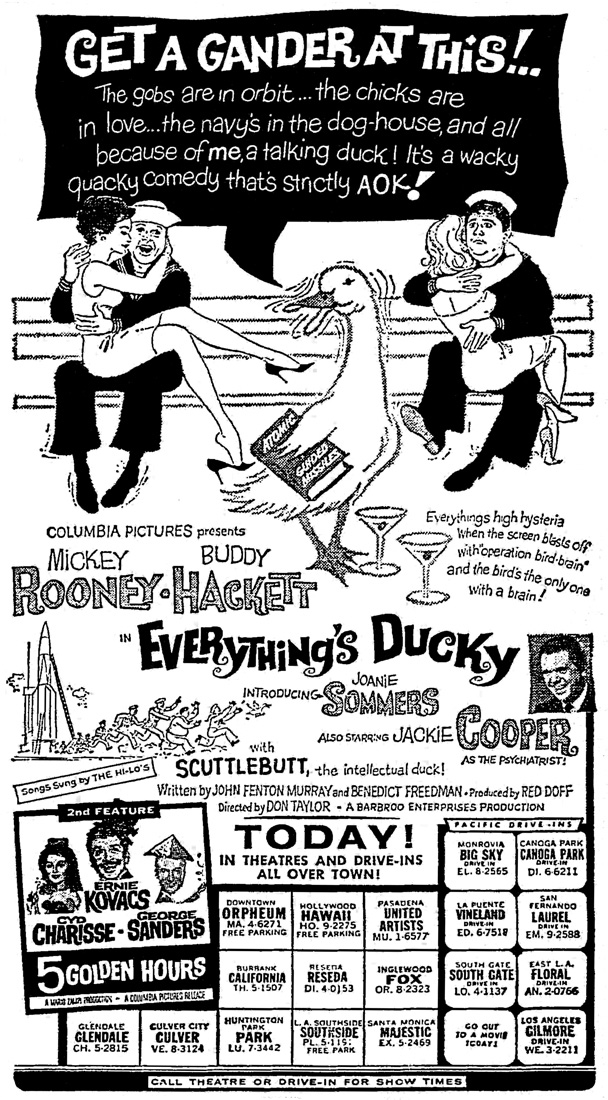 but then these schmucks accidentally release their li'l pal on the first day of Duck Season! Some potential romance is also crammed in -- courtesy of pop singer Joanie Sommers ("Johnny Get Angry") and Elizabeth MacRae (whose acting career ranged from playing Gomer Pyle's girlfriend to a pivotal role in Coppola's THE CONVERSATION) -- but that only slows down the film further. Finally, in its most idiotic twist, can the boys save Scuttlebutt from a last-minute space launch? There's no shortage of character actors on hand, including psychiatrist Jackie Cooper, scientist Richard Deacon (THE DICK VAN DYKE SHOW), lab assistant James Millhollin, technician Alvy Moore (GREEN ACRES), plus (ex-Charlie Chan) Roland Winters as a Captain. Meanwhile, Scuttlebutt was voiced by Walker Edmiston, who went onto iconic vocal gigs such as TRILOGY OF TERROR's Zuni fetish doll and LAND OF THE LOST's head Sleestak, Enik. Behind the camera, this was the inauspicious feature debut for director Don Taylor (THE FINAL COUNTDOWN), while cinematographer Carl Guthrie must've had a way with wild animals, since he shot three FRANCIS movies, BEDTIME FOR BONZO and Johnny Cash's coke-era DOOR-TO-DOOR MANIAC. Its screenwriting team, John Fenton Murray and Benedict Freedman, both penned Rooney's 1954 comedy THE ATOMIC KID; but in the '70s, Murray worked on LIDSVILLE and SIGMUND AND THE SEA MONSTERS. Alas, there's no Sid & Marty Krofft weirdness to be found here. Mickey and Buddy were left to flounder, and the end result is never as funny or offbeat as it could've been.

© 2009 by Steven Puchalski.