DUSTY AND SWEETS McGEE (1971).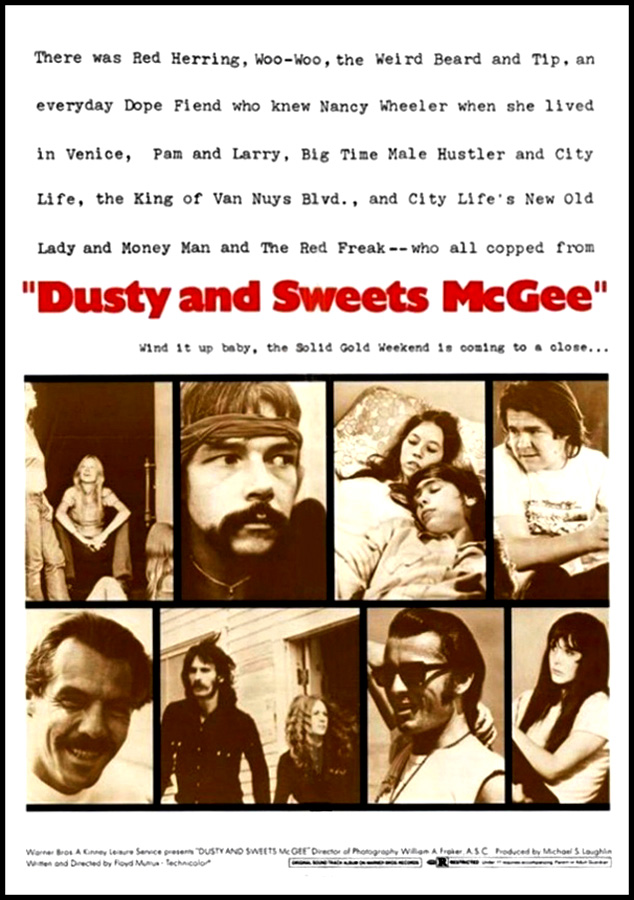 Floyd Mutrux is best known for directing nostalgic pics like ALOHA BOBBY AND ROSE and AMERICAN HOT WAX. This, his first feature, gives us Mutrux at his very best; capturing a streetwise reality and humor that would always keep him on the fringes of big studio success. Utilizing a multi-character, overlapping structure (which would later become fashionable in AMERICAN GRAFFITI and NASHVILLE), we're dropped into the middle of a pseudo-documentary Los Angeles Solid Gold Weekend, and a motley assortment of heroin addicts and their dealers. If the leads look a little strung out, that's because all the junkies are playing themselves (first names only), while the rest of the characters are portrayed by actors (you mean their pushers didn't want to be seen on camera?)... There's a male hustler; two guys buying a car stereo; and a teenaged couple who are barely able to crawl out of their bed for the entire movie. By far, the most effective sequences involve an older addict named Tip, who refers to himself as an "everyday dope fiend," fondly recalls his prison experiences (while interviewed in front of the LA county slammer), and makes his bread by ripping off stores. First, his male partner walks in, and while faking an epileptic seizure, Tip loads up a bag with cigs and saunters out, only to reunite later on and shoot up in a laundromat toilet. Obviously,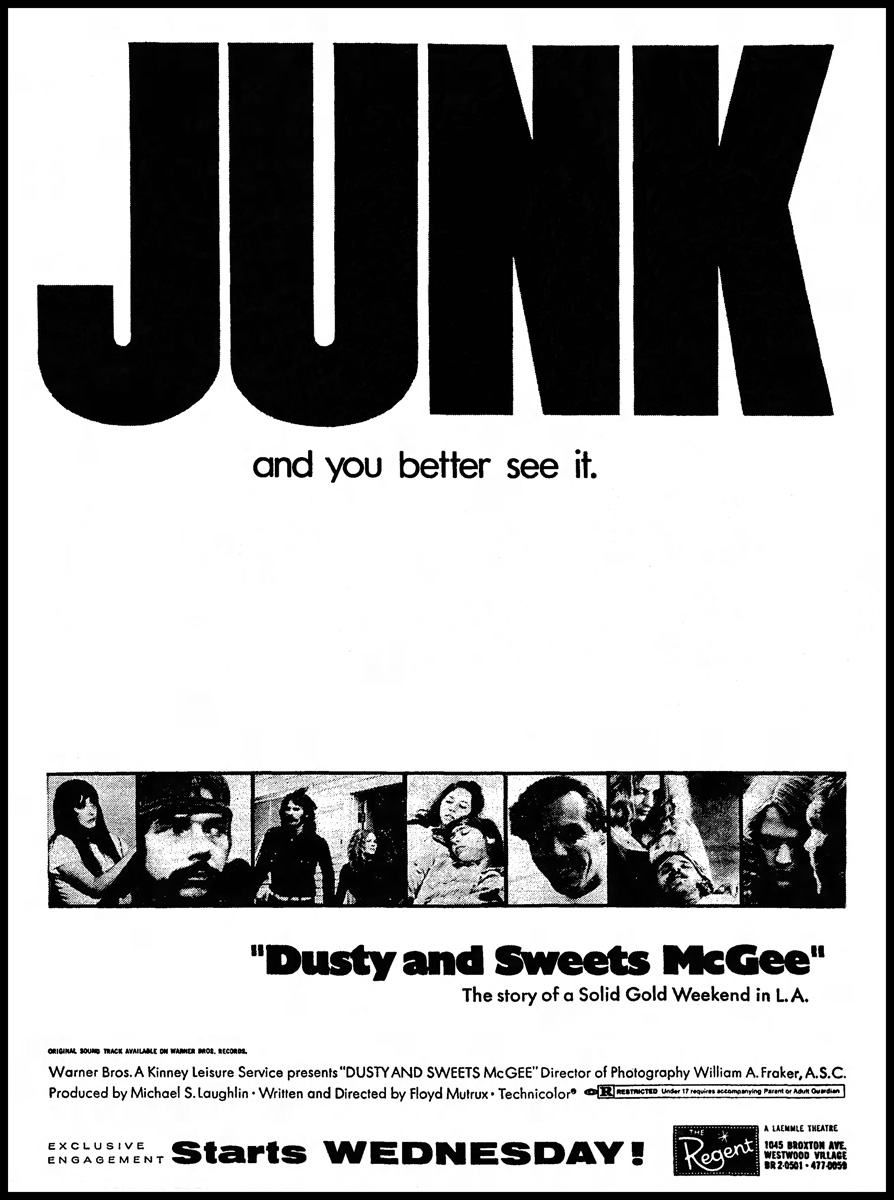 Gus Van Sant was a fan of this pic when he made DRUGSTORE COWBOY. This is a glassy-eyed time capsule that sucks you in from its first frames, and is at its best when avoiding the more cliched vignettes (like following the money-men behind the dope), and focusing on the characters' simple(minded) lifestyle, like how they pass off their dope in public phone booths. All of this grittiness is well captured by cinematographers William Fraker (who also plays one of the upper-echelon suppliers) and Laszlo Kovacs. Plus, there's a wall-to-wall soundtrack which includes Nilsson, Del Shannon, Van Morrison, and an appearance by Blues Image singing "Mystery Ship." This is far from total Doom 'N' Gloom Cinema though, because a lot of humor sneaks in (usually at the expense of the leads), such as when a girl explains how she once shot up, got so high that she forgot she'd just shot up, did it again, and O.D.'ed. Oops. Though never preachy, it's clear these junkies are far from Mensa candidates and are going absolutely nowhere (since they're usually too preoccupied with searching for a fresh vein). This flick is sure to give any aging addicts a nostalgic twinge for the good ol' days of sharing needles and nodding off at the most inappropriate moments.

© 1996 by Steven Puchalski.