ECSTATIC STIGMATIC (1980).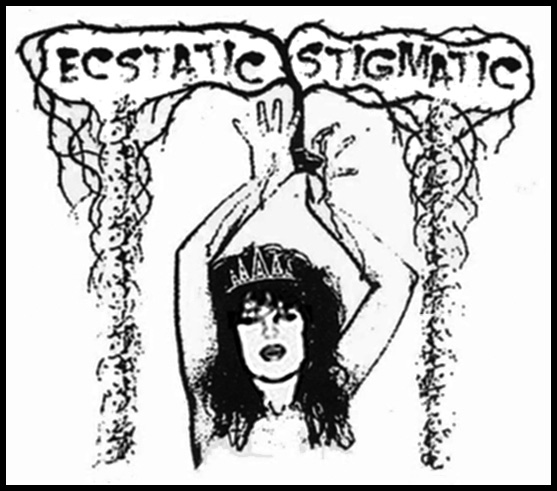 This hour-long No Wave underground flick proudly wears its sledgehammer symbolism like a badge of honor, with director Gordon Stevenson (bassist for Lydia Lunch's early band, Teenage Jesus & the Jerks) making the most of his extremely limited budget. Pummeling unsuspecting viewers with lots of Catholic imagery and dysfunctional family life, this ambitious 16mm entry also tells a (relatively) coherent story. Utilizing a mock-clinical approach, we're introduced to a mental patient named Rose, played by Mary Kathryn [Mirielle] Cervenka (the older sister of Exene, lead singer for the seminal punk band X, as well as the director's wife). Rose simply lays in her bed, nearly catatonic, paralyzed by her uncontrollable stigmata (as well as her past, which has brought about her current condition). Much of the film has Rose writhing in near orgasm, bleeding from various orifices, and posed on her bed in Christ-like fashion -- with her more hysterical states interpreted as some sort of "holy martyrdom". There's substantial erotic tension throughout these scenes, with Stevenson lingering lovingly on the flesh and blood, and his disorienting camerawork giving it the air of a D.T. dream. We're also privy to flashbacks of Rose's childhood, with Mary playing herself as a little girl. Her father enjoys making not-so-subtle advances and fondling her; her mom performs tattoo performance art; and at a tender age she's sexually assaulted by a sleazebag nightclub emcee. Cervenka (who was killed in a hit-and-run soon after the film's premiere) is a stand-out, bringing raw reality and pathos to her role -- it's almost as if she isn't acting -- and her commanding presence breathes life into the disjointed tale. It's a home-lensed labor of love, and though Stevenson has a propensity for heavyhanded imagery (including hoary standbys, like a picture of Jesus crying blood) he's less interested in the easy shocks of today's indie filmmakers than in probing the psychology of his character. The pic's wild technical crudeness (flip-flopping between b&w and color stock; hand written end credits) might turn off some, but stick with it, because Stevenson pulls off some truly haunting moments. It's a small, uncut gem.

© 1994 by Steven Puchalski.