Shot on videotape and originally released straight to VHS, this no-budget parody of the Playboy lifestyle mostly takes place at one sprawling location and features scantily-clad women, limp gags and (best of all) a jaw-dropping tsunami of slumming character actors, struggling comedians and accommodating friends of director Robert Hegyes (WELCOME BACK, KOTTER's "Juan Epstein"). Meanwhile, the title role is capably handled by RETURN OF THE LIVING DEAD's Don Calfa as Hefner-esque magazine publisher/mogul E. Nick Vanacuzzi. It's mostly horrendous, but also hypnotically fascinating... A lavish soirée is being held at Vanacuzzi's Bel Air estate (in actuality, a spread in far-less-exclusive Glendale) to celebrate his latest brainchild, "Bon Vivant Video Magazine," with all of his friends and colleagues on hand for its premiere screening. Along with lovely "hostesses" sporting white bustiers, cat-ears and tails, attendees include Cleavon Little as Vanacuzzi's scheming manservant Edmundo; Eddie Deezen is Nick's estranged, illegitimate son Nicky, Jr.; John Sylvester White (KOTTER's Principal Woodman) gets paired with Elaine Joyce; there's SOAP alumnus Jay Johnson (with his ventriloquist dummy) and Robert Mandan (as a bartender); Robert Sacchi does (no surprise) a Bogart impression as a tough-talking P.I.; Carol Wayne (Johnny Carson's voluptuous "Tea Time Movie Matinee" sidekick,
who drowned only a year later at the age of 42) briefly wanders through; ANIMAL HOUSE's James ("Hoover") Widdoes plays a TV-newsman; and Hegyes makes an appearance as Nick's stoned gardener. As themselves, Bo Hopkins looks legitimately confused (or possibly half-in-the-bag), Jan & Dean's Dean Torrence is annoyed by fanboy Deezen, Welterweight boxing champ Carlos Palomino hits on the hostesses, plus HILL STREET BLUES star and future director (THE BRADY BUNCH MOVIE) Betty Thomas is offered a nude modeling gig by Nick... While this party is often oddly compelling, due to the mindblowing mix of familiar faces, its interspersed video magazine segments are mostly dire, such as fat-ass biker-correspondent Sonny Patterson (Pat McCormick) reporting on "The Hip Life" by visiting the local La Cage Aux Folles nightclub and cluelessly flirting with its 'female' employees. Andra Akers plays the video magazine's horny advice columnist, Aunt Mona. And Jonathan Winters also makes a "very special appearance" as rambling, disheveled, desert-dwelling hermit Emerson Foosnagel. Interviewed by the program's globehopping host, Mel Millman (C.P.O. SHARKEY's towering Peter Isacksen, who also co-wrote and co-produced E. NICK) and filmed near the iconic Vasquez Rocks, the sketch is peppered with Winters' extemporaneous riffs, excruciating dull and never remotely funny. Remarkably, the only vaguely amusing moments come from Monique Gabrielle, satirizing her own December 1982 "Penthouse Pet of the Month" stint as the video magazine's ditzy, continually-nude "Maiden of the Month" Charmaine ("My turn-ons are men without hair, caramel corn and paper napkins. My turn-offs are rude people, nucular war and lima beans."). Only 74 minutes long,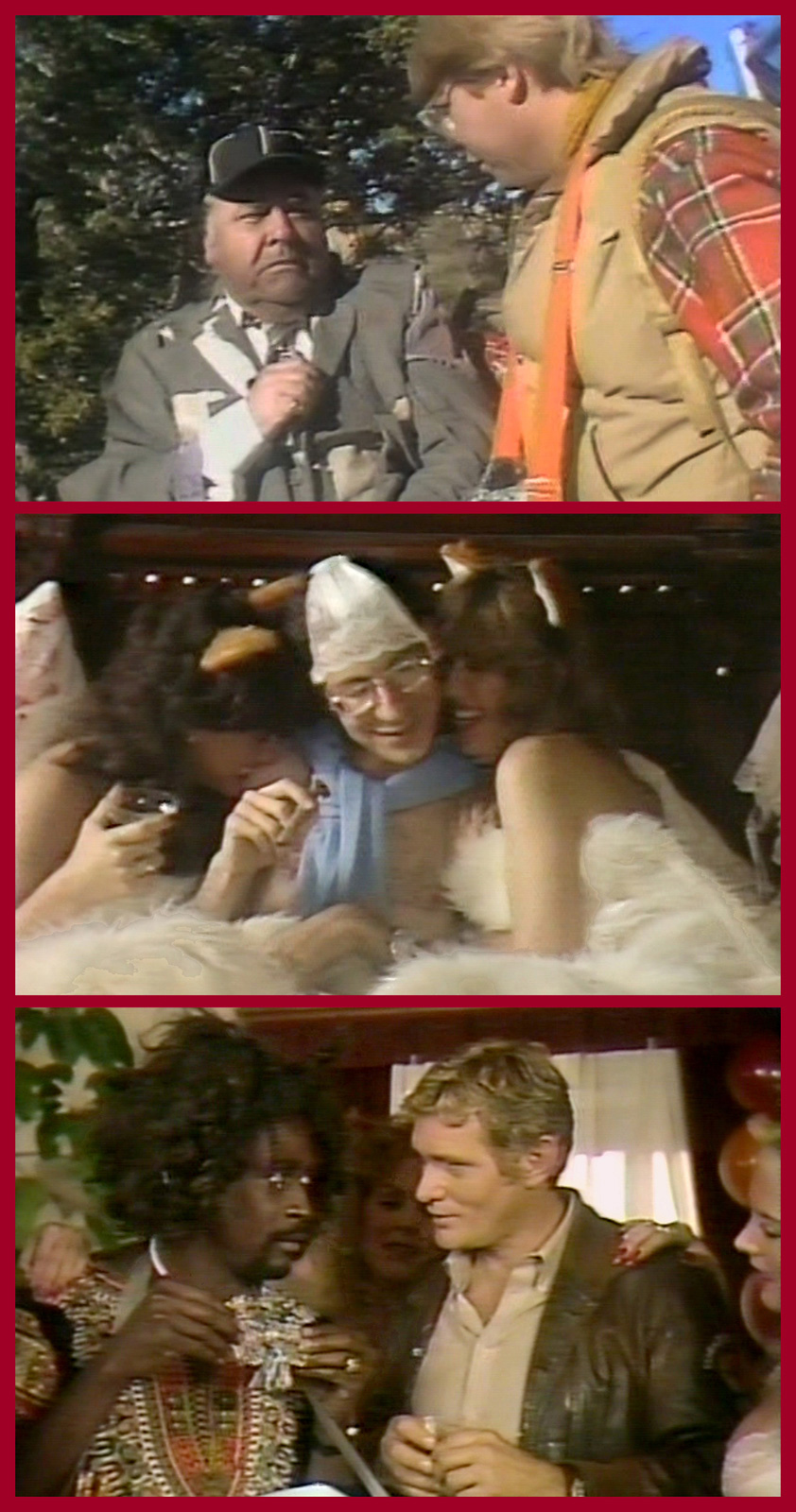 this hodgepodge is littered with gratuitous bare breasts, poolside ogling and embarrassing moments for almost everyone involved. Its one redeeming factor is Calfa, who dives into this sleazy, smarmy role with the same energy he'd bring to a big-studio blockbuster, while the most enthusiastic participant is undoubtedly Deezen, since Nicky, Jr. turns out to be a chick magnet who eventually ends up in his dad's bed with three women and lacey panties on his head. Alas, Hegyes directorial skills are nonexistent, with the entire project often feeling like it was actually filmed in one frantic afternoon. Though I doubt you'll see this on their current resumes, it also offered early gigs to director of photography Amir Mokri (BAD BOYS II, FAST & FURIOUS) and 2nd unit director John Dahl (THE LAST SEDUCTION).

© 2018 by Steven Puchalski.