Alexis Kanner may be best remembered for groovy guest spots on THE PRISONER (particularly his "Dem Bones"-singing Number 48 on the show's final episode, FALLOUT), but his initial acclaim came from on-stage work with the likes of Orson Welles, Peter Brook and The Royal Shakespeare Company. Though born in France, much of Kanner's childhood was spent in Canada, and after his UK theatre success, the 25-year-old returned home for THE ERNIE GAME, a 89-minute TV-movie from writer-director Don Owen. Based on stories by Bernard Cole Spencer, it's a distinctly Canadian spin on then-trendy UK womanizers like ALFIE, except that this title character's unrepentant demeanor masks legitimate mental illness. Produced by the CBC, along with the National Film Board of Canada, and conceived for that country's centennial birthday, I can only imagine how dumbstruck they all must've been by this unflinching portrait of a young, fraudulent, parasitic nutcase... Kanner plays outwardly-charming, self-proclaimed writer Ernie Turner, who's only recently released from a mental hospital. This deadbeat skips out on overdue rent, shoplifts his meals, wanders the wintery streets of Montreal, and latches onto any woman who shows the slightest interest in him -- such as his latest conquest, bored single-mom Donna (Judith Gault). Ernie later checks out a party (and yes, that is indeed 32-year-old Leonard Cohen singing "The Stranger Song" in the living room; ; FYI, Owen earlier co-directed the '65 documentary LADIES AND GENTLEMEN, MR. LEONARD COHEN) and runs into old love Gail (28-year-old, pixie-haircutted Jackie Burroughs), who unsuccessful tries to rebuff his quirky advances... Occasionally witty, increasingly needy and untethered from everyday reality, Ernie considers himself a writer, a genius and a saint, but we never witness any of these qualities (particularly the first; after borrowing a typewriter in order to do some work,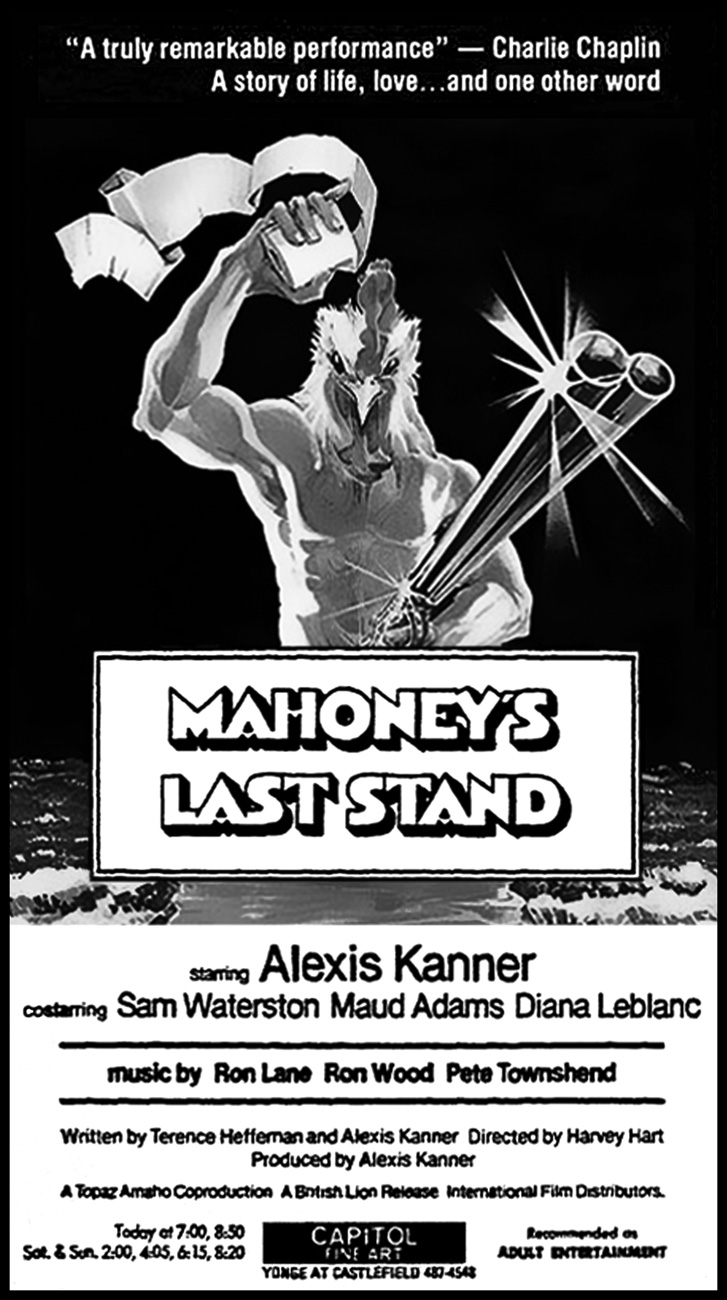 he promptly pawns it instead). And while Donna tries to initiate a relationship with him, their happy strolls don't last for long and soon "schizie" Ernie is back to his old games -- stealing a car, adopting a fake personality, picking up hitchhikers, and agreeing to an impromptu roadtrip to Toronto. Rejecting normalcy, Ernie even gets talked into helping out with a robbery, only to show as much distain for crime as he does for his lovers. Kanner doesn't try to ply our sympathies and is unafraid of plumbing Ernie's disturbing mood swings or possessive behavior. He's a whiny man-child unwilling to accept real-life responsibilities, while wildly veering between suicidal depression and delusions of grandeur. Best of all, Owen never gives us any reason to consider Ernie anything more than a handsome daydreamer who takes advantage of everyone and is unconcerned about the consequences. It's a devastating slice of emotional manipulation and self-destructive madness, rooted in effective moments of everyday reality.

Kanner went back to Canada a few years later to co-script, produce and play the title role in MAHONEY'S LAST STAND, a serio-comic character study about an offbeat individual's half-baked, WALDEN-esque misadventure. Directed by Harvey Hart (LIKE NORMAL PEOPLE, THE SWEET RIDE) and co-written by Terence Heffernan (A GREAT BIG THING), its "back to nature" storyline was already a bit dated when the film was being shot in 1972; but when this peculiar passion project finally snuck into Canadian theatres in 1976, it probably felt like a veritable period piece... Tired of bumming around the big city for the last decade, Leroy Mahoney (Kanner) has a dream of running his own farm and "making a stand,"
but it's immediately obvious that this scruffy young guy isn't quite all there. He rents a desolate chunk of Ontario countryside with a rundown old clapboard shack and outhouse on it, but seems totally devoid of social skills or a strong work ethic. In fact, on his first night roughing it in the country, he ends up fleeing to a cushy hotel and getting soused at their bar. Mahoney just wants a little peace and quiet, but he can't catch a break. First, incessantly-drunk old pal Felix (shaggy-haired Sam Waterston) abruptly shows up and is confounded by Mahoney's rustic lifestyle, followed by Felix's pregnant girlfriend. A far more welcome visitor is his landlord's sultry daughter Miriam (OCTOPUSSY's Maud Adams), who's unusually curious about this strawberry blond eccentric. Although Mahoney has little success at raising animals, growing crops or not blowing a gasket over his noisy, unwanted guests, at least this paranoid flake has more luck at seducing Miriam, complete with mosquito-repellent-stick foreplay and a nude roll in the hay. Still, Mahoney remains a mystery for much of the film, and it's only in the final reel that we get a glimmer of insight, when his remarkably-normal parents show up in town, concerned about their son's mental well-being. Alas, by then his friends have departed, the "farm" has become a trash-strewn shithole and, like most real life situations, it ends with a whimper, not a bang... The film is loose, unfocused and often absurdly funny, with Adams (in only her second film) beautiful yet a bit aloof, and Waterston allowed to cut loose as Mahoney's besotted, bickering buddy. Meanwhile, Kanner's nervous energy and peculiar acting choices reminded me of a more brooding and unpredictable Crispin Glover. Although it's difficult to care about this screw-up's foolhardy quest, he's a fascinating creation. Harry Makin's cinematography perfectly captures the cold, rainy Canadian wilderness and Mahoney's crappy old farmhouse, while the soundtrack by Faces duo Ronnie Lane and Ron Wood is full of sweet, unobtrusive instrumentals, with "Just For a Moment" over the opening/end credits and Pete Townshend apparently providing "Special Electronic Effects."

© 2014 by Steven Puchalski.