EVERY LITTLE CROOK AND NANNY (1972).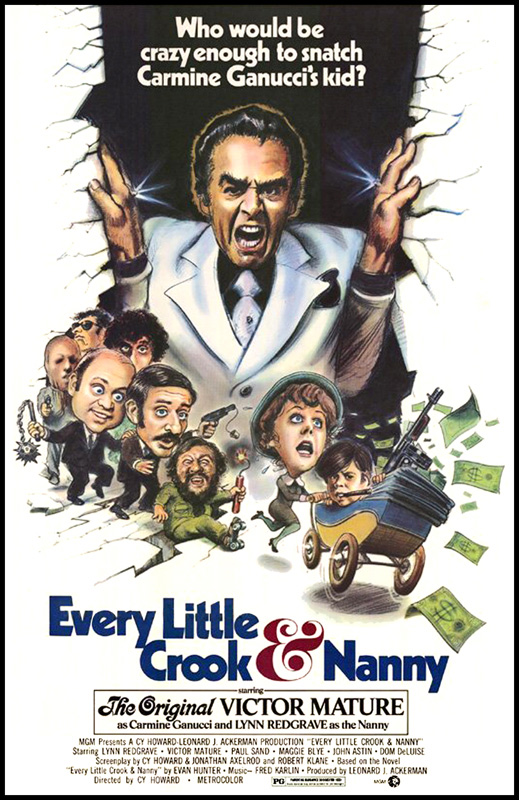 Tenuously based on a novel by Evan Hunter (a.k.a. Ed McBain), this laugh-barren Mafia-comedy has little going for it, except for loads of floundering starpower. The main culprit is an abominably flaccid screenplay credited to Cy Howard (who also directed, though technically it's closer to 'turning on the camera and letting good actors embarrass themselves'), Jonathan Axelrod (son of MANCHURIAN CANDIDATE-scripter George, so I guess talent skipped a generation in that family) and Robert Klane (author/screenwriter of WHERE'S POPPA?, as well as the driving force behind both WEEKEND AT BERNIE'S films). So who would be stupid enough to mess with a mob boss' only child? Lynn Redgrave, who has just been evicted from her beloved business, Miss Pool's School of Etiquette, by gangster Carmine Ganucci (Victor Mature) and his goons. She decides to get even by turning amateur criminal, posing as a governess while Ganucci and his missus are vacationing in Italy, kidnapping Carmine's obnoxious son, and ransoming him off for a whopping 50 G's. Aided by bumbling piano-player-turned-felon Luther (SKIDOO's Austin Pendleton), this milquetoast keeps the snatched boy at his apartment with Luther's wife mothering the (oddly unfazed) kid. Meanwhile, Nanny Pool fakes a ransom note and enlists the help of Ganucci flunky Benny Napkins (THE HOT ROCK's Paul Sand) to raise the cash -- including armed robbery -- with Pool seducing jittery Bennie in the process. One lame mix-up piles onto another,
and the result is less amusing than monotonous. Pendleton's excitable-longhair routine is always fun, as is Mature's pompous bluster, but most of the cast is on auto-pilot. John Astin (with a worse rug than usual, if that's possible) and Dom DeLuise play Ganucci's solicitors; Severn Darden is a scraggly burglar; and it includes so many future '70s-sitcom fixtures that TV Land addicts will crap their pants: ALICE's Vic Tayback is a Ganucci strong-arm, GOOD TIMES' Esther Rolle as a nanny candidate, HAPPY DAYS' Pat Morita turns up as a plastered barfly, ONE DAY AT A TIME's Pat Harrington plays an Italian restaurant owner, and LAVERNE AND SHIRLEY pop Phil Foster is a Police Lieutenant. Hunter's original novel was supposed to be a Damon Runyonesque comic-caper with much more wit and a struggling book reviewer named Luther as the main character, so obviously some major elements were lost in translation. Along with its flat direction and frantic performances, the screwball humor is belabored, cinematographer Philip Lathrop (POINT BLANK) is totally wasted, and the ending was more heartwarming than I could physically stomach. The only thing funny about it would've been watching the stunned faces of the producers who bankrolled this dud when they finally screened it.

© 2005 by Steven Puchalski.