A FAN'S NOTES (1972).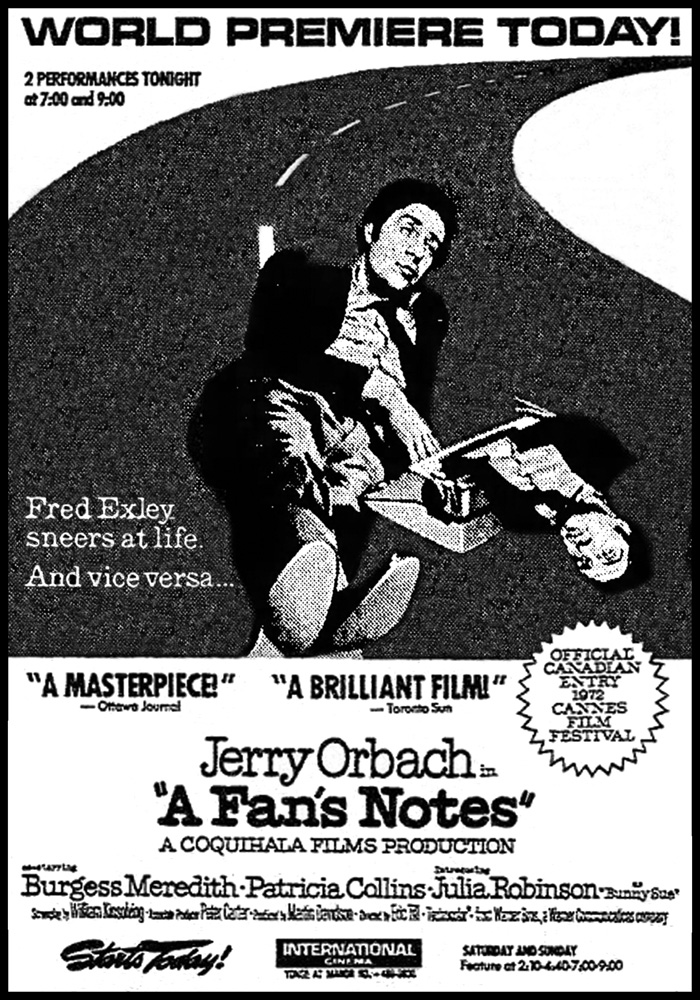 This New York City/Toronto-lensed adaptation of Frederick Exley's critically-acclaimed "fictional memoir" (and 1969 National Book Award finalist) handed Jerry Orbach one of his infrequent starring roles, only to strand the recent Tony Award winner in a meandering misfire lacking any focus or insight. A fragmented look at a man who rejects the notion of buying into stereotypical American life, is obsessed with the "crystal purity" of football and his pigskin hero Frank Gifford, and admits to being an insane drunk, British director Eric Till (HOT MILLIONS) seems utterly lost with the material and Exley later vented that the film bore absolutely no resemblance to his book... While institutionalized for depression and alcoholism, wannabe-writer Fred (Orbach) reminisces about his life, moving to New York City, plus his quickly-soured stabs at romance. Julia Ann Robinson (co-star of THE KING OF MARVIN GARDENS, who died three years later in a faulty-thermostat fire) plays pretty yet vapid girlfriend Bunny Sue, but after the couple heads to Canada and visits her irritatingly conventional parents (Rosemary Murphy and a pre-MAUDE Conrad Bain), Fred balks at the notion of settling down. Later, finding another chance for stability with Patience (Patricia Collins), he instead spends his days soused and terrified about potential fatherhood... The film's tone is constantly shifting. Sometimes it's absurdly comic (Bunny and Fred try out various costumed fetishes -- from a nun to a Playboy bunny),
other times introspective (Fred mourning his dead dad) and the final reel tackles wacky sexploitation, as horny old "muff diver" Mr. Blue (Burgess Meredith) shows Fred how to meet lonely ladies by selling aluminum siding (with Jackie Burroughs as a "blind" housewife). Meanwhile, Fred's voiceover drones on and on with insipid observations, such as why he's seen sitting on the dividing stripe of an empty country road ["In a land where speed is a virtue, it is a grand, defiant and edifying gesture to sit down in the middle of the road." Sheesh, gimme a break]... This portrait of am artist as a young(ish) man begins wonderfully, with footage outside the old Yankee Stadium as fans tailgate in parking lots and Orbach wistfully wanders the neighborhood and attends a New York Giants game (who called that stadium home from 1956-74). Unfortunately, once the screenplay (credited to longtime script doctor William Kinsolving, who was publicly frustrated by the drastically-rewritten end result) begins leaping about Fred's sorry life, it's difficult to give a damn about the guy. A less inherently likeable actor than Orbach would've made this schmuck completely insufferable, since he thinks he's smarter than everyone else (he isn't), brags about knowing Frank Gifford at college (he's lying), belligerently picks fights (which he loses) and, for all of his bravado, secretly worries that he might be just another fan, applauding the efforts of others. Longing for "a destiny that's grand enough for me," you'll quickly have the urge to beat this self-absorbed whiner senseless with a sockful of nickels.

© 2016 by Steven Puchalski.