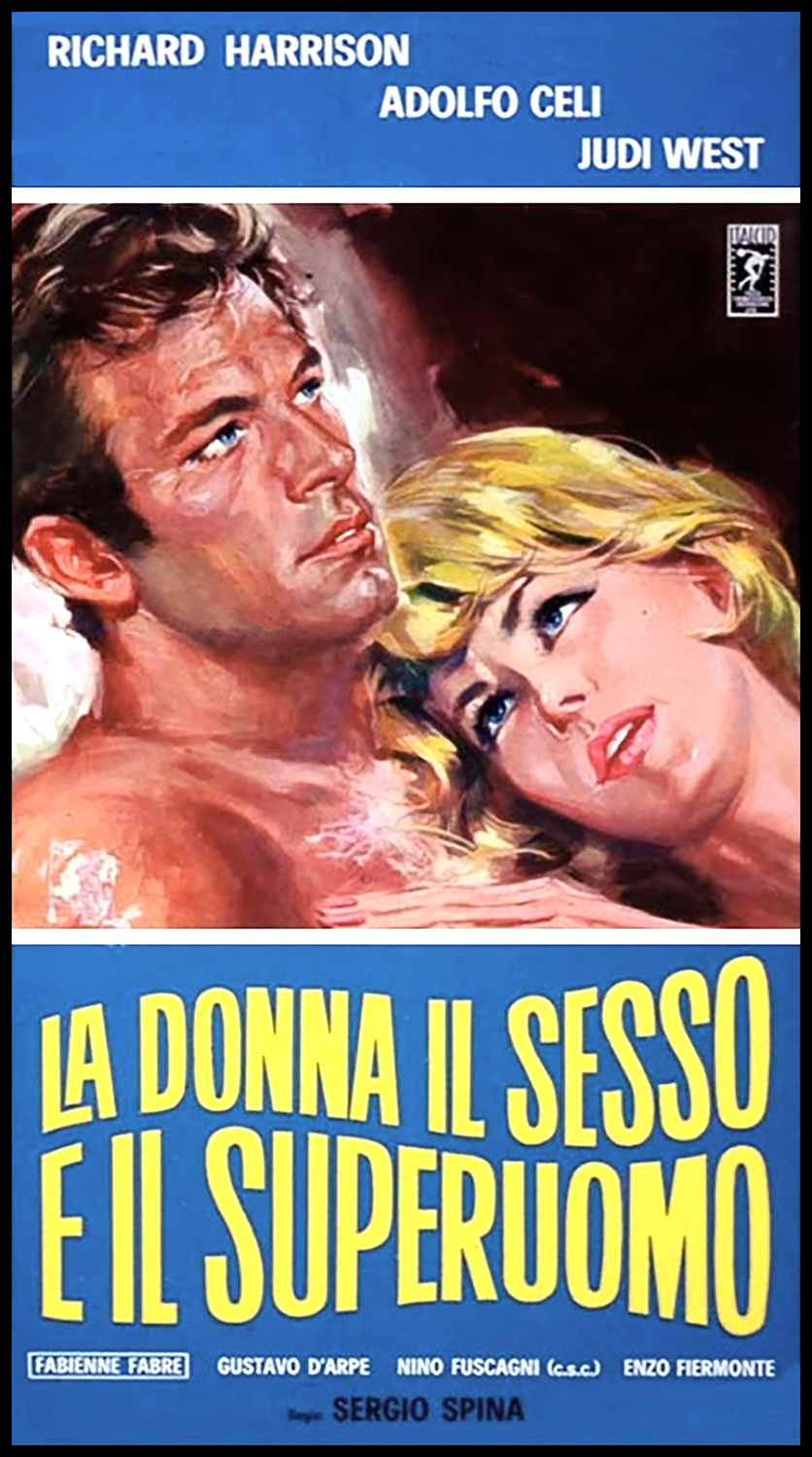 An ordinary man is abruptly yanked off the street, only to become the latest unwilling guinea pig for crackpot experimentation in this ultra-groovy Italian superhero saga by director Sergio Spina. Often spectacularly chintzy but always delightfully odd and demented, it also offered American hunk Richard Harrison a substantial change of pace from his usual spaghetti westerns and spy flicks... One evening, handsome rugged Richard Vernon (Harrison) is abruptly drugged, kidnapped and, upon awakening, discovers that he's now a prisoner at a super-high-tech facility run by Fantabulous Inc. What exactly is the goal of this mega-corporation and its egomaniacal leader, Karl Maria Von Beethoven (Adolfo Celi)? To transform Richard into a computer-enhanced superman, which doesn't sound too bad. Unfortunately, they also plan to eliminate all free will in the process, so that he won't hesitate killing women and children if it becomes necessary. Meanwhile, Richard's fashion model fiancée Deborah (Judi West) refuses to believe that he's dead, even though a corpse has turned up with Richard's fingerprints, and eventually gets help from MacFitzroy (Nino Fuscagni), an international spy looking into a rash of similar disappearances. With Fantabulous' operation a success, invincible Vernon is soon flying about in a caped costume and mask, but even though he now has the "virility of a thousand men," he's also a veritable zombie. Soon our bullet-proof beefcake busts into a heavily-guarded government facility to steal a top secret atomic MacGuffin, which is all part of Beethoven's larger plan to demonstrate the usefulness of Fantabulous supermen to the world's military leaders, as a way to control the "common people" and put a stop to pesky protests against war or their leaders.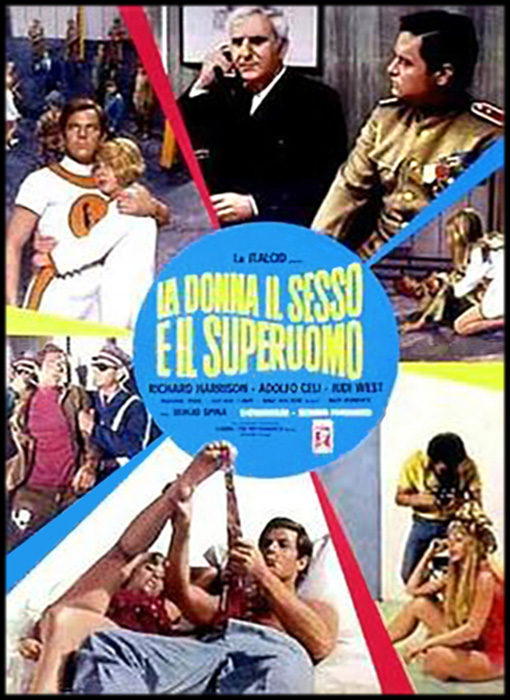 The only thing that these scientists didn't factor in was love, when programmed Richard short-circuits after spotting Deborah in a Fantabulous television-commercial... Harrison (who moved to Italy in the early-1960s and quickly became a leading man in sword-and-sandal films like THE INVINCIBLE GLADIATOR and MESSALINA VS. THE SON OF HERCULES) perfectly epitomizes the script's inherent silliness -- whether he's trying to escape captivity using some handy helium balloons, or so excited to return to Deborah that he rips her apartment door clean off its hinges! West earlier starred in the US national touring company of Arthur Miller's "After the Fall," but here is primarily used as eye candy, which she manages quite splendidly. Spina keeps the proceedings brisk and colorful, with plenty of mod furnishing, repurposed comic-book-panel segues sprinkled throughout and cut-out animation utilized for some of the later, more elaborate action sequences. The production is also cleverly subversive at times, such as when MacFitzroy's investigation takes him to both the US and Russian authorities, with Spina using the same set and furnishings for both offices, and only switching the background flag. It's a strange, silly and altogether entertaining EuroTreat.

© 2022 by Steven Puchalski.