FAST COMPANY (1979).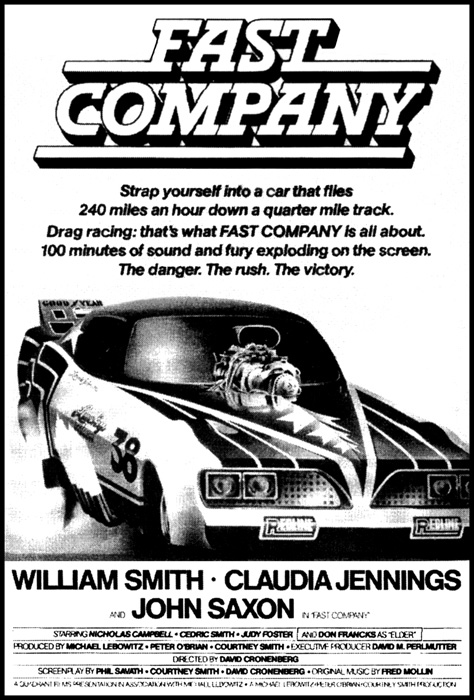 On the surface, this unassuming, Canadian-lensed flick about race cars and their drivers smacks of macho dreck, with a plot we've seen a dozen times. The cast is littered with exploitation heavyweights, including William Smith, John Saxon and the ever-radiant Claudia Jennings (TRUCK STOP WOMEN, GATOR BAIT). So what makes this different? Primarily, it's directed by everyone's favorite flesh-revisionist, David Cronenberg, who snuck this pic in between RABID and THE BROOD, and equipped with his first million-dollar-plus budget, brought his love for automobiles and racing to the screen (nearly two decades before CRASH twisted those topics into a sexual fetish). Just don't expect any visceral revelations (giant slugs do not leap out of Claudia's mouth), because Cronenberg trades cheap thrills a for a solid character-driven melodrama, capturing the day-to-day lifestyle of a small-time racing team (while keeping the macho bullshit to a minimum). In a refreshing change of pace from his usual villain roles, Smith stars as the charismatic Lonnie "Lucky Man" Johnson, the king of the local drag racers. Saxon is the sleazy head of FastCo, Lucky's oil company sponsor. And although Jennings doesn't show up 'til the second half (playing Sammy, Smith's long-suffering "old lady"), it's an honest-to-goodness character instead of her usual, cardboard T&A roles. In between the non-stop footage of real-life drag races, funny cars and revving engines, the plot has Saxon (always top notch as a scumbag)
putting the thumbscrews to Smith to shake more cash for him. But when Smith proves he's got a few scruples left, double-dealing Saxon takes back Smith's car, replaces him on the circuit and even resorts to murder. After sitting through today's avalanche of cheap, no-talent throwaway pics, it's refreshing to watch a drive-in movie that has some honest-to-goodness talent fueling it. Cronenberg keeps the pace brisk and does a brilliant job of capturing this minor-league drag racing lifestyle, aided by verité camerawork courtesy of Mark Irwin (who would continue working with Cronenberg in VIDEODROME, THE DEAD ZONE and THE FLY), which even squeezes us inside the cramped cars for a driver's POV. Though this aberration is usually ignored when people discuss Cronenberg's career, it proves that he puts as much care into this outwardly generic tale as he does with his most deeply personal work.

© 2004 by Steven Puchalski.