THE FEMALE RESPONSE (1973; Just For the Hell of It).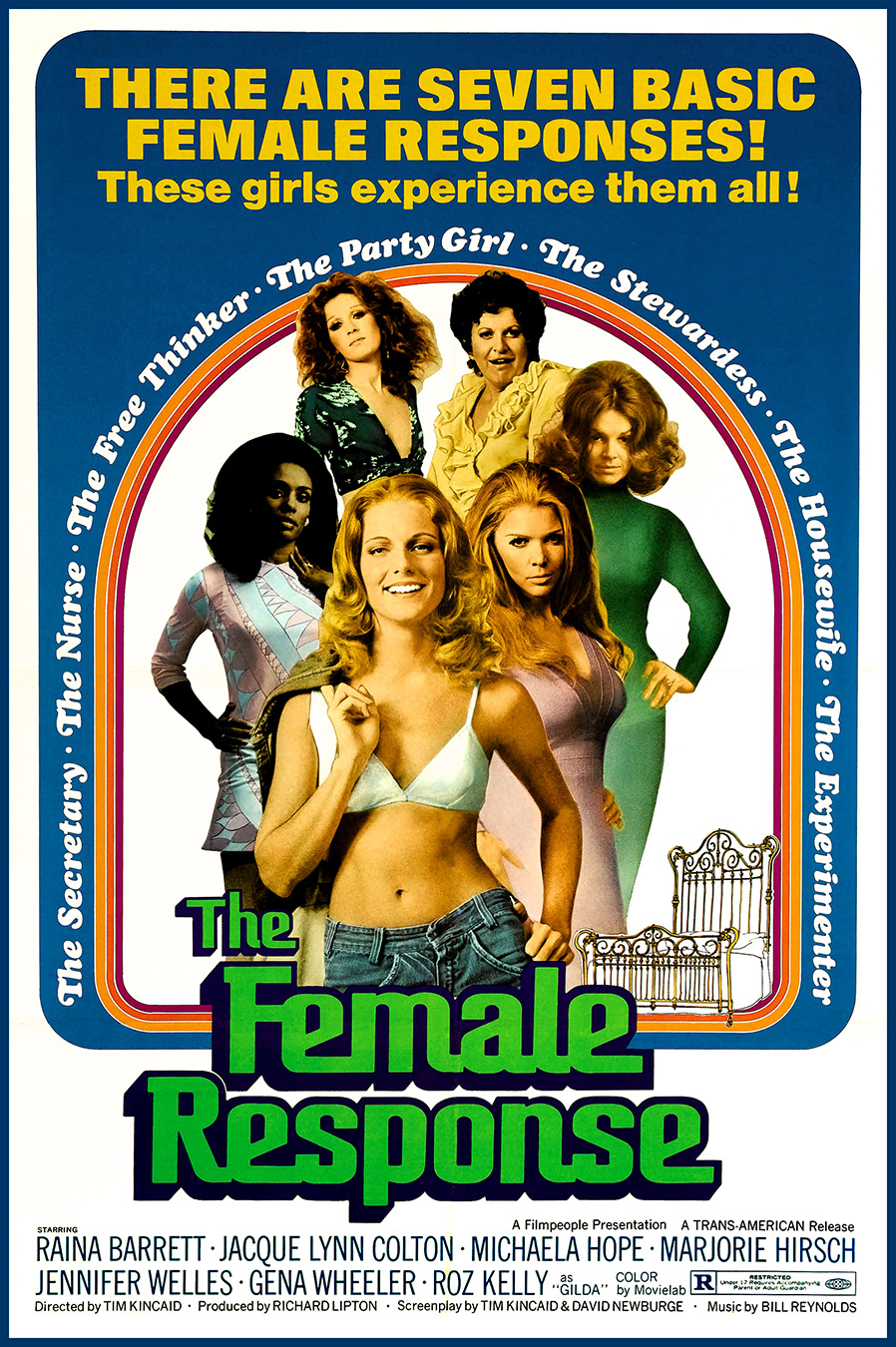 Before adopting his 'Joe Gage' pseudonym for '70s "working man's" porn like EL PASO WRECKING CORP., KANSAS CITY TRUCKING CO. and L.A. TOOL & DIE, or creating '80s trash-classics such as RIOT ON 42nd ST., Tim Kincaid made his directorial debut with this sexploitation cheapie, which packs loads of groovy trappings and female nudity into a story claiming to be about women's sexual liberation. At the time, it was most notable for cast member Raina Barrett, who left her day job as an Ossining, NY high school teacher in 1969 in favor of getting naked on stage in a new off-Broadway show entitled OH, CALCUTTA! Barrett stayed with this controversial revue for the next three years, appeared in the 1972 film version and even published an autobiography entitled "First Your Money, Then Your Clothes"... When newspaper columnist Marjorie (Marjorie Hirsch) gets fired by her uptight, sexist-pig male boss for advising a depressed female reader to "go out and get laid," she decides to get the real story about modern women's sexuality. Rounding up a diverse group of NYC-area ladies, they share their opinions -- some are shocked by present-day attitudes, others dig this new freedom -- which leads to a loosely-structured series of steamy vignettes featuring each participant. Barrett's Leona is a frustrated housewife with a passionless husband who cares more about his job than intimacy, until an obscene phone call has her masturbating on the living room carpet and ditching her boring middle-class life. Free-spirited hitchhiker Sandy (Michaela Hope) accepts a lift from a square hunk and turns him onto grass, leading to pseudo-trippy imagery and nude caressing in the woods. High-class call-girl Victoria (Gena Wheeler) loves her occupation but also falls for a rich client. Wealthy Andrea (Jennifer Welles, future star of hardcore fare like LITTLE ORPHAN SAMMY) enjoys teasing guys, only to be followed home by a studly mechanic. Dental hygienist Gilda (Roz Kelly) is curious about the ads in dirty magazines and ends up comically dealing with men's kinky, creepy turn-ons. Lastly, inspired by the others, plus-sized virgin Rosalie (Jacque Lynn Colton) finds fulfillment in swinging and group sex (including a party scene in which she's fondled by a nude Harry Reems). Obviously, none of this nonsense is even vaguely insightful, but it does provide a nostalgic time capsule back to the days when filmmakers still felt that they needed a basic set-up and a little character development in order to justify their onscreen carnality. Kincaid keeps the sex scenes safely R-rated, with loads of nudity from Barrett, Welles and Wheeler. While most of his actresses play it as authentically as possible, only (future Pinky Tuscadero) Kelly camps it up. Kincaid also ingeniously steals shots of the characters interacting about Manhattan, such as Victoria meeting johns in front of The Plaza hotel and amusing snippets of reporter Marjorie conducting realistic man/woman-on-the-street interviews about sex. Still, it's pretty messed up when a so-called celebration of female sexuality asserts that even getting raped in your apartment can be a positive experience, if you're open-minded enough.

© 2022 by Steven Puchalski.