FREAKED (1993).
A mix of monsters, madmen, corporate scumbags, and carnival freaks forms the basis of this high-powered, gloriously-warped comedy from co-directors Alex Winter (best known for his spaced-out BILL AND TED persona) and Tom Stern -- who worked together at NYU on their equally brilliant short pic, SQUEAL OF DEATH. Winter stars as Ricky Coogin, a spoiled Tinseltown celebrity who journeys to the tiny country of Santa Flan as a well-paid spokesman for highly-toxic Zygrot-24 fertilizer. Accompanied by his best friend (BLOSSOM's Michael Stoyanov) and a pretty protester (Megan Ward), they make a pit stop at an isolated carnival titled Freek Land. But this more-than-slightly-mad proprietor of this freak show, Elijah C. Skuggs (Randy Quaid), not only displays and houses these human oddities -- he creates them in his makeshift lab, with the aid of the deadly Zygrot. Taken prisoner, Coogin's bickering companions are transformed into siamese twins, while Coogin is turned into a hunchbacked Beast Boy who squirts green puss from his pores and has a face that causes people to projectile vomit. Then we meet the rest of this twisted menagerie, which includes a Giant Nose, a Cow Man, Mr. T as a Bearded Lady, Bob Goldthwait as the voice of a Sock Puppet Man, and the Dawgboy (a furry, unrecognizable Keanu Reeves). Despite the grotesque Coogin winning over the locals patrons with a scene from RICHARD III, Skuggs ultimate plan is to change him into an "evil super-freek" and have him slaughter the others. If that wasn't enough, the story also crams in Giant Rastafarian eyeball guards, a half-pint Coogin fan who looks like Alfred E. Newman's illegit son,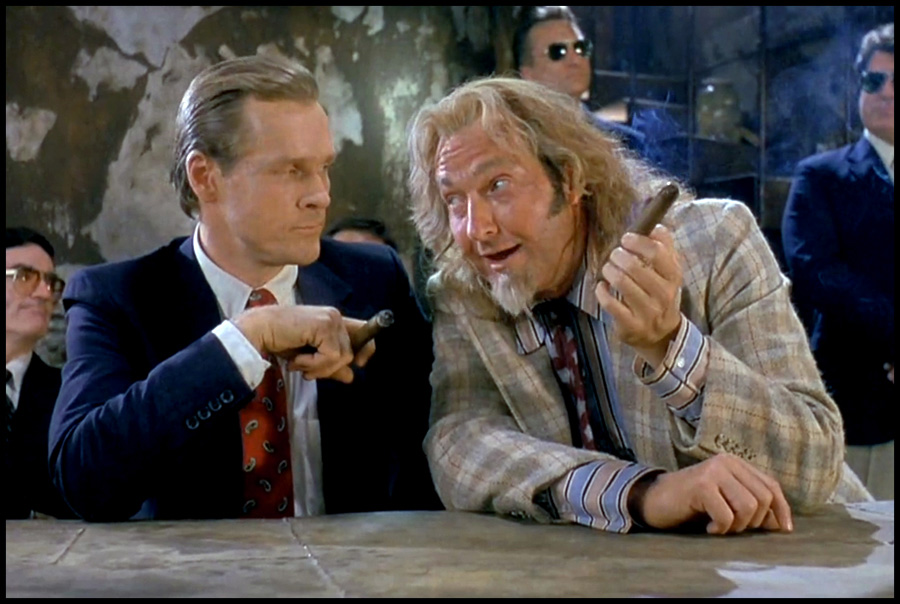 evil corporate sleazeballs, a brawl between two 8-foot-tall monstrosities who resemble escapees from a Basil Wolverton wet dream, plus Brooke Shield playing a vapid celebrity (oooh, that's a stretch). If memory serves me right, it's also the first movie to have a flashback from an inanimate object. This pic has everything any happily brain-damaged vidiot could ask for -- from its rude sense of humor and dollops of cool gore, to the deranged make-up from FX masters Steve Johnson and Screaming Mad George. The heavily-latexed cast gives their all, with Quaid a stand-out as the deliriously dim freakmaker. Let's not forget David Daniels' crazed animated credits and Henry Rollins' full-throttle theme song, which sets the perfect, caustic mood for the flick to come. Low on subtlety, but high on laugh-out-loud insanity, this is an instant fave.

© 1994 by Steven Puchalski.