THE GONG SHOW MOVIE (1980).
Chuck Barris' THE GONG SHOW premiered on NBC in 1976, became a surprise hit, and is nowadays, the only worthwhile programming on the lamentable Game Show Network. Back when I was a teenager, I loved this idiotic showcase for migraine-inducing 'talent', but I never had the chance to check out this big screen spin-off. Consequently, I've been searching for a copy of it for years, in order to satiate some long-dormant, masochistic desire. Boy, was I surprised to discover that this critically-abhorred mess has its fair share of acidic charms, since it not only gives the viewer a raunchier version of this TV phenom (including a glimpse of Jaye P. Morgan's breasts--which excited me as much as the idea of Moms Mabley in a g-string), but also a bombastic glimpse into the life of producer/host Barris. In addition, Barris directs the film, appears in almost every scene, and even sings the goddamned theme song! Still, this abrasive romp is more than a simple ego-trip. First off, it was written by Barris and (more important) underground filmmaking legend Robert Downey (CHAFED ELBOWS, GREASER'S PALACE). And together they blend fact, fiction, black comedy, and casual weirdness into a postmodern take on media stardom. Although Barris was the auteur behind this flick, he certainly doesn't paint a flattering portrait of himself. Portrayed as a haggard guy sick 'n' tired of his daily routine, he's assaulted by pathetic contestant-wannabees, is in the midst of breaking up with his girlfriend (Robin Altman), and (worst of all) deals with weaselly network execs worried about the show's increasingly-gonzo edge. So, essentially, we're supposed to sympathize for poor Chuckie, who's trapped in this hectic, but extremely wealthy lifestyle. Right...We're also privy to brief snippets of the actual TV-show (complete with undeleted swearing) and its talent-barren contestants, plus such tidbits as an elderly contestant having a heart attack backstage,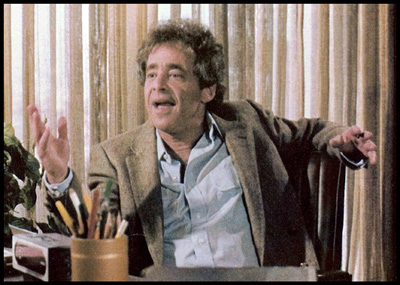 and Jaye P. waking up in an ultra-king-size bed with four men. Best of all is the way "little fart" Barris is continually annoyed by his ugliest, most obnoxious fans--thereby, happily biting the hand which feeds him. Finally, Barris flees the country in his search for anonymity, and ends up sitting in the middle of a Morocco desert. But he's still unable to escape the musical finale. Don't forget appearances from Jamie Farr, Pat McCormick, Rip Taylor, Tony Randall, Harvey Lembeck, a then-unknown Phil Hartman, plus GONG SHOW regulars The Unknown Comic and "Gene, Gene, The Dancing Machine." While it's no surprise this died a quick (yet painful) death at the boxoffice, this self-indulgent hunk of career suicide also has the balls to do whatever the hell it wants (and in doing so, is as honest a portrait of Hollywood success, excess and bad craziness as you'll ever see from a major studio).

© 1997 by Steven Puchalski.