THE GRAVY TRAIN [a.k.a. The Dion Brothers] (1974).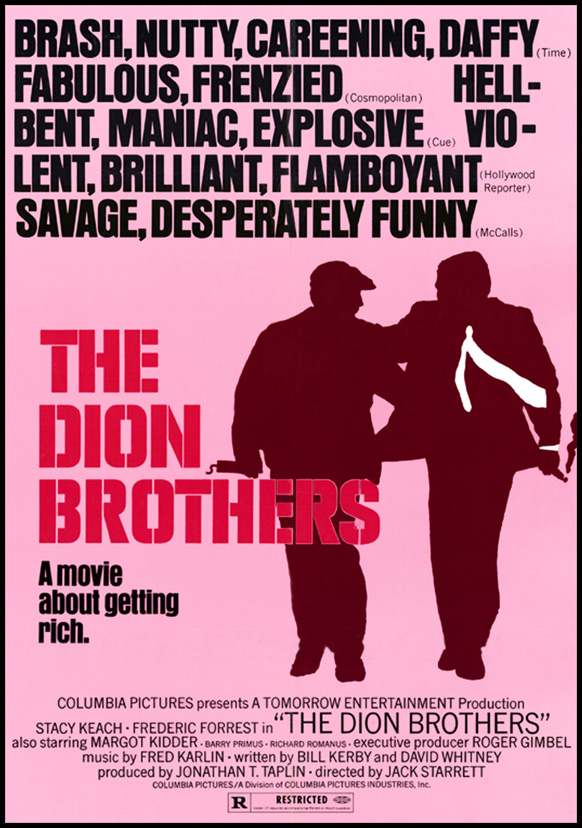 Director Jack Starrett always knew how to give an audience what it wanted, no matter how paltry his budget or how sleazy his genre -- from motorcycle flicks like RUN, ANGEL, RUN and THE LOSERS, to blaxploitation silliness like CLEOPATRA JONES and SLAUGHTER, to drive-in classics such as RACE WITH THE DEVIL. This wild, white trash crime drama is his overlooked gem, complete with a top-notch cast, a script co-written by (an un-credited) Terrence Malick, plus an utterly confounding theatrical release strategy -- premiering in some cities as THE DION BROTHERS, in others as THE GRAVY TRAIN, and also sometimes inexplicably paired on a double-bill with the cheesy vampire bat sci-fi/horror flick CHOSEN SURVIVORS... Stacy Keach (at his best when tackling this type of oddball project) and Frederick Forrest (APOCALYPSE NOW, ONE FROM THE HEART) star as the title brothers. Calvin (Keach) works on an assembly line, Russell (Forrest) spends his days in the West Virginia mines, and suddenly following the notion that "this country ain't nuthin' but a big ol' gravy train," the pair decides to make money the good old American way -- by stealing it. Joining up with a pack of Washington DC thieves, the Dions' team members include Barry Primus (BOXCAR BERTHA), Richard Romanus (MEAN STREETS) and Denny Miller (who, in 1959's TARZAN, THE APE MAN was one of the lamest Jungle Heroes of all time). One successful armored car heist later,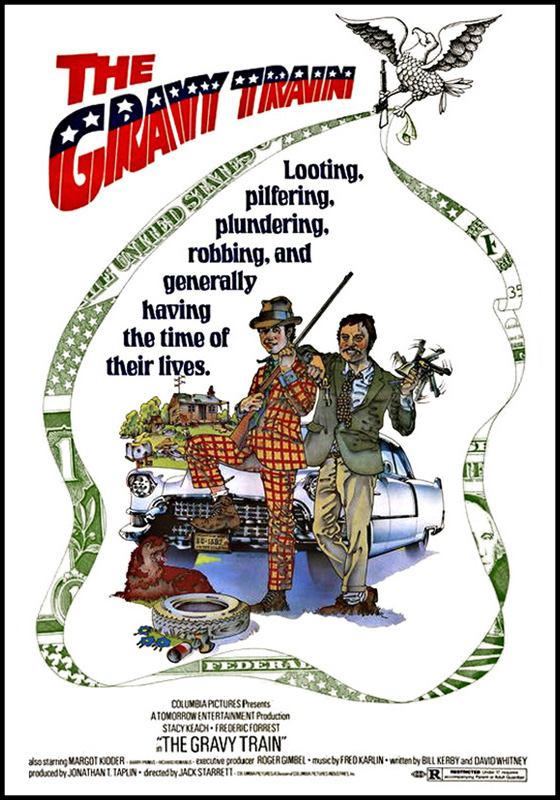 the Dions are backstabbed by their partners, informed on to the cops, and amidst a hail of bullets (and with the aid of a few handy sticks of dynamite), set out on an occasionally-boneheaded mission to retrieve their hard-earned cut of the stolen loot. A pre-basketcase Margot Kidder plays Primus' girlfriend, and after using her to track down their money, she begins to enjoy their company and goes along for the ride. At its core, Keach and Forrest display a genuine chemistry together, with plenty of spot-on banter -- particularly whenever they delude themselves with get-rich-quick dreams of opening a seafood restaurant called The Blue Grotto. Keach is in top form as the fast-talking brother, while Forrest is goofier, crazier, but just as appealing. Sure, they're dumb as dirt, but in this world of underhanded thieves, the Dions are the most admirable guys in the picture. In this character-fueled vision, it's the little moments which count, such as Keach stashing his chewing gum behind his ear during dinner, threatening someone with a live lobster, plus a truly inspired finale inside a building as it's being demolished -- with the wrecking ball bursting through walls at the most inopportune moments. Full of comic and dramatic twists, this high-spirited, low-moraled buddy flick is brutal, gritty and thoroughly charming.

© 1999 by Steven Puchalski.