HOCHELAGA (2000).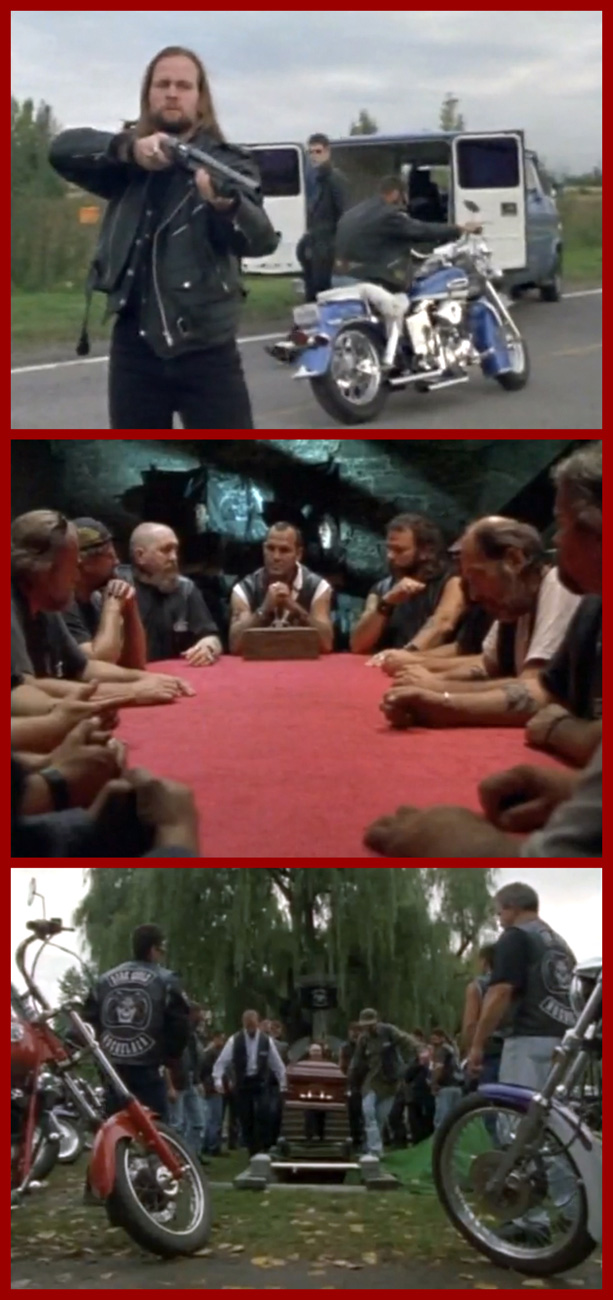 The era of bad-ass biker movies ended long ago, but every so often a new entry sneaks into film, such as this remarkable Canadian drama from writer-director Michel Jette. Shot in just 20 days with a budget of $1 million (that's in measly Canuck dollars!), this French-language/English-subtitled flick has a stench of authenticity -- the grizzled bikers actually look the part, their violence is raw, and the story is based on Quebec's real-life, notoriously brutal chopper gangs. Set in the Hochelaga region of Montreal's East End, a gang war between the Dark Souls and the Devil's Soldiers has been raging on for over a decade, with over 200 casualties. 21-year-old small-time thief Marc (Dominic Darceuil) gets a sudden shot at the big league when he's recruited by the Dark Souls to deliver a carload of their horny women to a weekend campground blow-out. Once there, Marc witnesses their rituals, friendships, ideas of 'fun', and characters such as their leader Tattoo, the sadistic Finger and old-school biker Pain Man (who regales the gang with tales of the good ol' days, like an initiation ceremony that had him sucked off by a calf). Before long, Marc is asked to join their unwashed ranks. It's not a difficult decision for Marc, since his neighborhood buds are gibbering idiots who pull off grocery store heists while tripping on acid and throw psychedelic mega-bummer parties. From Marc's viewpoint, anything is an improvement! As Marc is sucked into this brotherhood -- with his old rice-rocket busted up and a new set of wheels hijacked -- he learns more about their complex world of alliances, respect and brutality. He's also into some deep shit, when selected to plant a car bomb and help out in a daylight hit (of course, falling for one of the gang's chippies helps to clear his conscience). Meanwhile, in gang politics, a US group is pressuring the Souls to merge with them, but Marc is taught that nobody but your biker brothers can be trusted. The film's only voice of reason belongs to Marc's mom, who was a biker chick in her youth and knows the downside of this lifestyle. In this case, mother knows best. Despite the 130-minute length, HOCHELAGA is continually engrossing and doesn't wimp out,
while the script has more twists than you'd expect. Darceuil might seem too baby-faced at first, but he quickly grows into the role, while the supporting performances are dead-on brilliant. The violence is unflinching (such as when a stranger turns up with a Dark Souls tattoo, and promptly has it sliced off), the atmosphere is gritty (man, you can almost smell these characters) and the tone is far from upbeat ('nuff said about the ending). Mixing the backdrop of THE WILD ANGELS with the urgent realism of ROMPER STOMPER, this incredible flick takes Biker Cinema to a new dramatic height.

© 2002 by Steven Puchalski.