HONKY (1971; Just For the Hell of It).
Though marketed like typical exploitation, anyone expecting hard-hitting thrills was probably disappointed by this fairly low-key interracial teen romance. But I certainly wasn't. Based on Gunard Solberg's novel "Shelia," it has a lot more going for it than the blunt ad campaign would have you believe. Continually shifting gears, one minute it's a love story, then it's about the generation gap, the next it concerns drugs, eventually it's a groovy road movie, and it concludes with a burst of grim violence... After blonde, blue-eyed jock Wayne Divine (screen newcomer John Neilson) spots lovely black chick Shelia Smith (Brenda Sykes) getting high during a pep rally, the pair are soon playfully romping about together, under the opening credits. But while straight-laced Wayne is nervous about the judgmental stares they receive when holding hands in their Midwest town, free-spirit Shelia is more intent on rebelling against her rich, ultra-conservative family by purchasing a kilo of grass. Where will she get the $200 though? Smitten Wayne happily empties his savings account for this babe, with Lincoln Kilpatrick (THE OMEGA MAN) turning up as Shelia's grass connection, the psychedelically-attired "Fabulous Traveling Shoes." The story occasionally veers into melodramatic directions,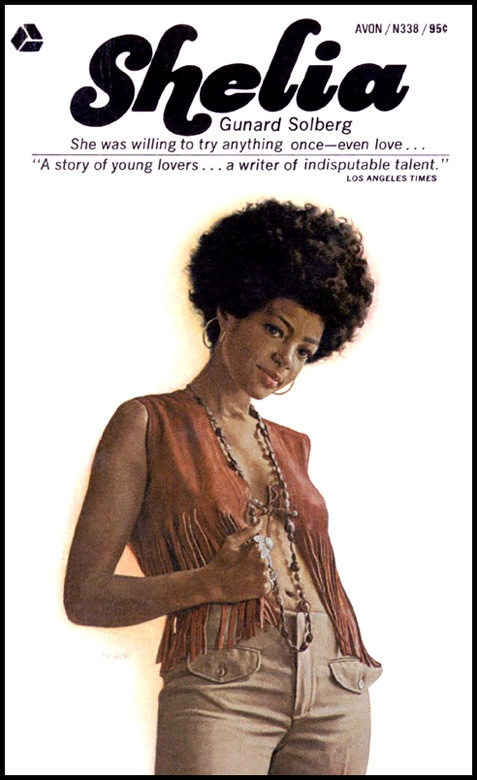 as Wayne joins thrill-seeking Shelia for one misguided decision after another -- running off together, eluding the cops, naively handing out 'thank you joints' to drivers who give 'em a lift -- but it's only in the final 10 minutes that the script embraces rougher territory, when our two-tone lovebirds run into Elliott Street (WELCOME HOME, SOLDIER BOYS) and Matt Clark (BRUBAKER, RETURN TO OZ) as vicious, relentless rednecks. Neilson is handsome yet quite wooden, but the real star here is Sykes (graduating to her first lead after small gigs in GETTING STRAIGHT and THE LIBERATION OF L.B. JONES) as our lovely yet highly skittish minx. The supporting cast includes William Marshall (BLACULA) as Shelia's straight-laced physician father, HAPPY DAYS' Marion Ross as Wayne's mom, John Fiedler (the voice of Disney's Piglet!) as the principal, John Hillerman (MAGNUM, P.I.'s Higgins) as a bus station attendant, plus COOLEY HIGH's Glynn Turman in his film debut as a sailor who flirts with Shelia. No fly-by-night production, it features solid direction from William A. Graham (who later helmed award-winning TV-fare like GUYANA TRAGEDY: THE STORY OF JIM JONES and THE AMAZING HOWARD HUGHES), cinematography by Ralph Woolsey (who shot his share of cult films, including THE STRAWBERRY STATEMENT, THE MACK and DIRTY LITTLE BILLY), plus a swingin' score by Rashida Jones' dad, Quincy.

© 2013 by Steven Puchalski.