HUGHES AND HARLOW: ANGELS IN HELL (1977).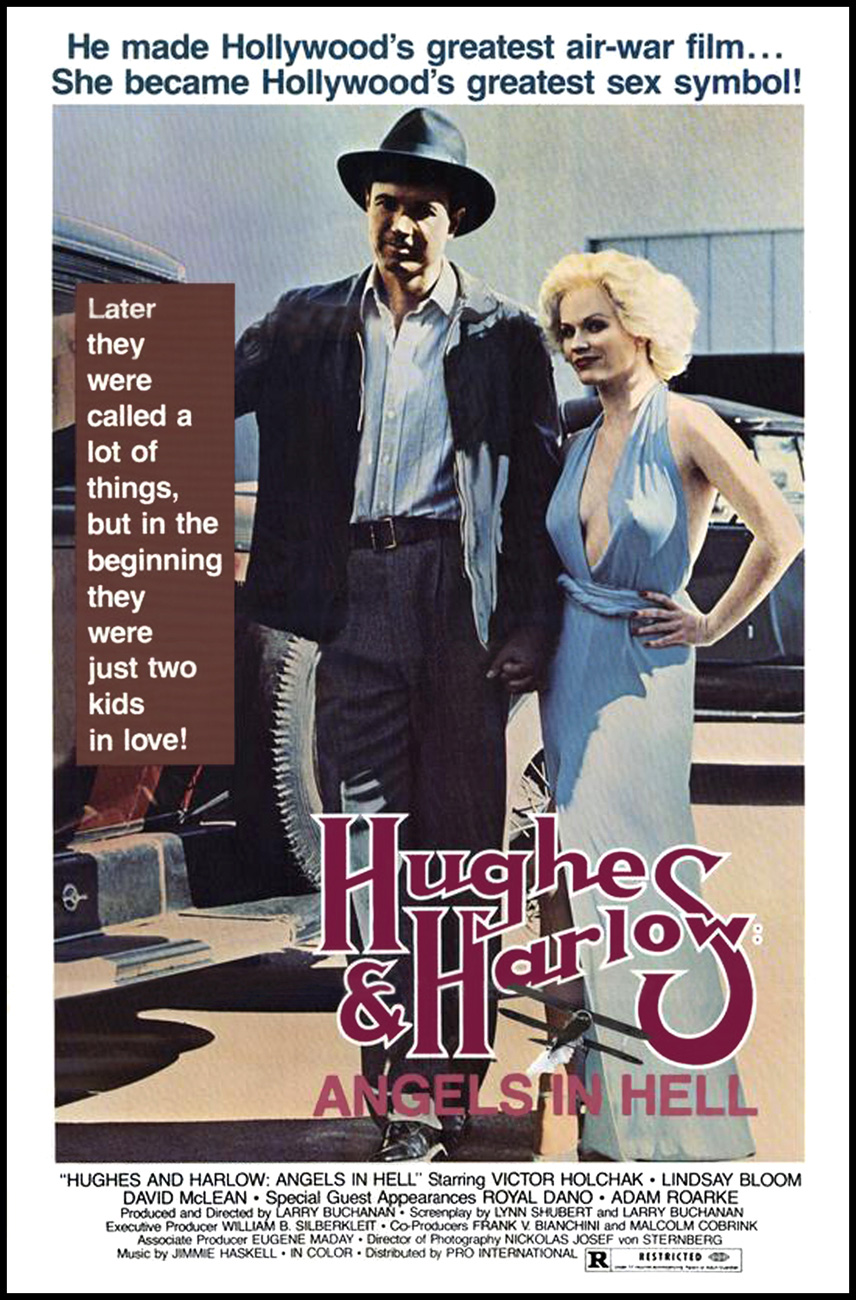 Making a period piece that captures the glamour of Hollywood's golden age on a budget that wouldn't cover the Craft Service bill for most network TV shows might sound like a daunting task, but when did a lack of cash ever stop ZONTAR, THE THING FROM VENUS director Larry Buchanan? Yet another of Buchanan's cut-rate pseudo-bio-pics (e.g., GOODBYE, NORMA JEAN; DOWN ON US), which never allowed facts to get in the way of telling a bankable story, this time he tackled the alleged relationship between Tinseltown bombshell Jean Harlow and burgeoning tycoon/film director Howard Hughes. Centered around his 1930 money-pit World War I drama HELL'S ANGELS, which made this unknown starlet an overnight sensation, Buchanan began production a few months after Hughes' death at the age of 70, then got it into theatres only weeks after CBS premiered its top-rated telefilm THE AMAZING HOWARD HUGHES, starring a young Tommy Lee Jones... The story's framework is the swanky premiere of Hughes' $3.5 million boondoggle HELL'S ANGELS (here re-titled ANGELS IN HELL), with Howard (Victor Holchak) and Jean (Lindsay Bloom) sitting together in their box seats, reminiscing about their bumpy history together and Hughes' oversized ego as the flashbacks kick in. We see the pair's meet-cute while 18-year-old Jean was working on a Hal Roach short; Hughes re-shooting his silent film with new-fangled sound technology and re-casting nobody Harlow as the female lead; and spending time together as lovesick Jean observes Howard's softer side and determination to show Hollywood that he isn't some joke. Along with all of this soggy melodrama, there's loads of dramatic license, such as when Hughes' 1936 booking for negligent homicide -- running down a pedestrian with his car -- is shifted to six years earlier, so that Harlow can be included... It's no surprise that a Larry Buchanan film would be cheap, sloppy or idiotically self-important,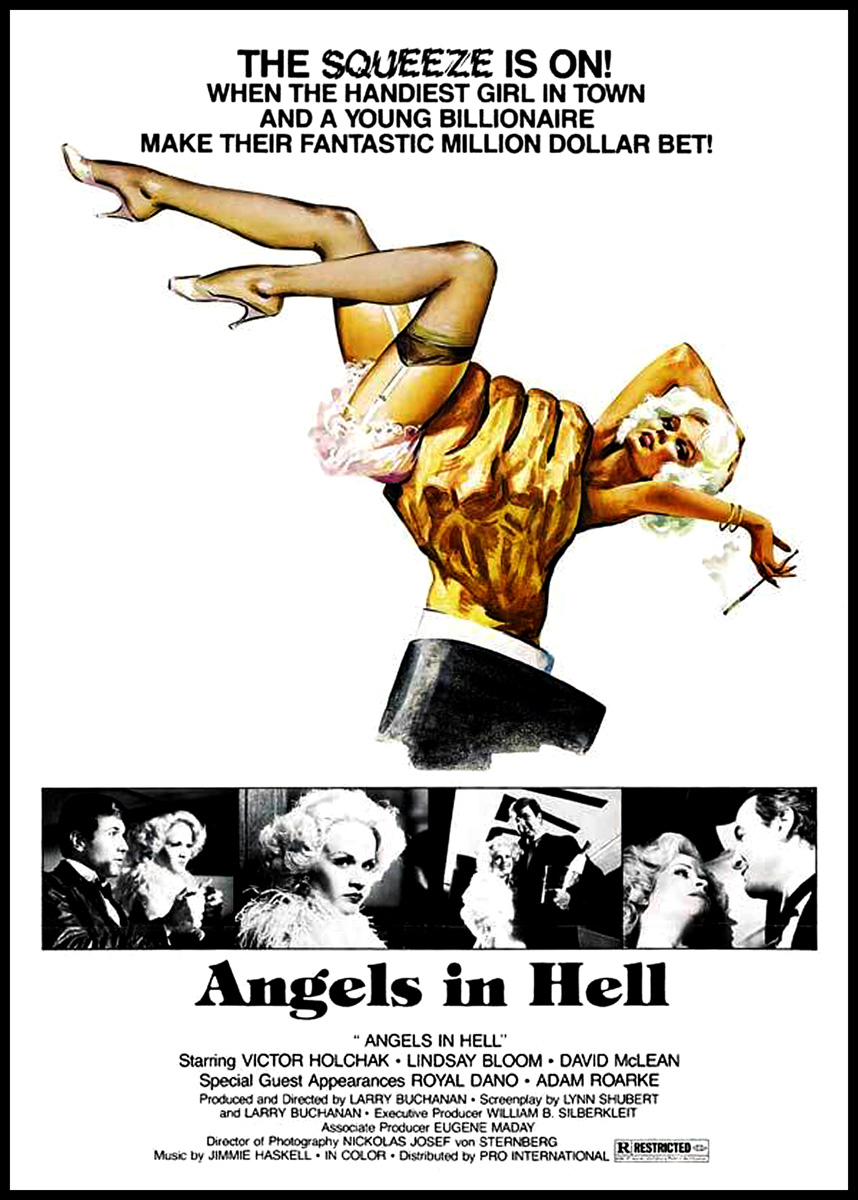 but the biggest problem is that it's also dull as hell. For a guy who'd later question if Jimi Hendrix, Janis Joplin and Jim Morrison were assassinated by our own government, nothing much happens here, with Hughes and Harlow only screwing (off-camera) during the end credits. And whenever Buchanan tries to go big, it only ends up looking ridiculously chintzy (e.g., this premiere is held at Grauman's Chinese Theatre, which seated 2200 people, while Larry's anemic budget could only handle about fifty extras), and his recreated scenes from HELL'S ANGELS are particularly pathetic. Bloom (a veteran of drive-in fare like SIX PACK ANNIE and COVER GIRL MODELS) doesn't look much like Harlow, but gives her loads of likeable moxie, while Holchak (in his only theatrical feature, following guest gigs on shows like THE MOD SQUAD and GUNSMOKE) is so painfully bland and stiff that he turns the unconventional Hughes into some big, Texas clodhopper, and isn't helped by the script's hamhanded dialogue ("Both of us are just a couple of country kids, trying to make it in a nasty hellhole called Hollywood."). In supporting roles, ex-'Marlboro Man' David McLean (who became an anti-smoking advocate in the '80s, after developing lung cancer) plays Hughes' right-hand man; Royal Dano looks appropriately constipated as William H. Hays, the influential prude who censored US cinema with his notorious Hays Code; Stuart Lancaster is one of Hughes' stunt pilots; and FASTER, PUSSYCAT! KILL! KILL!'s Haji can be spotted attending the premiere. At least Adam Roarke manages to liven things up for a few minutes as the legendary Howard Hawks, during a decent one-scene showdown with Hughes over his competing WWI film, THE DAWN PATROL.

© 2019 by Steven Puchalski.