I WANT TO GO HOME (1989).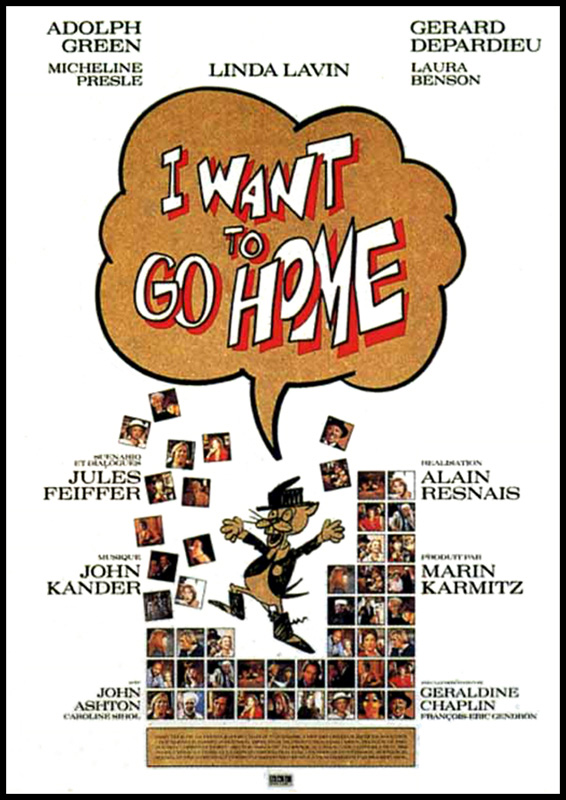 Without question, Alain Resnais is one of cinema's most insightful auteurs, with wide-ranging masterpieces such as HIROSHIMA, MON AMOUR, LAST YEAR AT MARIENBAD and LA GUERRE EST FINIE under his directorial belt. Well, this barely-released feature was an altogether different endeavor for the guy. Written by cartoonist Jules Feiffer and peppered with perplexing cast decisions, this is a four-star fiasco! A head-scratching debacle that proves anyone is capable of royally screwing up... Laura Benson is at the center of this nonsense as Elsie, the daughter of an acclaimed cartoonist, who lives in France in order to avoid her dad. Veteran scriptwriter-composer Adolph Green (SINGIN' IN THE RAIN, ON THE TOWN) plays that ever-grumpy papa, Joey Wellman, who reluctantly accepts an invitation to a Paris comic convention, as an excuse to visit long-estranged Elsie. Of course, the moment the two meet, all of their old tensions re-erupt. Increasing the story's annoyance factor, both Joey (who hates France) and Elsie (who resents Dad) have imaginary animated confidants -- Joey's is his famous feline creation Hepp Catt, while Elsie's is childhood pal Sally Catt -- and each pops up in crude cartoon-balloons whenever they face some trivial crisis. Trust me, it's fucking painful. A post-ALICE Linda Lavin turns up as Joey's girlfriend Lena, who's barely able to tolerate his grating personality, while Gerard Depardieu plays Elsie's womanizing professor (who she has an inexplicable crush on). But Gerard is also a hardcore fan of Wellman's work, and eventually invites the old coot to a weekend at his mother's country estate,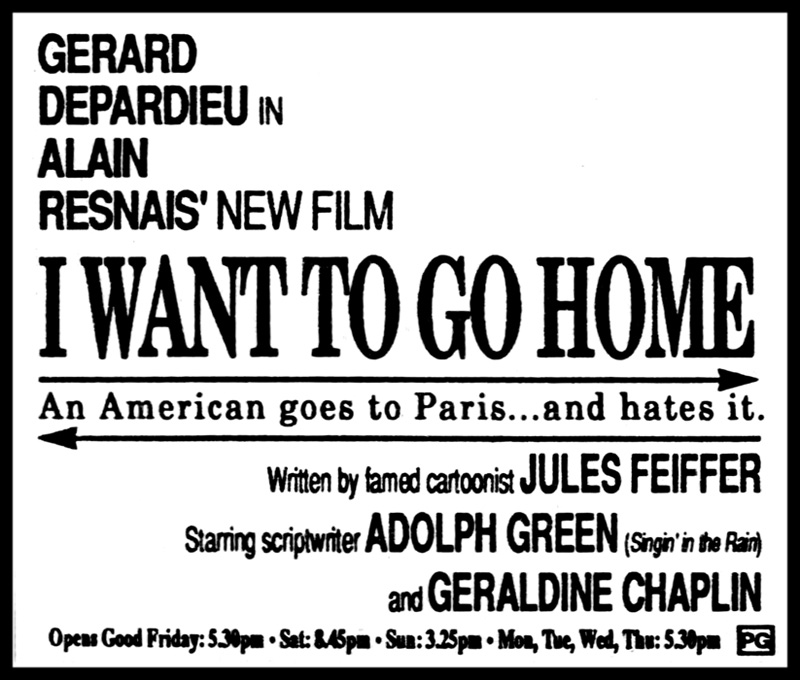 along with Geraldine Chaplin and John Ashton (BEVERLY HILLS COP) -- with Elsie showing up as an uninvited guest. Its barely-there story culminates in an elaborate comic-character masquerade (with Lavin dressed up as Olive Oyl and Depardieu as Popeye), secret seductions, painful encounters, and even a huge knockdown brawl. Meanwhile, emotionally-estranged dad and daughter reconnect in the most inane and upbeat possible way... Green might be talented in real life, but you'll want to kick his withered, impossibly-cantankerous character down a flight of steep stairs, as this Grumpy Old Tourist bitches about his inability to understand the language, his daughter, his fans, life itself, and his desire to go back home. Sure, the scenario is unpredictable, but it's also totally uninvolving and stupid. Topped off with an unmemorable soundtrack by CABARET-composer John Kander, the film is visually drab, the actors seem (justifiably) confused, and its fantasy elements are intolerable. Honestly, it's impossible to believe that Resnais was actually at the helm. I'd prefer to think that he jumped ship just before production started and was anonymously replaced with Joel Schumacher. Somebody, dig a deep hole and give this stinkbomb a proper burial!

© 2001 by Steven Puchalski.