NIGHT OF THE JUGGLER (1980; Just For the Hell of It).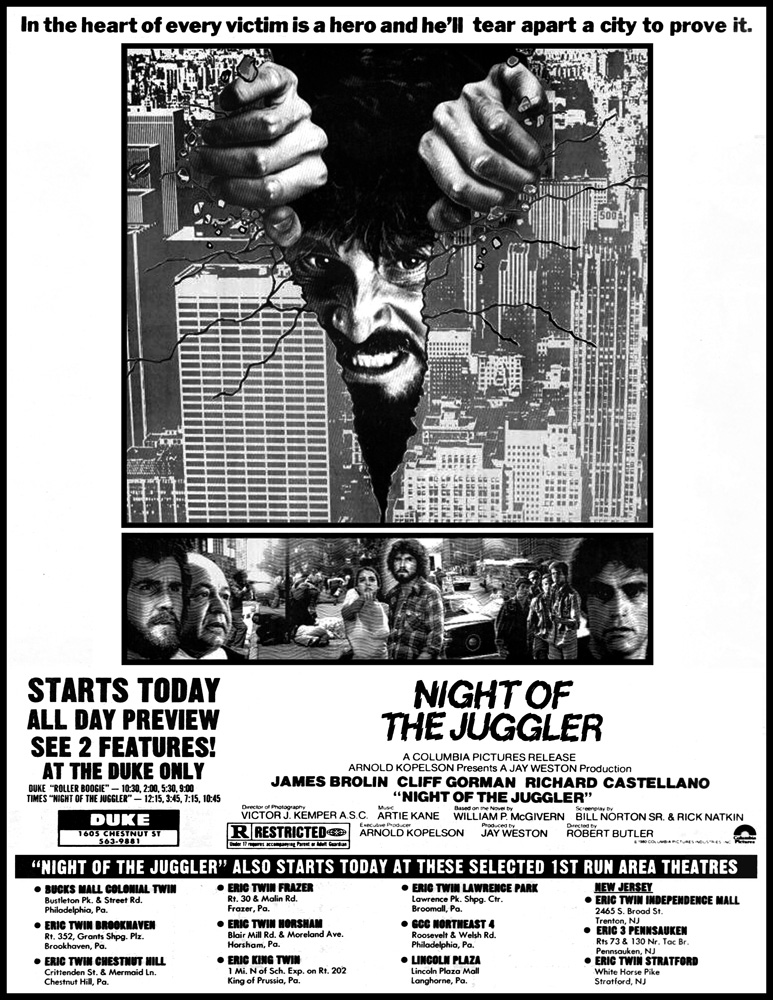 Director Robert Butler began his career with Disney live-action family-fare like THE COMPUTER WORE TENNIS SHOES, but only a decade later, he was pushing the studio-taboo envelope with this sleazy child-kidnapping/ father's-revenge drama. It's a B-movie plot with A-level production values, as well as one of the scuzziest major releases of that era. Best of all, the film is also a glorious love letter to late-'70s New York City -- back when the Big Rancid Apple was littered with graffiti-strewn subway trains and dingy sex parlors, the South Bronx looked like someone dropped a nuke, and it all felt like one huge, wonderful, degenerate cesspool... James Brolin, hot off of THE AMITYVILLE HORROR, stars as Sean Boyd, a bearded, flannel-shirted, blue-collar truck driver (and, coincidentally enough, an ex-cop) who lives in Manhattan with his 13-year-old daughter Kathy. Elsewhere in the city, easy-to-peg-psychopath Gus Soltic (Tony Award-winner Cliff Gorman) is busy stalking a wealthy young girl on her way to school, only to accidentally snatch Boyd's daughter by mistake (hey, no one ever accused him of being a smart whackjob). The screenplay definitely doesn't waste any time. It's barely 15 minutes in when Kathy is kidnapped, and short-fused Boyd then spends the rest of the film busting any law to get her back. Meanwhile, we're treated to shotguns blasting away on packed streets; a high-speed car chase down Central Park West sidewalks; Boyd causing a riot at a pre-Disneyfied Deuce peep show,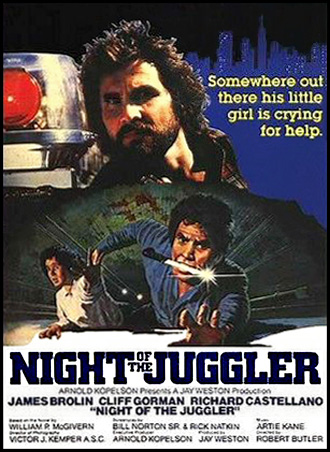 while locating a potential witness who just happens to be a nude dancer (porn-starlet Sharon Mitchell!); and a "chili pepper" street gang that wouldn't look out of place in THE WARRIORS. So what's the real reason for this sick crime? Gus is a down-on-his-luck racist who whines about how minorities turned his South Bronx home into a shithole, so he decided to kidnap a real estate mogul's kid for a million-dollar ransom. Boy, did this putz ever screw up! Brolin gives a blunt, committed performance; Gorman is unbelievably creepy (particularly when Gus unveils his paedophilic underbelly); plus there's a full roster of terrific East Coast character actors, including Richard Castellano as a Police Lieutenant; Dan Hedaya as a dirty cop with an unrestrained grudge against Boyd; Mandy Patinkin as a Puerto Rican cabbie who helps chase the kidnapper; Sully Boyar as an animal shelter exec; Tony Azito as a peep show cashier; while tormented Kathy is played by newcomer Abby Bluestone, in a performance so awful that the only possible explanation for her casting is that she's some studio exec's kid. Based on a novel by crime-writer William P. McGivern (The Big Heat), there isn't much complexity to its story, but the script by Bill Norton Sr. (BIG BAD MAMA) and Rick Natkin (THE BOYS IN COMPANY C) maintains a breathless pace with ethnic stereotypes galore, while cinematographer Victor J. Kemper (DOG DAY AFTERNOON) expertly captures the grittiest niches of bankruptcy-era New York City.

© 2009 by Steven Puchalski.