KID BLUE (1973).
Nowadays, it seems like anyone with a quarter-baked idea and some coked-out marquee value can parley that into a feature-length movie. This situation isn't new, of course, as this counterculture, Old West freak-out proves. It's a pre-MUPPET MOVIE oddity from director James Frawley, starring a lovably pre-detox Dennis Hopper and a cool supporting cast in equally harebrained roles. And though not yet available on video, I was fortunate to catch it at Manhattan's Film Forum -- the only local theatre with the balls to dredge up this sort of long-forgotten dementia (on the other hand, it's too bad their projectionist, Blind Bob, couldn't focus a Scope 16mm print)... A scraggly-haired, overalled Hopper plays Bickford Waner (a.k.a. Kid Blue), a train robber who gets sick of his inept exploits and tries to go straight in the "big city." Arriving in the piss-ant town of Dime Box, Texas, he begins his legit career by emptying spittoons and sweeping up M. Emmet Walsh's barbershop, then quickly moves up the job market, to wringing chickens' necks. Along the way, Bickford runs into Warren Oates and Lee Purcell (DIRTY LITTLE BILLY, BIG WEDNESDAY) as a married couple, Ralph Waite as a boarding house resident, and Howard Hesseman as a shop keeper. And though he wants to be a good citizen, it's difficult when sheriff Ben Johnson is constantly calling him "white trash." But he finally snags a job shoveling the huge kiln at the town's (symbolic) factory, the Great American Ceramic Novelty Company, which makes the type of kitschy ashtrays you'd find on the boardwalk at Atlantic City. In the end, Bickford is lured back to his old, criminal ways. The most obvious problem is that Hopper doesn't cut it as a naive "kid," since he was 37 at the time, and looks every day of it. Still,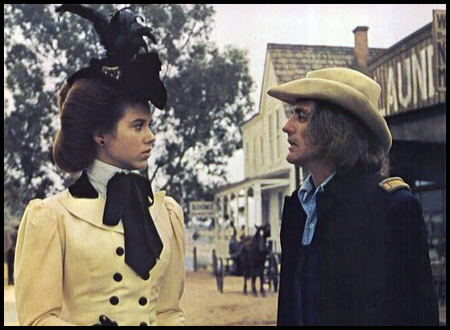 you can't beat some of the comic images, such as a naked Oates and Hopper squeezed into a tiny bathtub together, with the flirty Purcell scrubbing their backs. In particular, Warren is a howl, as a fey hubbie who babbles far too much about The Greeks and the joys of male friendship. There's also Peter Boyle as a hell 'n' brimstone preacher who's building an "aero-cycle" (an embellished bicycle with wings) in the middle of the desert, while praising God's gifts of peyote, hemp and alcohol. Plus Janice Rule turns up as an old actress-whore pal of Hopper's. Complete with a big chase finale, and outlandish Indians who make F-TROOP's Hekawi tribe look like Native American icons, this pic is a four-star mess. Still, if you're attracted to the cast it's worth a look, since they're the only reason this wrongheaded mix of comedy, crime and dipsy dramatics works at all. When it comes to the sub-genre of Pothead Westerns, this is at the top of a very short list.

© 1997 by Steven Puchalski.