This Toho production (released in the US in 1981) is so blissfully wrongheaded that you'll be left awe-struck -- as it charts the chilling prophecies of Nostradamus (playing by an Asian guy, who looks more than a little sedated in his fake beard). Sure, he predicted over-population, super-sonic travel, and Armageddon in the 20th century, but I bet the guy never predicted that such a ridiculous movie could've been cobbled together from his legacy. As the planet becomes unhinged thanks to human misuse, slugs grow to enormous size, a radioactive cloud creates hallucinations, babies are born deformed, and the leads babble incessantly about the possible end of mankind. Unfortunately, if the last hope for the human race rests with these dullards, it's about time to call it quits. For additional heart-tugging, there's grim real-life footage of starving children, government hand-wringing, and endless exposition. Heavy on doomsday hooey and bizarre imagery, director Toshio Masuda sledgehammers home his good intentions without any dramatic results or focus. Perhaps that's because of the film's more absurd episodes, as an expedition searches out the truth, such as a mutant tree complete with bird-eating flowers, radiation-scarred tribesmen, and (for the monster addicts in the audience) a giant bat attack. Eventually, the earth's protective ozone layer is accidentally destroyed, causing rooftops to ignite, the ice caps to melt, and sending the entire planet to hell. This gives the FX crew plenty of opportunities for End of the World chaos, including fires, earthquakes, explosions, and floods (mixing real footage with tiny toy cities). Of course, while most of Japan is rioting for rice, those hedonistic hippies spend their time partying and living "without restraint." Or,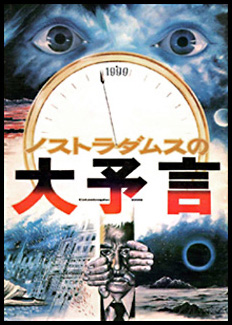 in some instances, committing mass suicide by driving their motorcycles off a cliff. By the end, everyone is bombing the shit out of each other, leaving the planet a burnt-out rock with lumpy li'l mutants scampering about. Uhhh, ain't they cute?... Of course, this will only happen if mankind continues his path of self-destruction. Unbelievably enough, despite its unflinching dopiness, the tone of the film is overwhelmingly solemn. It's almost as if Masuda believed he was making an 'important' statement, even though his execution is so crude that it often feels like the Asian equivalent of an Ed Wood flick. At its best, this misguided project has all the hard-hitting reality of a Sunn Classics' release. At its worst, it's a ludicrous (but not unentertaining) chunk of shit.

© 1997 by Steven Puchalski.