LES IDOLES (1968; Video Screams).
Focusing on a trio of fabulously famous pop idols, this colorful French psychedelia from writer-director Marc'O -- adapted from his own stageplay, complete with original cast members -- satirizes music superstardom and celebrity worship with its brain-frying mix of wild musical numbers, screwed-up characters and disjointed flashbacks. Plus it's great to finally see an English-subtitled print of this subversive, ahead-of-its-time oddity. Making her feature debut, Bulle Ogier (MAITRESSE) plays ditzy "Gigi la Folle" [Gigi the Insane One], while Pierre Clementi is brooding, black-leather-clad "Charley le Surineur" [Charley the Knife] and Jean-Pierre Kalfon is pretentious "Simon le Magicien." As these "idoles" answer reporters' questions during a highly-unorthodox press conference, the three continually break into song about how they were discovered and their ludicrous lives, along with numerous flashbacks. Cynical, protopunk Charley was a delinquent who happened to steal the right automobile and inadvertently became a star; Gigi is a goody-goody tease, who nevertheless wiggles and bounces about the stage in garish mini-skirts -- like a French Nancy Sinatra -- warbling songs laced with bizarre sexual innuendo; while glum, ex-psychic Simon sports feather boas and pink cravats, but gets a wake-up call about his own disposability after his latest record only sells 350 copies. They've done anything to stay on top of the charts, no matter how idiotic or extreme (such as Gigi and Charley's publicity-stunt wedding, complete with singing nun), with the film's chaotic blend of music and memories examining how pop idols are created, their rampaging egos, what they represent to their audience ("the living proof that anybody can be somebody"), and how their behavior must never diverge from fickle fans' expectations. Our cash-cow threesome is becoming tres fatigue of the bullshit though, and begins pushing back against their handlers and exposing all of the scandalous lies. At 105 minutes, the film's seemingly-improvised weirdness eventually becomes downright exhausting,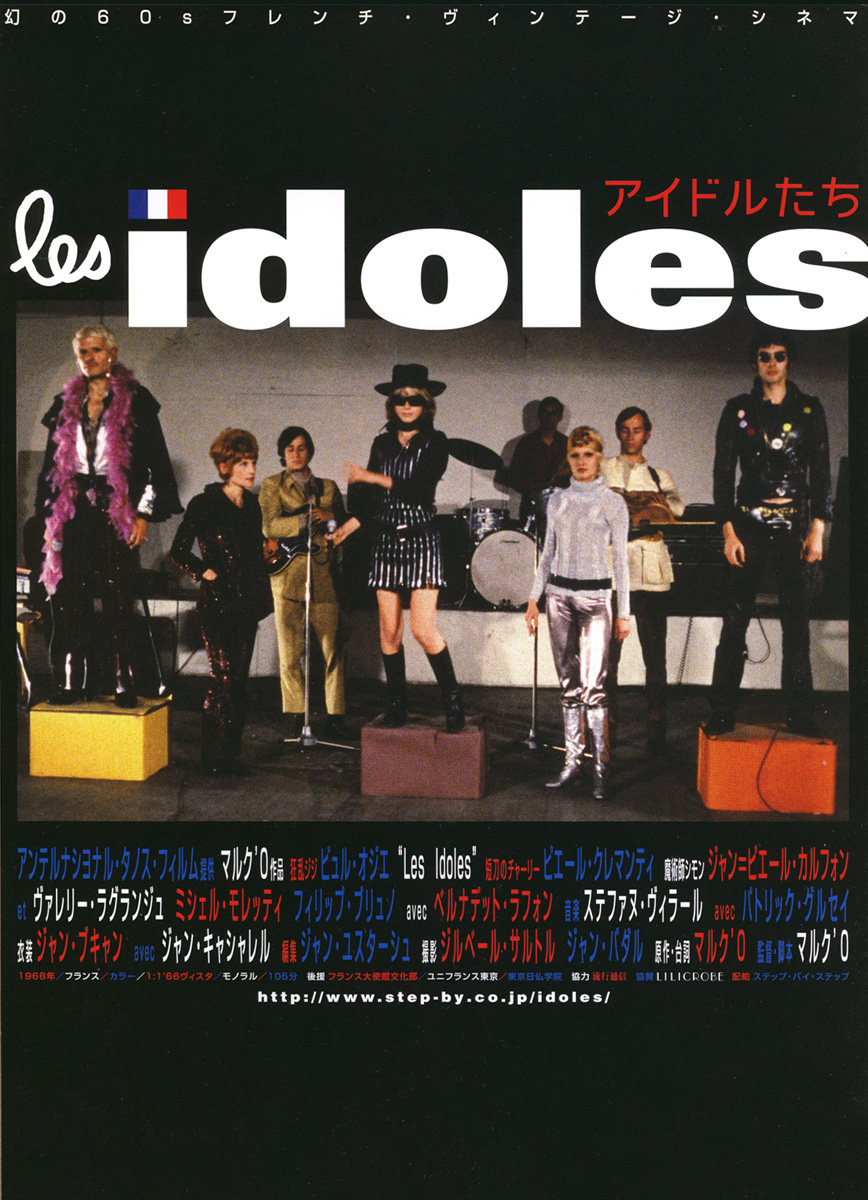 with no opportunity for the viewer to catch their breath. Subtlety isn't a requirement when it comes to the frenzied lead trio or its visual palette, highlighted by hallucinogenic set design and cornea-searing costumes from French fashion designers Jean Bouquin and Jean Cacharel (just check out Simon's magenta, John F. Kennedy-themed blazer!). Aided by cinematographers Gilbert Sarthre and Jean Badel (WHAT'S NEW PUSSYCAT?) and assistant director André Téchiné (WILD REEDS), its musical numbers resemble peyote-fueled Scopitones, and like The Monkees' HEAD (released the same year), LES IDOLES exuberantly deconstructs the cult of modern celebrity -- exposing the hypocrisy within and their fans' innate desire to kill their idols. It's artsy, colorful, hyperactive, and deliriously absurd.

© 2012 by Steven Puchalski.