LISA, BRIGHT AND DARK (1973).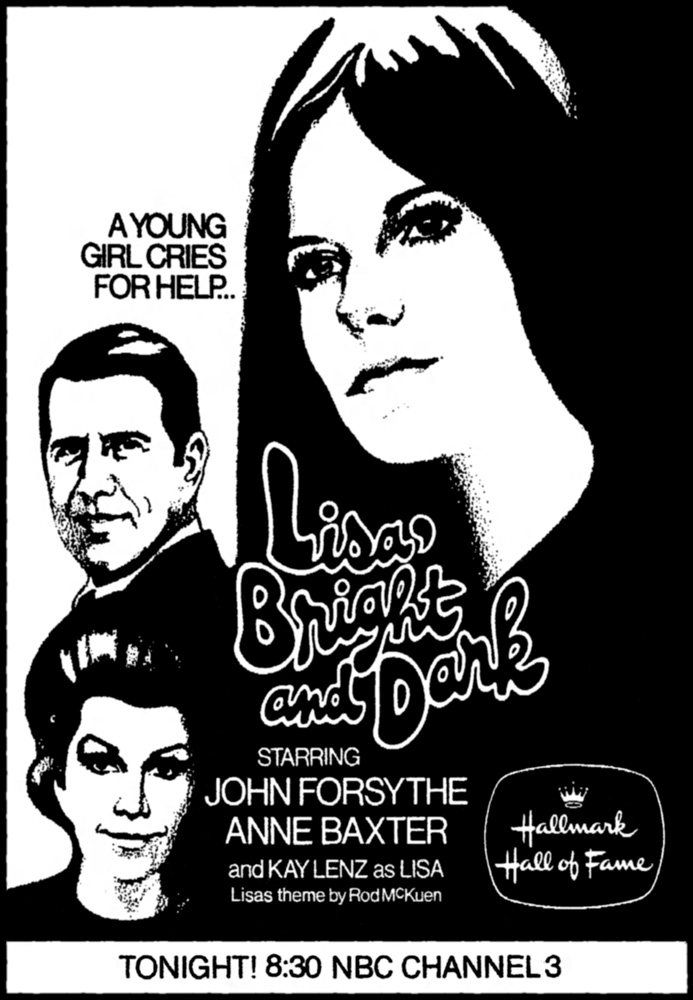 First telecast on November 28, 1973 as a NBC Hallmark Hall of Fame presentation, this turgid tale of teenage mental illness most closely resembles an upscale Afterschool Special, with slightly pricier production values, a couple respected older stars, plus an even more laughably misguided point of view. Based on a 1969 novel by John Neufeld, it's a relic from an era when seeking psychiatric help for your child was considered an unthinkable, horrifying alternative, with director Jeannot Szwarc (JAWS 2, SOMEWHERE IN TIME) mistaking heavyhanded drabness for stark realism... Lisa Schilling (20-year-old Kay Lenz, four years before her brief marriage to David Cassidy) is a high school senior with an active social life and affluent parents. Unfortunately, the moment she's alone in her bedroom, Lisa begins pounding her head against the wall. Mind you, this is two minutes into the film. So much for subtlety! But what exactly is causing Lisa to be so troubled? Sure, her father (a pre-DYNASTY John Forsythe) is always away on business and mother (ALL ABOUT EVE's Anne Baxter) is aloof, but there's no explanation or build-up. She just is. After exhibiting extreme personality shifts during a groovy teen party and lackadaisically carving her name into her wrist in the middle of class, even Lisa realizes that she needs help. But mom is resistant to hiring a head shrinker. God forbid, what will the neighbors think?! Besides,
it's probably just a phase that all teenage girls go through and easily cured by a day of shopping. Right?... Nonsensical subplots abound, such as when her best friends (Anne Lockhart, GO ASK ALICE star Jamie Smith-Jackson and MARY HARTMAN, MARY HARTMAN cast member Debralee Scott) try to help increasingly distant, self-destructive Lisa by boning up on schizophrenia, then holding a makeshift therapy session for her. Meanwhile, Lisa's unpredictable behavior provides unintentional amusement, as this nutty chick abruptly leaps into a handsome stranger's car and later sets it on fire, slathers herself in red paint, or wanders about the woods, babbling to a ragdoll... The script by Lionel E. Siegel (longtime staff writer for the '60s nighttime soap PEYTON PLACE and future producer of THE SIX MILLION DOLLAR MAN) is hokey and simplistic, with Lisa literally looking into the camera at one point and pleading, "I need help." Given so little to work with, it's no surprise that most of the performances are wooden. Lenz, better suited to genre fare like WHITE LINE FEVER, is stiff and unsympathetic, while its narrow-minded adults are particularly grating. Broadcast two months before the debut of HAPPY DAYS, the supporting cast includes Anson Williams as Lisa's clueless jock boyfriend and 12-year-old Erin Moran as her little sister. Both are blandly nondescript. Ubiquitous '70s/'80s character actor Richard Stahl also pops up as a concerned adult. Adding to its problems is music by the inexplicably-popular Rod McKuen, which mostly consists of his off-key warbling of the recurring tune "Miles To Go" -- an insipid lullaby that incorporates clouds, tears, highways, and God. Though obviously wildly dated nowadays, I'd guess that even when first broadcast, this had teenagers rolling their eyes at its clumsy approach and stunning lack of real insight, even as their stodgy parents respected this self-important drivel as deep and meaningful.

© 2016 by Steven Puchalski.