CHARLES MANSON SUPERSTAR (1989).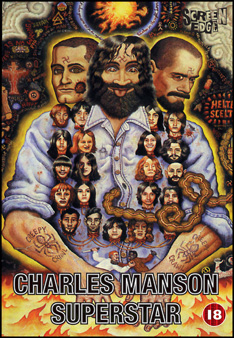 After over two decades of "lies and distortions", this feature length documentary promises to strip away the media manipulation which has turned Charles Manson into the personification of modern evil. To director Nikolas Schreck's benefit, this is a loving, even-handed profile of what Charlie represents, what made him what he is, and (mostly important) what a four-star lunatic he is nowadays. This portrait of "the last true heretic of our time" begins by briefly tracing Manson's childhood, then takes us to the notorious murders, while showing how the American media turned these rather unexceptional (albeit grisly) crimes into the most heinous acts in the 20th century. The whole family is put under Schreck's scrutiny, from the unreformed Squeaky Fromme to the now-Born Again Charles "Tex" Watson, while digging up oddball tidbits along the way--such as Manson's interest in Scientology during his '60s prison years; present-day footage of Spahn's Movie Ranch, where the Family fried their collective brains; even refuting the hilarious rumor that Charlie auditioned for The Monkees' TV show. The film's centerpiece is a long, rambling interview with the aging convict, direct from the slammer. Unfortunately, Manson is such a babbling nutcase that he can barely complete a sentence. He paces back and forth, bounces around the room with spastic karate kicks, and keeps repeating "You dig what I'm saying? You dig?" Sorry, Charlie, you're out to lunch, and despite an exhaustive 107 minutes, this mondo pic gives little insight into Manson's mind (except that his brain cells now have the consistency of soggy Corn Flakes). Not so surprising, the creepiest parts of the movie have to do with Manson's fans, such as the Universal Order, a U.S.-based Nazi organization. Or better still, Charlie's modern-day cultural glorification, which has turned his crimes into a fashion statement. And although Schreck tries for a well-intentioned testament to Charlie's "visionary" madness, most folks will simply see this as another opportunity to check in with this pathetic, incarcerated hairball, who's (hard to believe) squirrelier than ever.

© 1996 by Steven Puchalski.