MARYJANE (1968).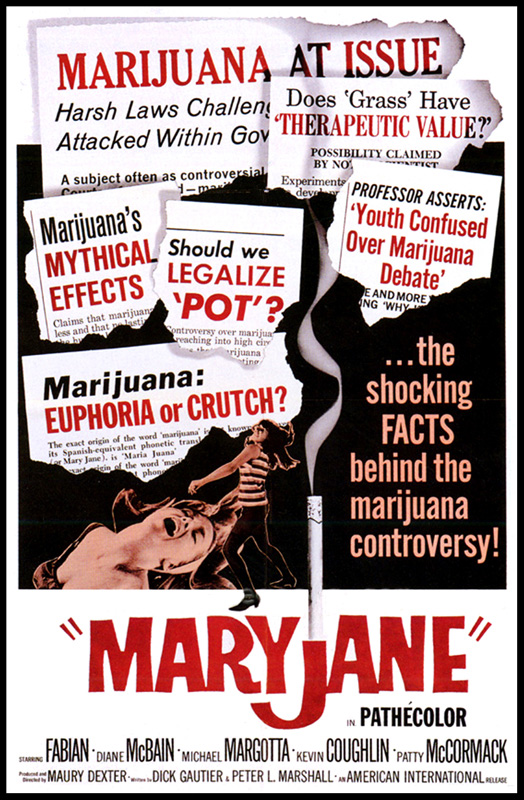 You don't find films like this anymore! Kicking off with a high-speed bumper-cam shot, leading to a gory hit-and-run, this American-International schlockfest about the evils of drug abuse is a cool laff-riot! Packed with sledgehammer social commentary and ham-handedly directed by drive-in vet Maury Dexter (HELL'S BELLES, THE MINI-SKIRT MOB). Unfortunately, I was hoping for a hippie happening like PSYCH-OUT, but instead it comes off more like a suburban soap opera, with malevolent marijuana turning good kids bad. And it's set in a fairytale-land where all the teens are clean cut, all the issues are cut and dry, and (in the only honest observation) all the judges, cops and authority figures are hardline swine. In other words, all AIP did was to recycle all the clunky cliches from their '50s Troubled Teen pics, and then sprinkle 'em with grass to make it relevant. Oh well, even though it misses greatness by a mile, it's still goofy fun... Set at an average-American high school, we learn that the star football players are heavily into the weed, along with Patty McCormack (THE BAD SEED) as blonde cupcake Susan, and Michael Margotta (DRIVE, HE SAID) as sensitive artist-type Jerry (you can tell he's "sensitive", because he paints bad abstracts in art class and does a spineless James Dean impression). Meanwhile, the community bigwigs wring their hands and inaccurately explain the facts behind "maryjane". How after smoking it, kids "act weird" (no, really?) and how "it spreads like cancer",
with one flatfoot spewing the hoary old warning that it leads directly to heroin. Still, liberal-minded football coach/art teacher Fabian tries to tune in with his turned on students (when he isn't hitting on hot new history teacher Diane McBain). And you know the guy's gotta be cool because he's the only adult in sight wearing jeans. Fabian lets loose with his side of the issue ("marijuana does less damage than cigarettes or alcohol") and even admits to trying it (once), which doesn't sit well with his superiors, who instantly label him a Dope-Addict Teacher. He's even tossed into jail on a false charge, where he encounters beatniked Dick Gautier (who co-wrote this slop, along with that Hollywood square, Peter Marshall) and the doper in the next cot hangs himself in the middle of the night. All the while, the teens are toking up, and acting increasingly stupid and irresponsible (though considering most of 'em were jocks to begin with, they couldn't really get much stupider). Though the pace lags in the middle, the ending is supercharged melodrama, with Fabian discovering that The Good Humor Man has been selling "pints" of Acapulco Gold behind the school bleachers, Ms. McBain is hooked on heroin, and Jerry has blown his mind on hash! Solid idiocy which is good for plenty of unintentional guffaws, but (unfortunately) never has the guts to actually condone marijuana use...Blink and you'll miss "Terri" Garr as one of the stoner babes.

© 1992 by Steven Puchalski.