THE MILKY LIFE [La Vida Lactea] (1993).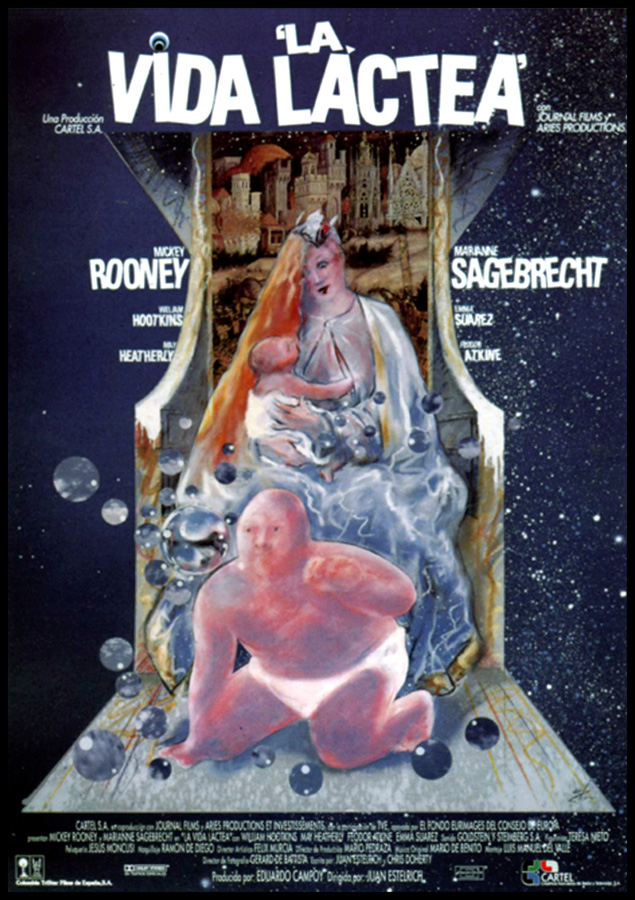 Mickey Rooney has had one of the most eccentric film careers imaginable, from being at the top of the Hollywood shitheap in his youth, to such later, certifiably-insane projects as Otto Preminger's LSD-comedy SKIDOO, THE MANIPULATOR, EVIL ROY SLADE, and EVERYTHING'S DUCKY (a talking-duck comedy co-starring Buddy Hackett). In the process, you can't help but admire an actor who's so quick to put his dignity on hold, with such half-baked passion. Believe it or not, this is one of Mickey's weirdest gigs, with director Juan Esterlich treating this crackpot concept like it had genuine artistic validity. Boy, was he wrong! Set within the grounds of a palatial estate, Mick plays billionaire Barry Cortez Reilly, who retires on his 80th birthday, accompanied by all of his family-leeches. But what good is having more money than God, if you can't live life the way you want to? So off goes the respectable tuxedo, and on goes a diaper, as Reilly decides to spend the rest of his life like a carefree baby, with his money-hungry family forced to care for him. Reilly even hires a wet-nurse (BAGDAD CAFE's Marianne Sagebrecht), builds a gigantic crib, and waddles around in an oversized diaper. It's not a pretty sight, but you'll laugh your ass off as Rooney's fat gut hangs over his Mega-Pampers, he squeezes into a giant high-chair and sucks at Marianne's huge breasts. Amidst long scenes of Mickey and his nanny playing,
bathing, bonding, and slowly falling in love, his asshole kin are selling off the furniture in order to continue their lavish lifestyle. Even more unexpected, after a burglary-based knock on the head, Reilly becomes a real infant -- who develops baby teeth, rejuvenates his own cells, and converses with his great-grandson in gurgly baby-talk. In the process, all of the silly subplots (romance, tragedy and family healing) are lost in wake of Rooney's bizarre plight. Dubbed into Spanish, with English subtitles, I missed Mickey's distinctive voice, but still enjoyed watching him at his most self-deprecating -- looking like Lawrence Tierney after being stuffed into a trash compactor. Co-starring William Hootkins as Reilly's fat son, this is deeper, darker and more deranged than the goofy premise would have you expect. Conceived with all of the best intentions, but more deserving of a camp fanfare, thank god it's only 77 minutes long.

© 1999 by Steven Puchalski.