MR. SUPERINVISIBLE (1970; Just For the Hell of It).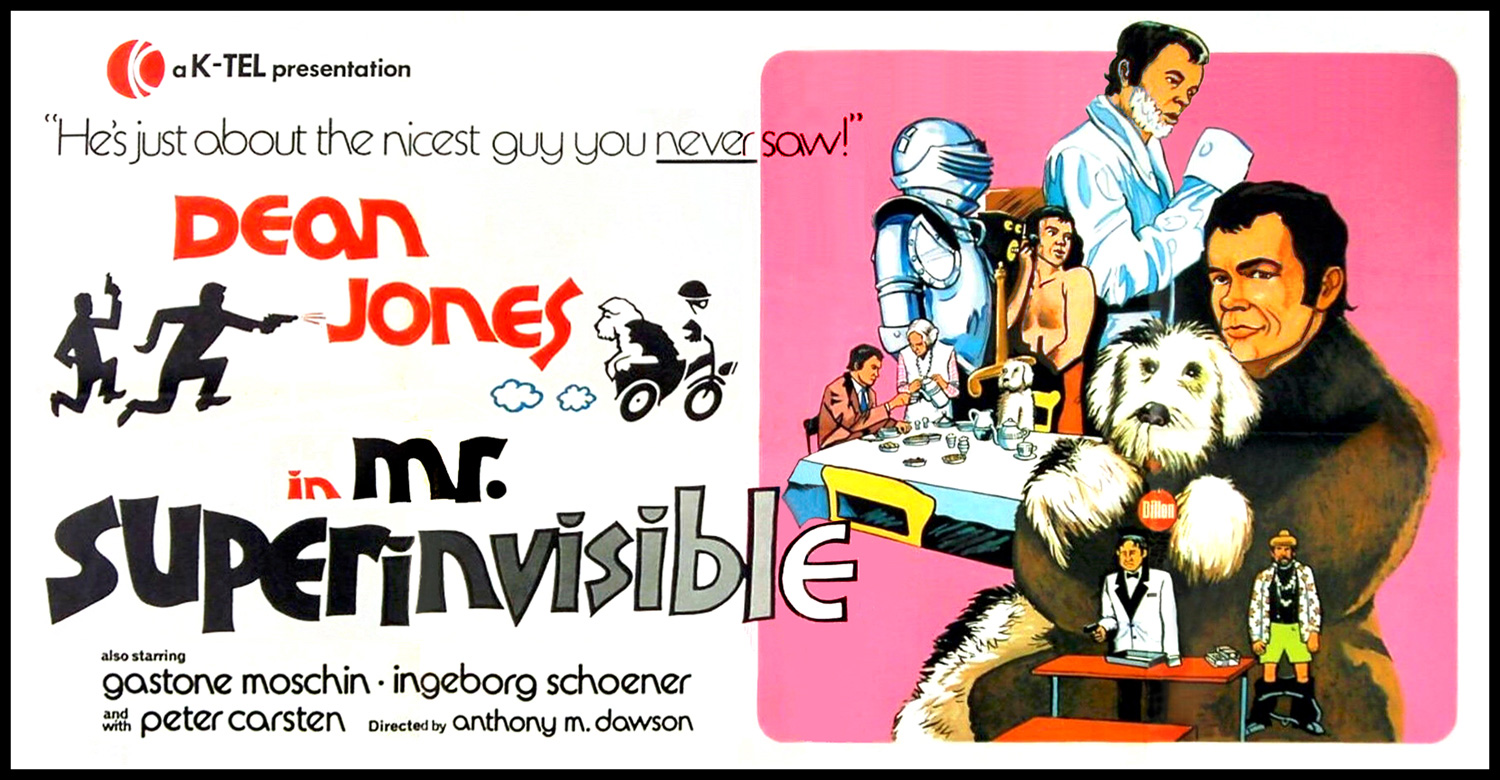 Hoping to capitalize on Dean Jones' string of '60s Disney successes like THE LOVE BUG and THAT DARN CAT!, director Antonio Margheriti (credited as Anthony M. Dawson) enticed him to come to Europe in the fall of 1969 -- just before Jones appeared on Broadway in the premiere of Stephen Sondheim's "Company" -- to star in this farcical, slapdash, family-friendly Swiss-French-American-Italian co-production. The film didn't make its way to the US until 1973, as the first American theatrical release from K-Tel Records International (best known to babyboomers for their TV-marketed compilation albums), who advertised it in conjunction with a Trip-to-Disneyland sweepstakes, hoping that less observant moviegoers would mistake this dusty effort for a new Disney release. Nevertheless, MR. SUPERINVISIBLE kept popping up in children's matinees as late as 1975, giving parents an excuse to drop off their unruly kids and get a couple hours of peace and quiet... Renowned but bumbling US scientist Dr. Peter Denwell (Jones) is living in Italy and working on a cure for the common cold for a high-profile company. The poor guy also has a crush on comely colleague Irene (Ingeborg Schöner) but is too timid to do anything about it, with competition in the romance department coming from fellow employee Harold, a wealthy, pompous mama's-boy, broadly played by Gastone Moschin (best known for his more serious work in THE CONFORMIST and THE GODFATHER PART II). Denwell's reputation is ruined after a dangerous virus is stolen from his workplace by a Peter-Lorre-look/sound-alike (Luciano Pigozzi). Coincidentally,
the Doc also receives a strange formula from Bombay, which accidentally winds up in his coffee and turns him invisible. On the upside, this condition gives Denwell the courage to show his true feelings to Irene, while also tracking down the culprits responsible for this missing virus, amidst bumbling cops, kidnapped scientists, a diminutive mastermind, and loads of comic chaos... Jones makes a likeable enough everyman, Schöner is pretty but unremarkable, and everyone else plays it for minimal subtlety. Best known at the time for genre fare like CASTLE OF BLOOD and THE WILD WILD PLANET, Margheriti doesn't display much imagination on this gig, while often resorting to tiresome slapstick (e.g., pie-throwing, a flooded restaurant, an arsenal of explosive eggs) and cheesy 'invisible' sight gags, such as Denwell using his see-thru abilities to pull sadistic pranks on Harold or making it look as if his shaggy sheepdog is driving a car. Peter also tends to reappear at the most inconvenient moments -- finding himself nude in public (with Dean showing as much bare skin as possible on a G-rating) or traipsing about in nothing but a woman's housecoat. Jones and Margheriti must've had a decent time working together though, since in 1972 the director cast him in the title role of BARON VON MUNCHAUSEN, a project that never panned out.

© 2021 by Steven Puchalski.