MUSTANG: THE HOUSE THAT JOE BUILT (1976).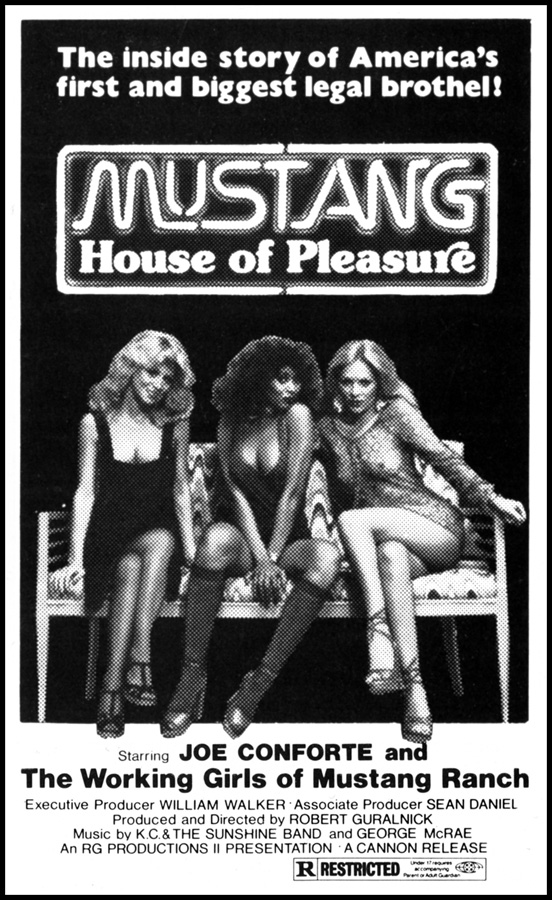 Long before pay-cable stations like HBO jumped on the sex-documentary bandwagon with fare like REAL SEX and TAXICAB CONFESSIONS, this deliriously grubby feature was a revelation -- a no-holds-barred glimpse into Nevada's most infamous, legal, around-the-clock brothel. Located 15 miles East of Reno, the Mustang Ranch was a bunch of fenced-in trailer homes, Joe Conforte was its head honcho, and director Robert Guralnick doesn't shy away from the business' most prurient elements. But the biggest surprise is that this ultra-sleazy, "you'll-need-a-shower-afterward" flick was actually nominated for a Golden Globe as Best Documentary! Guralnick first spent several months at the Ranch, so everyone would be comfortable with his presence, and filmed most of it with his own handheld camera. We begin by meeting the Mustang's female stable, with names like Chi Chi, Libra and Buffy, who discuss the pros and (extreme) cons of their occupation. Amidst loads of casual female and male nudity, they explicitly describe how to pleasure a john, dance and party in the Mustang's faux-wood-paneled parlor, give us a glimpse of their pathetic living quarters, and stand in a bikini line-up as the drunk-off-their-ass, in-bred, blue collar clientele chooses amongst them. Guralnick even convinced one sorry customer to allow a camera in the room: from the strip down and genital wash-up, to more ugly business than you'll want to witness. Meanwhile, Sicilian Conforte (who looks like he tumbled straight out of A BRONX TALE) sucks on foot-long cigars, spins tedious stories about his life, predicts that most of the country will follow his legal-prostitute lead in 10 to 15 years, and firmly believes this movie will jump-start that social change! So while his working girls beat off repulsive customer for a lousy $20, Conforte (a genetic mix of two other Joes: Pesci and Franklin) gambles, parties, brags, and wildly spends his cash,
almost as if he didn't actually earn it himself. Go figure. (Not surprisingly, only 4 years later Conforte fled the country in order to escape tax evasion charges.) In a bizarre turn, some of the soundtrack music was provided by Carmine Coppola, with plenty of pop tunes sprinkled in along the way. If you're looking for an upbeat take on prostitution though, go find a copy of THE BEST LITTLE WHOREHOUSE IN TEXAS instead, because this is a terminally depressing portrait. The women gamely attempt to put a positive spin on things, but all of 'em look vaguely beaten up by life, as Guralnick captures their tedium, hopelessness and exploitation. If you've never had the pleasure of visiting the Mustang Ranch, don't worry; you'll feel like you've spent a long weekend there once this 82-minute film is over.

© 2006 by Steven Puchalski.