Hugo Haas left Czechoslovakia for Hollywood in the early-1940s, after the Nazis rolled through his homeland, directing (and often starring in) such delirious B-movies as HIT AND RUN, PICKUP and LIZZIE. One of his later efforts was this wonderfully tawdry, miscegenation-themed, b&w MGM melodrama produced by Albert Zugsmith, who was always ready to leap onto any vaguely exploitable topic, whether it was HIGH SCHOOL CONFIDENTIAL, THE BEAT GENERATION or SEX KITTENS GO TO COLLEGE. It's a leaden look at love in the face of racism, as well as a classic example of Hollywood whitewashing, with smoky-voiced, blonde torch singer Julie London ("Cry Me a River") darkened up in order to play the lead... Lovely but slightly-off-white newlywed Ginny Nelson (London) hasn't even unpacked her new suburban San Francisco home when young hooligans (Frank Gorshin, Norman "Woo Woo" Grabowski and Charles Chaplin, Jr.) begin chucking rocks through her living room window and ripping up her front yard shrubbery in broad daylight, but when her hotheaded hubbie Chuck (John Drew Barrymore, Drew's equally hotheaded dad) overreacts, he ends up arrested instead. In flashbacks, we then see how this couple met, with shell-shocked Korean War vet Chuck promptly falling for Ginny, the exotic, skinny-dipping daughter of an Irish fishing boat captain,
during a business trip to Mexico. Ignoring the fact that Ginny's grandma was from Portuguese Angola in Western Africa -- meaning she's "one-quarter Negro"! -- high society scion Chuck marries her, with the pair returning to San Francisco and facing reality after meeting each other's families. While the couple are embraced by Ginny's cousin Maria (Anna Kashfi, then-current wife of Marlon Brando), who runs a swanky black nightclub with her husband Cy (Nat 'King' Cole, crooning to the crowd and also warbling the film's Sammy Cahn/Jimmy Van Heusen title tune), Chuck's kin includes his domineering, racist-bitch mother (Agnes Moorehead). After Ginny is outed as a "quadroon" by local newspapers, the couple are kicked out of their hotel suite, nervous neighbors don't want a "colored" person on their street, plus Chuck's family considers him a "sick boy" for loving a non-white woman -- keeping him heavily sedated, locked up and bullying him into suing for an annulment... The screenplay by (future Oscar-nominees for Frankenheimer's THE TRAIN) Franklin Coen and Frank Davis eventually descends into pure cornball melodrama during the final half-hour, as the Nelson clan tries to prove that Ginny is a money-grubbing floozy, along with then-racy courtroom theatrics and a sappy conclusion. There's little nuance in the acting department either -- Barrymore plays it wildly over-the-top and London (ex-wife of Jack Webb, looking like she merely has a heavy suntan) lacks any depth -- with the lone exception being James Edwards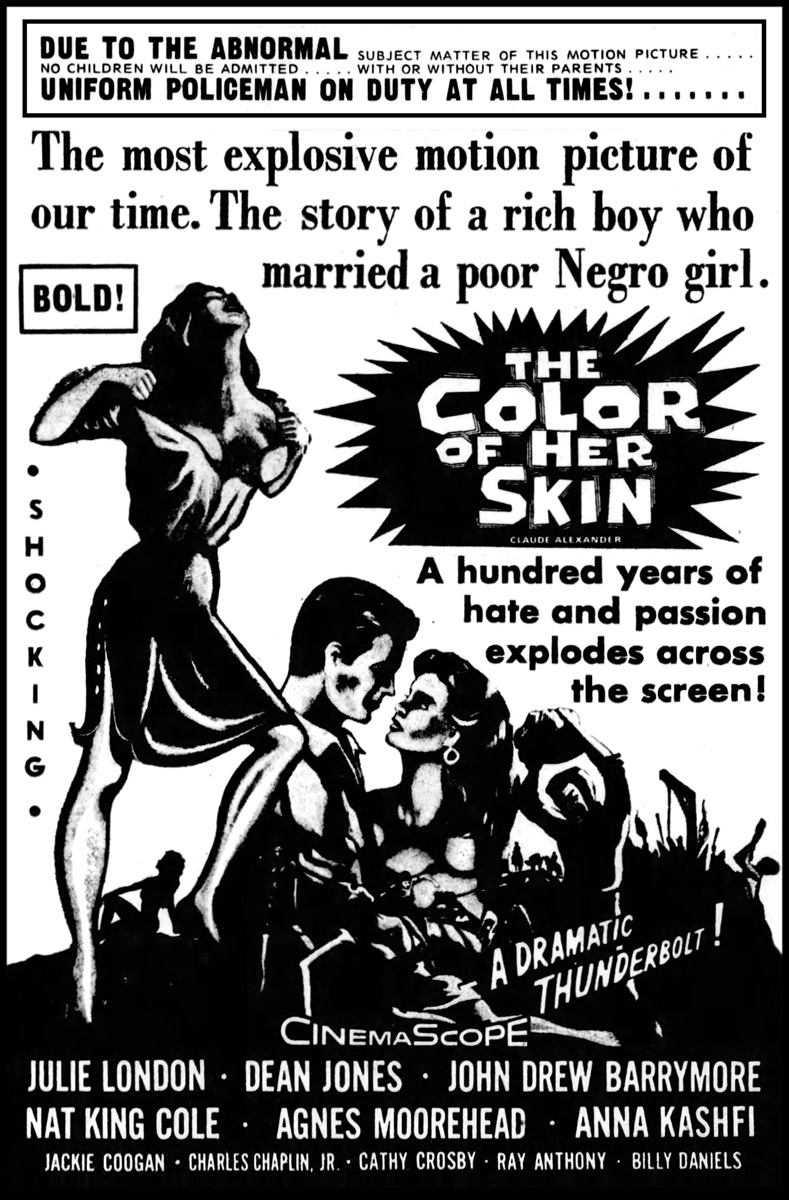 (HOME OF THE BRAVE) as Ginny's savvy attorney. The eclectic supporting cast includes Arthur Shields (Barry Fitzgerald's younger brother) as Ginny's dad, Jackie Coogan is a desk sergeant, singer Billy Daniels ("That Old Black Magic") plays a headwaiter, plus it's quite amusing to see future Disney fixture Dean Jones as Chuck's shithead brother. The Cinemascope cinematography is courtesy of Ellis W. Carter, who shot '50s Universal genre-classics such as THE INCREDIBLE SHRINKING MAN and THE MOLE PEOPLE. Although the film's subject matter might seem tame nowadays, you need to remember that a 1958 Gallup Poll showed that 94% of white Americans disapproved of interracial marriage, so this was fairly subversive material in its time, with Zugsmith squeezing as much cash as possible from it by re-releasing the film in 1962 under the title FLESH AND FLAME, then again in 1966 as THE COLOR OF HER SKIN.

© 2017 by Steven Puchalski.