Premiering in the summer of 1970 and still popping up in theatres as late as 1974, director Jerry Schafer's amusingly silly coming-of-age tale involving an innocent but impressionable teenager, family hassles and the big, bad world of sex-'n'-drugs benefits from personable performances, inspired exploitation-film twists and a refreshingly even-handed approach, since both the younger generation and their parents are equally clueless and at fault... Blonde cutie Dee Hilliard (Belinda Palmer) is a typical Southern California girl, currently trying to figure out her post-high-school future, while living with divorced, overworked, stockbroker-father Arnold (James Griffith) and his new, hot, young wife Beatrice (Karen Arthur). Although dad still considers Dee a child, she's actually quite curious about the adult world -- peeking at her papa and Beatrice as they screw, and afterwards, toplessly fondling her stuffed toys. Meanwhile, Dee's more worldly "hippie" friend Linda (Judy Strangis, a retro-TV favorite from shows like ELECTRA WOMAN AND DYNA GIRL and ROOM 222) teaches her all about the groovy, psychedelic local scene and the convenience of hitchhiking. After taking a few drags on her first joint, Dee links up with 21-year-old, PTSD-afflicted, stoner-veteran Monk, who charms her with a middling guitar serenade and the concept of being truly liberated. Soon Dee is ditching her comfy suburban digs and crashing with her boyfriend and all of his deadbeat pals. These aren't peaceful flower children though, and when one of them (Carmen Argenziano) beats up Dee, the rest go medieval on his ass in a barroom lavatory, as this poor girl continues to make one dopey decision after another. The story bogs down with bickering between Dee, dad and stepmom,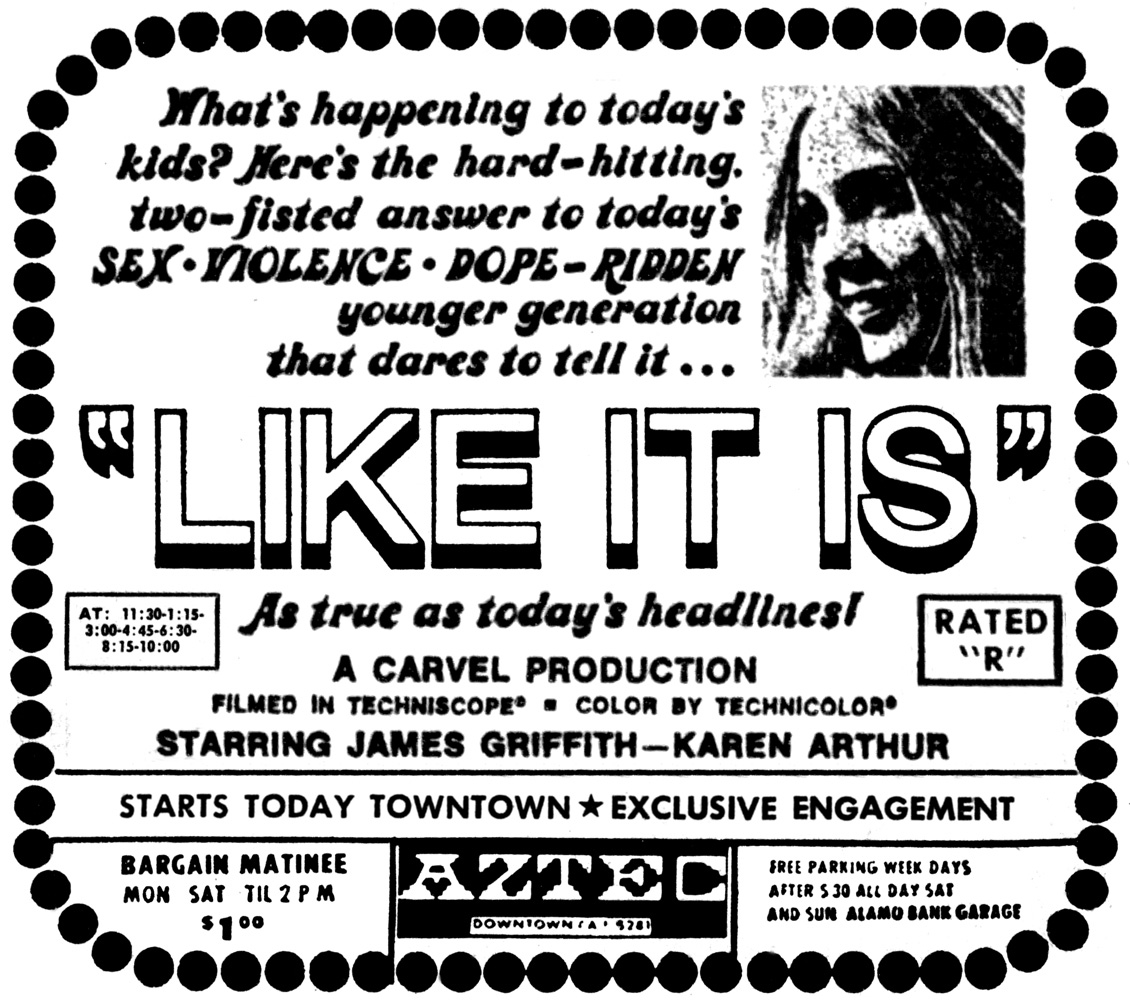 but rallies in the end with some genuinely icky father-daughter subtext and an unflinchingly tragic finale... Palmer (who later played Faye Dunaway's "sister/daughter" in CHINATOWN and a dope-shooting teen runaway in Tom Stern's CLAY PIGEON) makes a winsome lead, even though Dee's problems are mostly due to her own gullibility and blind dependence on a man -- even agreeing to strip for adult filmmakers in order to get bail money for incarcerated Monk. Providing support, Susan Stewart (MANTIS IN LACE) is Dee's dirty movie co-star, stunt coordinator legend Buddy Joe Hooker plays Linda's guy; another ROOM 222 alumnus, Ta-Tanisha, is one of Linda's friends; plus not long after playing manipulative, beehive-haired Beatrice, Karen Arthur shifted her career to directing, with THE MAFU CAGE and the telefilm THE RAPE OF RICHARD BECK. Adding visual appeal to its melodramatic proceedings, LA architect-turned-cinematographer David Ming-Li Lowe gives the film a loose, experimental edge, along with authentic background footage. Plus there's a bouncy soundtrack by Shorty Rogers, who worked with Woody Herman and Stan Kenton, arranged for The Monkees and wrote the background score for THE PARTRIDGE FAMILY.

© 2019 by Steven Puchalski.