O.K. (1970; Video Screams).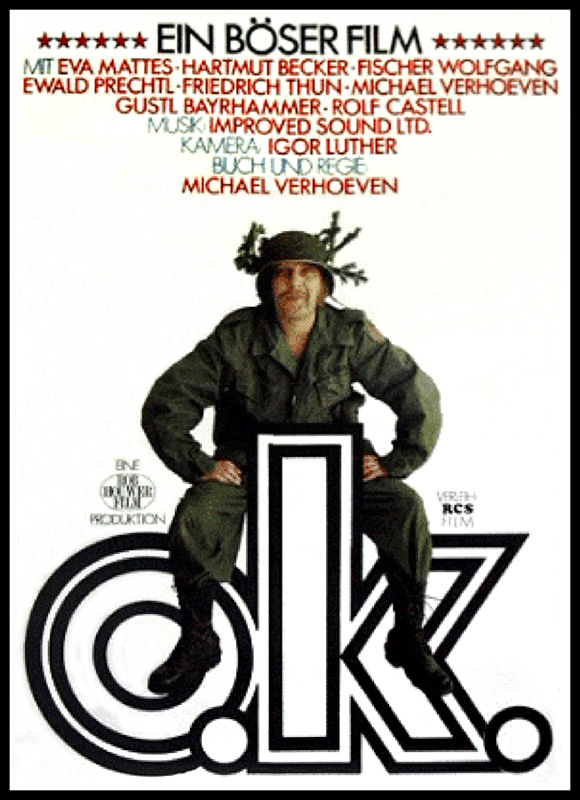 In 1989, Brian De Palma's CASUALTIES OF WAR dramatized the 1966 premeditated abduction, gang rape and murder of a young Vietnamese woman by a squad of US soldiers, dispassionately referred to by The Army as "Incident on Hill 92" and chronicled in Daniel Lang's 1969 New Yorker article. But this horrendous crime's first cinematic incarnation arrived nearly two decades earlier, courtesy of German writer-director Michael Verhoeven (whose later, critically-acclaimed historical dramas like THE WHITE ROSE and THE NASTY GIRL challenged home-turf audiences to question their Nazi roots), who kicked off his career with this raw and controversial low-budget feature and caused a scandal at the 1970 Berlin International Film Festival when jury president (and SHANE director) George Stevens resigned after unsuccessfully lobbying to have O.K. excluded from the line-up, arrogantly claiming that it was anti-American... Relocating its true story to the Bavarian woods, we follow five US soldiers clearing brush and preparing to build a new base camp during a ceasefire, while Sgt. Meserve (Friedrich von Thun) keeps his men in line with a gung-ho attitude and constant paranoia about their Commie enemy. They eat, play cards, joke around, deal with the absurdity of war (when a solitary shell lands nearby, it turns out to be friendly fire), and also seem incredibly bored. That is, until they spot an innocent young local girl peddling by on her bicycle (16-year-old, future Fassbinder-regular Eva Mattes, star of Werner Herzog's STROSZEK and WOYZECK),
decide to play a game and accuse her of being a spy. Although the first half of the film is fairly uneventful, portraying these guys as ordinary G.I.'s, the remainder is unrelentingly brutal and depressing. As they interrogate this terrified teen, only Pvt. Erickson (played by Verhoeven) takes pity on her but Sarge won't let her go. And shit, does it get ugly fast, as the soldiers take turns raping the girl, shrug off their actions with the excuse "we're at war," ultimately dispose of any pesky evidence, and even turn on their own colleague when contrite Erickson warns the others of potential courtmartial... Verhoeven breaks this 76-minute film into brief, bite-sized vignettes and keeps the production slight (a good portion of it is simply a forest clearing, five guys in fatigues, scattered sandbags, and some stretched barbed wire), aided by loose yet naturalistic performances and black-and-white cinematography by Igor Luther (THE TIN DRUM). Though occasionally veering into excessively artsy territory (e.g., bookending, behind-the-scenes segments of the actors sorting out their wardrobe and introducing themselves to the camera), Verhoeven mostly sticks to his powerful agenda, which culminates with the brass treating this vicious incident like just another minor inconvenience in their pursuit of freedom. The antithesis of John Wayne's Vietnam War circle jerk THE GREEN BERETS, this is a scalding, justifiably pissed-off condemnation of US military callousness and condoned criminal behavior.

© 2015 by Steven Puchalski.