OLD FAITHFUL (1973).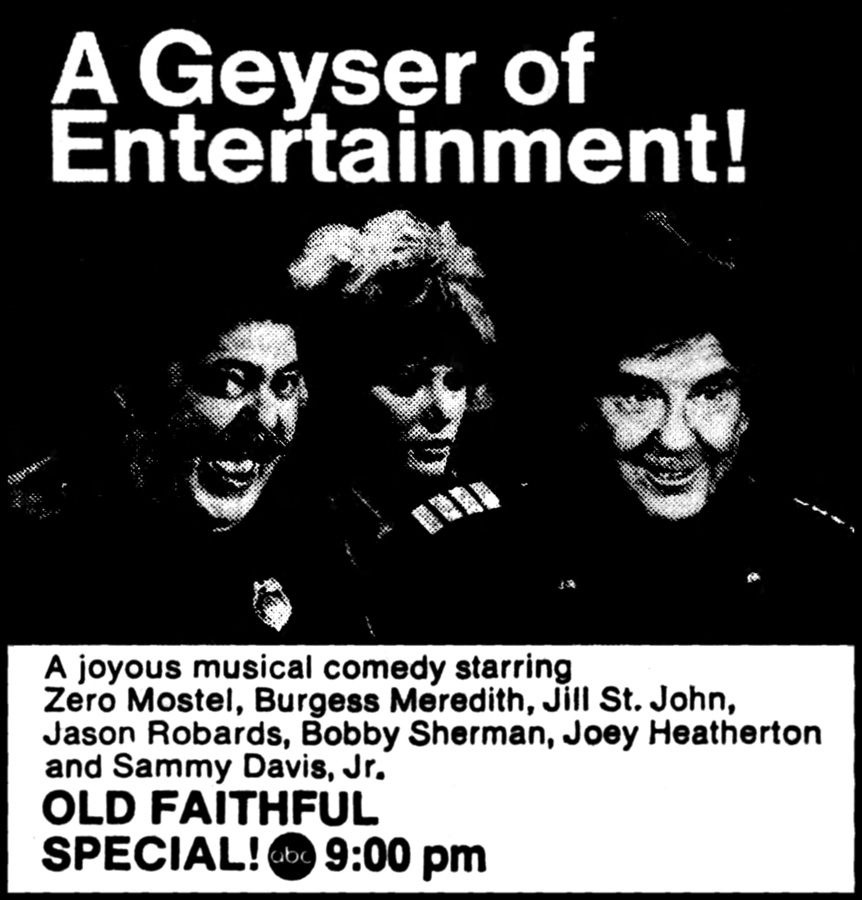 Telecast on ABC-TV, this hour-long special is just your ordinary, upbeat, musical tribute to Yellowstone National Park... as sponsored by the Chevrolet Motor Division. Sounds painful? Absolutely! The program's production values are about as low-rent as you can get for a prime-time project (i.e. much of it takes place on an empty hotel-lobby set), while the biggest musical names they could round up were (perpetual Ann-Margret knock-off) Joey Heatherton and Bobby Sherman (two years past his Tiger Beat expiration date). Zero Mostel stars as Forest Ranger Zeppel, who bursts from a pile of leaves and breaks into song ("I'm old faithful, / To all my furry friends"), while shaking his rotund rump through the woods and serenading obviously-sedated woodland creatures (a raccoon, a deer, a chipmunk on his arm, et cetera). But all is not peaceful in this park, because Zeppel's grumpy boss (Burgess Meredith) orders him to figure out a way to break Yellowstone's attendance record this weekend... or he's fired! So this fat doofus decides to put on a show, and cons a few celebrities into attending by promising to re-name the Old Faithful geyser after each one of them. Brilliant! Flirtatious hotel desk clerk Jill St. John convinces Jason Robards to appear at this event, while Joey and mustached Bobby round out the scam, with both of them [warning: product placement alert!] driving their Chevys to Wyoming (yeah, I really believe that Sherman owns a wood-paneled station wagon!). As for the music, Bobby sings "Together Again," then Robards and St. John share a duet of "Brush Up Your Shakespeare." In the hour's one amusing gag,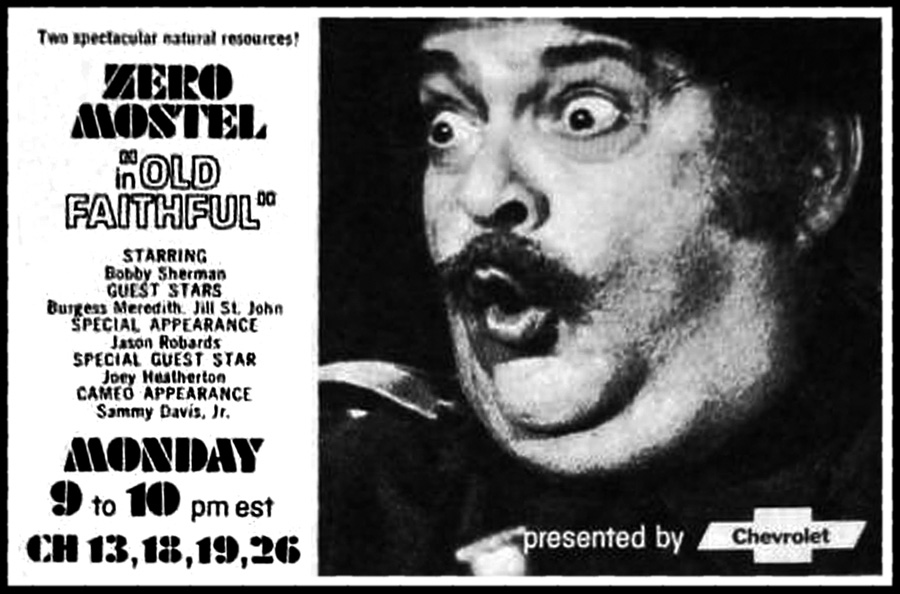 Joey keeps a pair of flamboyant male back-up dancers stuffed in her car's trunk, then busts out a sexy, black-leotarded song-'n'-dance to "The Road I Took To You (Pieces)." In fact, Heatherton is the only decent thing about this dud -- putting the same manic energy into a shitty throwaway job that she would for a real gig with Perry Como or Andy Williams. When these three stars uncover Zeppel's ruse, it threatens The Big Show for about two minutes, until Bobby takes to the stage in a hideous '70s-jumpsuit for the corny "Goodtime Song" [cut to: visibly-bored crowd shots] and Joey belts out "Someone To Watch Over Me." Twelve years earlier, Mostel and Meredith co-starred together in a TV-staging of WAITING FOR GODOT, which makes the sight of this talented pair singing about being Forest Rangers particularly pathetic. It's a paycheck, I guess. Meanwhile, director Jorn Winther (who later directed the '77 Frost/Nixon interviews!) goes heavy on the canned laughtrack, and Sammy Davis Jr. makes a brief cameo as himself, visiting the park and getting mistaken for Bobby Sherman by Zeppel. Yep, that's the level of the script's humor, courtesy of ex-LAUGH-IN castmates Larry Hovis (HOGAN'S HEROES) and Anne Elder, with forgettable new songs by Al Kasha and Joel Hirschhorn (who both won an Oscar the next year for the sappy POSEIDON ADVENTURE tune "The Morning After").

© 2010 by Steven Puchalski.