ONCE UPON A GIRL... (1976).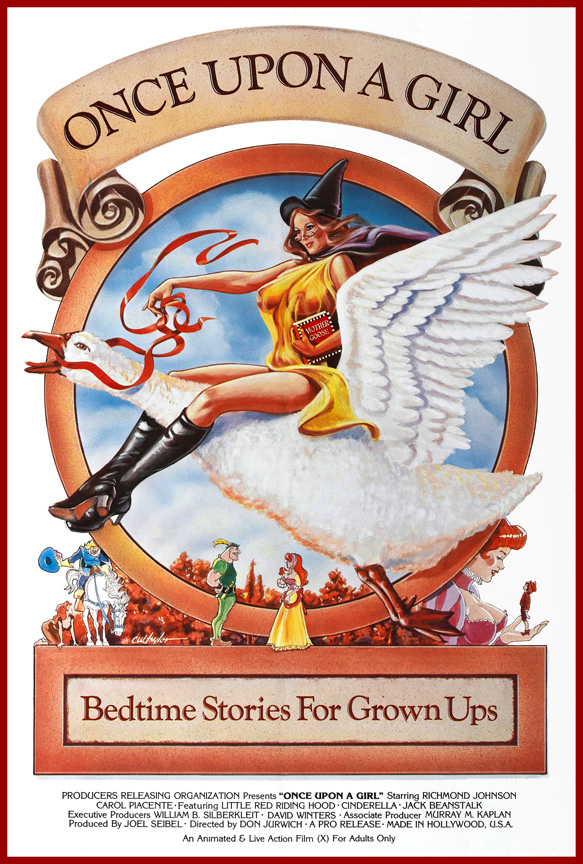 Mixing live-action and animated segments, this is a hilariously filthy reinterpretation of everyone's favorite fairy tales. Directed by Don Jurwich, cartoon fanatics might recognize his animation style since he's been in the business for decades, as a lay-out artist for JOSIE AND THE PUSSYCATS, a designer of Jay Ward cartoons, the director of G.I. JOE: THE MOVIE, and much more. In his capable hands, the result is not unlike watching a XXX-version of a Hanna-Barbera Saturday morning cartoon. Get your Kleenex ready, perverts! During the live wrap-around courtroom segments, its excuse for a plot puts an elderly 'woman', claiming to be Mother Goose, on trial. Lugging a stuffed-toy goose and played by Hal Smith (best known as Otis the drunk on THE ANDY GRIFFITH SHOW, but who also performed loads of cartoon voice-work, such as Goliath in DAVEY & GOLIATH), she takes the stand and explains just how horny all of these fairy tale characters actually were, with a trio of animated examples. In the weirdest episode, Jack (and his easily-aroused pet frog) meets a trench-coated flasher dwarf, screws a lusty Gypsy girl, gets off while sucking a cow's udder, and when he cums on some magic beans, they grow into a beanstalk leading to a female giant's castle -- where Jack is used as a dildo! In the case of Cinderella, after a hag uses a love potion to snag a rich widower, his pretty blonde daughter is turned into a servant. That is, until a magical Godmother helps her ball a handsome Prince. Finally,
Red Riding Hood is on her way to a wedding, has her first orgasm thanks to a friendly hunter, continues her sexual journey with every guy she meets, and even ends up servicing the groom. Back in live-action land, as these stories heat up, the courtroom breaks downs into a full-scale orgy. Following in the tradition of porn-parodies like Kristine DeBell's ALICE IN WONDERLAND, this never takes itself remotely serious, with wall-to-wall lewd jokes and quivering (cartoon) flesh. And since all of the cute creatures of the forest have a sex drive, this often has a whiff of cheery bestiality -- such as when a furry li'l squirrel is interrupted from its sleep when Jack masturbates into its tree hole. Only 77 minutes long, this is obviously the product of moonlighting studio animators who've spent far too much time hunched over their light tables, instead of a woman.

© 2000 by Steven Puchalski.